Hey all, I put in some LED footwell lighting in my Focus about a year ago, all bought from Oznium. I wired it up with help from this forum, so first of all thanks for that!
I've been happy with it, but at the moment it is only powered by the airbag circuit (which is powered whenever the ignition is on). I now want to make the LEDs come on when I unlock the car and open the doors. To do this, I decided I would tap into the parking lamps.
At the moment, all I have is a simple fuse tap on the airbag circuit wired to a
dimmer
control knob, which outputs to the LEDs.
Looking at most of the posts on here, it seems that using a relay is the suggested method, but these LEDs pull such low current... Do I really need a dedicated 12v line for this? Seems like I can wire in a feed from the parking lamps to the existing terminal on the
dimmer
control and use diodes to prevent bridging the circuits.
See attached diagram. Sorry I am a noob when it comes to electrical so I hope this is clear enough.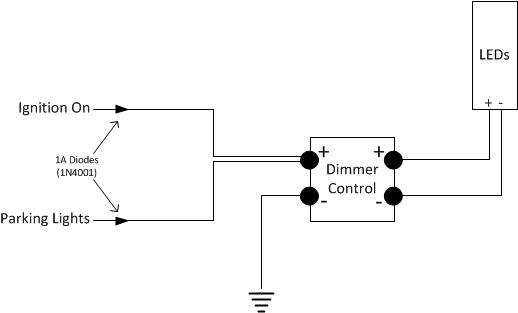 Will this work? My only thought is.. What about when BOTH circuits are powered (which will happen anytime the parking lamps are on AND the ignition is on). What happens?
Thanks a LOT for any suggestions!