A classic investment that brings more than a beautiful glow into your home, FlowLighting's Mantis LED Desk Lamp has a solid base and a sleek design.
Providing a new and extremely energy efficient solid state light source, this lamp offers high-end lighting technology with a high-class feel free of all hazardous substances.
Using 24 volts, this lamp provides you with an opportunity to protect the environment by investing in long-term savings. The specially-designed thermal management system provides instant heat dissipation for a prolonged lamp and bulb life. Rated to last 50,000 hours, you'll never have to change the bulb with this progressive piece of practical luxury.
LED technology
saves you real money
!
The power draw is only 13 Watts!
Control it all with an elegant touch pad!

Simple ON/Off Operation
When the desk lamp is OFF, a gentle touch on the touch pad will turn the BLUE light to an ORANGE light which indicates a the lamp is fully lit.
When the desk lamp is ON, a gentle touch to the touch pad will turn off the lamp and the touch pad will turn BLUE.

Dimmable - Reduced Brightness
When the desk lamp is OFF, press the touch pad and keep your finger on it for 1 to 2 seconds. The lamp will cycle through brightness intensities from 100% to 10% to 100%. When the brightness is at a suitable level, remove your finger to select that brightness.
Auto Sleep Mode
When the table lamp is ON, press the touch pad and keep your finger on it for for 3 to 5 seconds. The lamp will enter into the sleep setup mode. You now have 3 options:


The touch pad will cycle through GREEN, AQUA, and PURPLE. When you remove your finger, the color of the touch pad will indicate the mode you selected.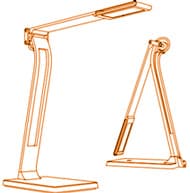 Warm & Neutral Color
3,300 Kelvin
The FlowLighting Mantis LED Desk Lamp offers the perfect color temperature for task lighting.
Highlight your home or office with a pleasing, energy efficient lamp.
Truly a Conversation Piece!