5W LED Daytime Running Lights - (pair of 2) FAQs
All Customer Questions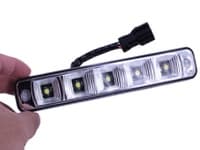 5W LED Daytime Running Light
Q:
Can I hook these led straight to a 12volt system that stay on while car is running
- by jay (seaford de.)
A:
Yes
Q:
I need to mount these on a 90 Miata. Instead of a vertical surface they need to mount horizontally. If the bracket would rotate 90 degrees up this would work but I don't see any photos of this type of configuration. How can these be mounted below a horizontal surface? - by Alex (United States)
A:
You're of course welcome to adjust the mounting bracket, so that you can mount them below a horizontal surface.
If you click on the "Technical Info" tab, you'll see a diagram which shows how the mounting bracket attaches.
Q:
Can these lights handle the marine enviroment? What materials are the lights and brackets made of? - by Joseph (Louisiana)
A:
We haven't tested them in the marine environment. Lights are made out of plastic, brackets are made out of metal.
Q:
How whether proof do we know these are? I get their waterproof ( or assume so ).. if it rains, will there end up being moisture seeping into these? (lost 2 entire kits from competitors from this sad face..)

Thank you Oznium!! - by Jordan (Kenosha, WI)
A:
Fully waterproof / IP68 rated.
Q:
Do you make them in red
A:
No, just white.