Oznium LEDs Light Up New Star at Rockefeller Center
The most wonderful time of the year is here and cities all over the world, big and small are now full of lights, christmas trees and all sorts of interesting decorations. New York, one of the most amazing cities in the world is no exception, and boasts some outstanding decorations that can't be found anywhere else. The famous Rockefeller Christmas Tree is one such attraction and gets erected every year to celebrate the festive season and bring cheer to thousands of passers-by.
This Christmas tradition goes back for almost 90 years and the tree has become an integral part of New York during the festive season. In the midst of the Great Depression, workers erected a 20 foot tall christmas tree in Rockefeller Center, in Midtown Manhattan. The Rockefeller Center decided that it was to become an annual tradition, and so the first formal erection of the tree took place in 1933.
Every year since 2007, after the holidays are over, the wood of the Rockefeller Center Christmas Tree is transformed into homes for those in need. The lumber is donated to Habitat for Humanity, which then turns it into material for building homes. Not only does it make a wonderful sight during the winter holidays, it also helps people in need of a shelter.
The tree became a symbol of hope and joy, and the tradition continues today, each year the decorations are even more ornate and spectacular, viewed by an estimated 800 000 people each day. Since 2004, the huge tree had a beautiful decoration on top, but this year it was finally redesigned. And the result is outstanding!
The Christmas tree is now topped by a huge star of 9-foot 4-inches in diameter that weighs 900 pounds (408 kg) and has 70 spiky light bulbs, covered in no less than 3 MILLION Swarovski crystals, all lit by 50,000 Oznium LED lights!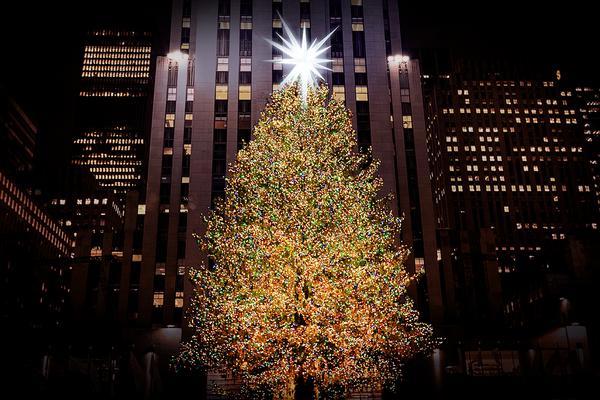 Renowned architect, Daniel Libeskind, who was selected as the master planner for the World Trade Center redevelopment, has created a one-of-a-kind star to adorn the top of the tree.
For this project, he worked very closely with Swarovski, which is now run by its fifth generation of family members. The prestigious company was founded in 1895 in Austria, and is praised world-wide for designing and manufacturing only the best quality crystals and products.
The construction of such a work of art was a long, difficult and tedious process for both Oznium and the architects (our client), but we eventually managed to complete the work in time according to the original plan. All of the LEDs were engineered and built in-house by us, so their quality is exceptional.
So exactly how was the Rockefeller Center Christmas Tree Ornament 2018 made?
The construction involved 4 phases:
The internal structure:
---
The architects first received the center of the star, which consisted of a huge sphere. They had to manually insert each of our LEDs into position, and make sure that all of the wires are perfectly aligned inside of the giant sphere, so that each LED will work perfectly for the next 40 days. In the city that never sleeps, this Christmas tree & star will shine 24/7.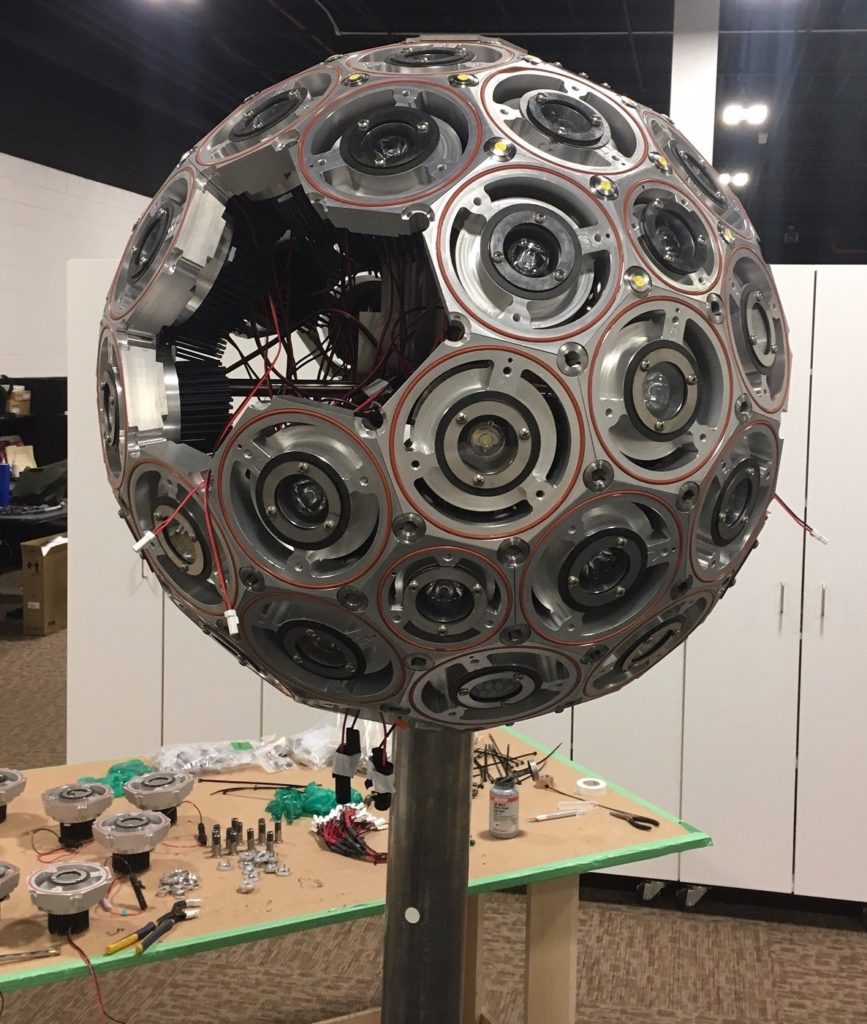 Testing:
---
After installing each and every one of the LEDs, they had to properly test them and make sure that everything is working perfectly, before assembling the rest of the star. The LED product used for the star is a slightly customized 3W, 4000k, aluminum version our 11 mm Flush Mount LED Bolt, a high-quality model, produced and sold by Oznium. This LED can be customized in many ways and can be used in a wide variety of places, both indoors and outdoors. It is one of our best-selling products and continues to receive thousands of positive reviews from happy clients.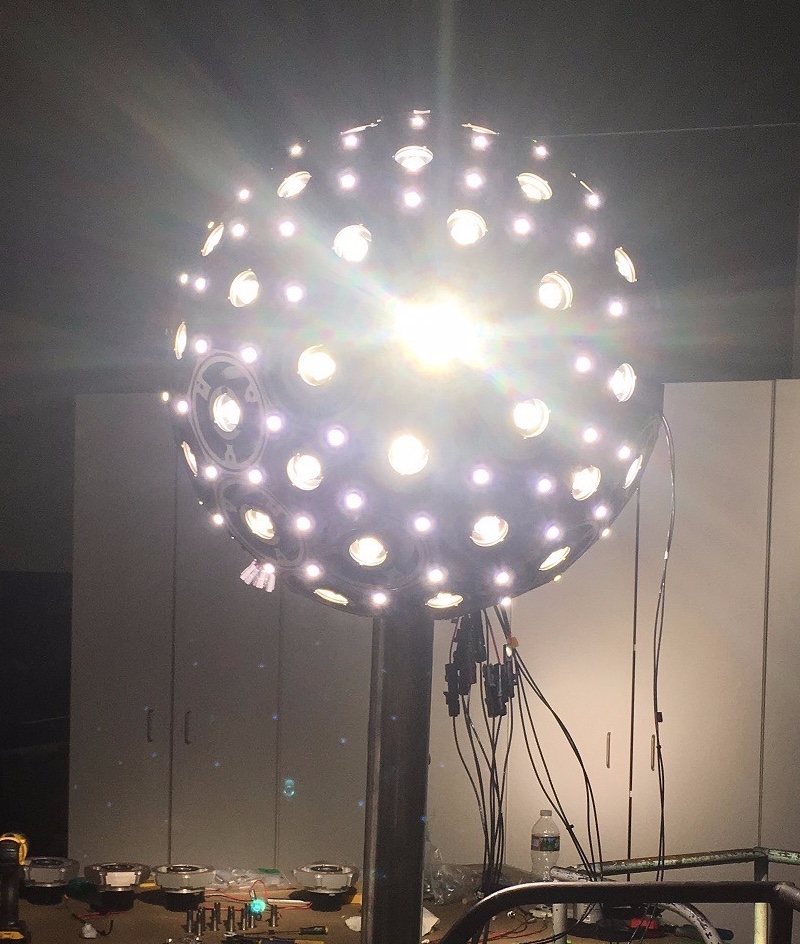 Assembling the star:
---
After all of the LEDs were mounted and tested, the next step was to assemble each and every one of the 70 spikes of the star. This was also a tedious process, and those who installed them had to be super careful to not destroy any of the fragile Swarovski crystals. Just imagine the cost if one of the spikes were dropped or broken. But luckily they are professionals, and everything went smoothly.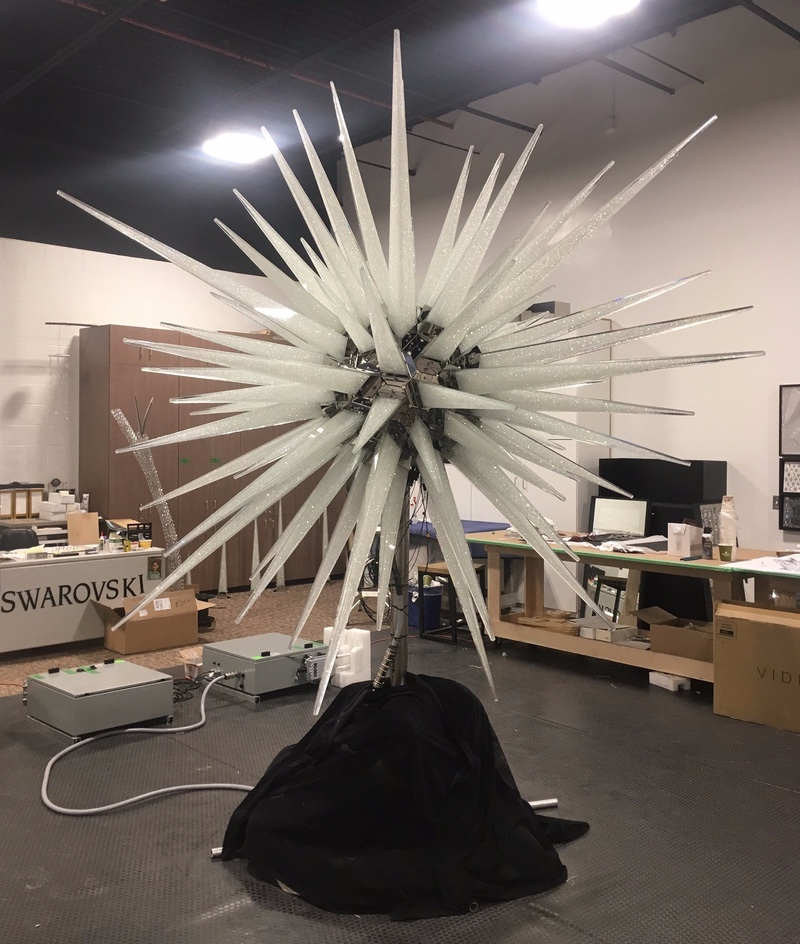 The final test:
---
And finally, after all of the spikes were installed, everything needed to be tested again, to make sure that each spike illuminated perfectly. And as you can see in the image below, the result is outstanding!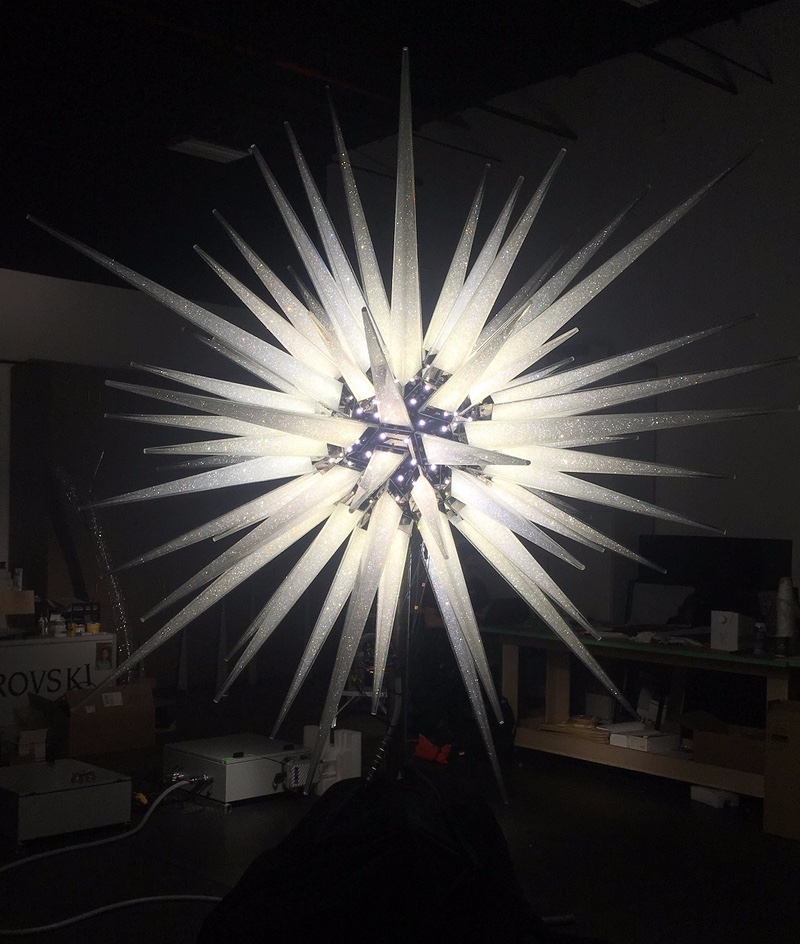 This spectacular 900 pounds (408 kg) Rockefeller Center Christmas Tree ornament had to be hoisted on top of the enormous tree by crane. It was brought to the public eye on November 28th, in a beautiful opening ceremony that included singers, celebrities, and dancers from the New York City Ballet and Radio City's Rockettes performing the "Christmas Lights" act. The amazing star is lit 24/7, and if you're passing through Manhattan, you can admire this piece of art until January 7th 2019.
Oznium is a small American-owned company that designs and produces high quality LEDs. Our professional staff with many years of experience can design custom LED solutions for the needs of all types of clients, big or small. We are very passionate about creative LED applications, and most important of all, we have a 100% satisfaction guarantee. We work with a large variety of industries and can adapt to any client needs and desires.
When a famous architect collaborates with Swarovski, they must also choose a world-class company for the LED lights. Oznium is proud to be a part of this special project and light up the lives of millions of visitors during the holiday season.
The amazing star is lit 24/7 and if you're passing through Manhattan, you can admire this piece of art until January 7th 2019.