Neo-Wedge LED Bulb - For C5 Corvette - Customer Questions
Frequently Asked Questions by Oznium Customers
Will these fit as a replacement for the #74 bulbs in the upper HVAC controls on a 2002 ford focus? - by Geoff (East Windsor, CT)
Sorry, not sure. They look similar but not sure what the Ford bulb really looks like.
can you put a different colored led into this product?
Do you still have the resistor soldered onto the back of the base of the bulb as shown in the original install ?
did you fix the wedge not tightening down problem on these for the 2004 corvettes?
We haven't changed anything and customers are getting them to work.
Can I put these in my 2008 ZO6? - by Jerry (Atlanta area)
I don't know if they would fit. We don't have records of all the Corvettes and what type of bulbs they use.
Is the resistor already soldered into this led?
Yeah, it works on 12 volts directly.
Can you yank the LED out of the resistor? - by Billy (Los Angeles)
Yes, you can dis-assemble this if you'd like.
Can you tell me what the rating and size of the resistor is? - by Rick
This bulb has a 470ohm resistor in it.
Do you also make them in the slightly smaller size which is found on the HUD control panel to the left of the instrument cluster in a Corvette? I can't remember if www.spdkilz.com shows this, but for some reason there is a smaller bulb on that side.
these bulbs are used in the DIC panel, door control panels, the Traction control/active handling panel, and foglight/hatch/trunk panel. this is a perfect project to get rid of the old looking yellowish incandescent bulbs. do you know if these light up the TC/AH panel well though? I've heard complaints that other commercially available LED 74's don't provide enough light in this one location.
Sorry, just the one size.
2 questions. What is the diameter of the base ,and what is the height from base to tip? The Scion xB uses a 10mm base and 13mm height
Base = 9.50mm
Height including bulb = 10.20mm
If used in the cluster can these bulbs be dimmed just like a regular bulb? - by Raymond (St. Paul, Alberta, C)
Yes, you should have no problems dimming them.
2004 Chevrolet Corvette Z06...4 on the drivers side and 2 on the passenger side, correct? How about the other bulbs in the instrument cluster, it looks like (without taking it apart) that there should be 2 on the heads up display, 1 for the HUD 'page' button and then 2 -4 on the computer buttons. Any idea? - by Mitch (Heath, TX)
We have no idea how many 74 wedge bulbs are in the Corvette. Sorry, but we don't have one to take apart and see for ourselves.
Is the 74 base type the same that fits in gauge clusters in a Ford Focus? Though the Pictures are blurry this is a Forum on the Mod I am hoping to do. http://www.focusfanatics.com/forum/showthread.php?t=134217 - by Kevin (Lynchburg, VA)
It is very unlikely that our 74 bulb will fit your application, as they were designed specifically for the Corvette. You can always try, but we're not responsible if they don't fit.
Does the black mount come off? Cuz i'm certain it does so i can fit it in the cubby hole for a scion tC just want to make sure it comes off.
If you'd like you can remove the LED from the plastic holder.
is 74 the size/type of the "bulb" like 194, 168, etc.?
what kind of connector is on the end? is it a 2 wire connection or does it have a plug attached?
It comes exactly as pictured: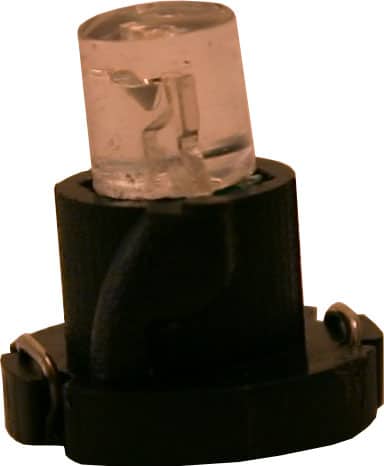 Can these be used in other cars or is it only for Corvettes?
They may be able to be used in other cars, we do not know for sure. Buy them and see, if they don't fit send them back for a refund.
Are the LEDs used 3mm or 5mm?
will these lights fit into my center accessory on my Scion XB? - by Shawn (Corona, CA)
I don't know. Please take a picture of the bulb and then I can probably tell you.