Are you a Tesla owner looking for brighter interior lights for your cabin, frunk and trunk? Look no further - Oznium has the solution for you and your cutting-edge tech vehicle! Apart from manufacturing Tesla LED Lighted T Badges, we have recently developed a new Tesla interior light as an upgrade option, to satisfy Tesla owners needing clearer, brighter lighting. Perfect for the Tesla Model 3, Model S, or Model X, these brighter LED puddle lights will improve safety and function during dark hours of the night.
Its obvious the stock OEM version is incredibly dim, making objects in your trunk difficult to see in the evening. Ours is
20 times brighter
.
Quick & Easy Installation
A unique plug and play direct snap-fit design, with an extra long wire makes the installation super easy. Oznium is a market leader when it comes to painless installation. In fact, Oznium lights use the same exact plug & play connector to make installation quick & easy for all current Tesla's:
Tesla Model 3
Tesla Model S
Tesla Model X
Within five minutes, you'll experience lighting that is 20 times brighter than stock models. Simply pop out the existing factory light, unplug it, plug in the new Oznium LED light, and snap it back into place. And just like that, within a few minutes, you're the owner of a custom Tesla boasting ultra bright LED lights.
Step 1: Snap out existing lights
Step 2: Unplug
Step 3: Plug in Oznium light
Step 4: Snap Oznium lights back into place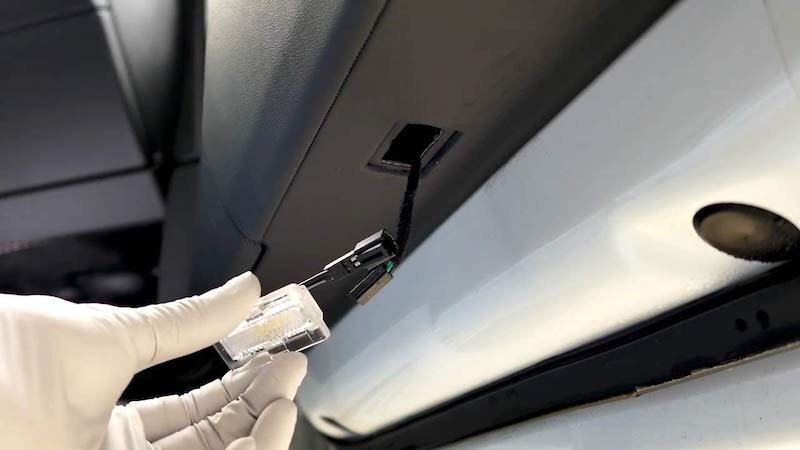 Because we use real OEM TE Connectors, there's no wiring required!
Attention Model 3 owners: These regular lights will work everywhere in your Model 3 except under the front dash. If you want to install the lights under the front dash, please get the "1-Pack White for Model 3 Footwell" which is specifically made for Model 3 footwell.
- Works perfectly in all Model S and Model X vehicles.
- Works in all Model 3 vehicles (except under the front dash)
Customer LED puddle lighting upgrade install video on a 2017 Tesla Model S P85D:
Prefer to order on Amazon? You can buy a 4-pack set of our ultra bright Tesla interior lighting kit here: