Looking for the brilliant glow of Motorcycle LED lights without the hassle of installing LEDs individually with a soldering iron, or outdated and overpriced "motorcycle kits" ?
Our ultra flexible Motorcycle LED Strips hook up to your bike in one easy step, bringing you all the convenience of our LED strips in a weatherproof, affordable, high tech package. The strip has all resistors embedded in the strip (no bulky adapters or transformers) and the lights are 100% plug-and-play with any 12V source.

Very bright and very cool (literally, no heat output!), these strips, which sell for as little as $3.99 each, give you total lighting flexibility on your motorcycle or bike, while the small power footprint will little to no drain on your battery due to the super efficiency.

Also, like all of Oznium's LED strips, our motorcycle LED strips are made with durable plastics. No matter where or when you use them on your motorcycle, be it in hard / acid rain or the driest night on record, this motorcycle lighting solution offers ironclad protection against any harsh elements.
Action shots!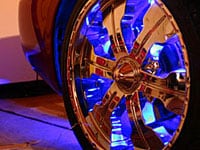 Check out
more stunning photos
.
Oznium LED strips put out a minimum amount of heat, so there's no fire risk, and they'll fit in a variety of places:
wheel or ground effects
upper and lower side vents
behind saddlebag
below headlight
windshield
openings in fairings
Wherever the heck you want them to go!
The only limit is your imagination.
Works great with V-Rods, Yamaha, Kawasaki, Suzuki, Honda, and other Sport bikes; Also works well on Goldwings.
Can the LED strips be cut or trimmed?
Yes! You can easily cut the LED strips. Use a sharp utility knife. The LEDs are wired in groups of 3, so you should cut every 3 LEDs.
Note: Some of the shorter lengths can't be cut because of a critical power wire inside. Before you cut, just make sure you won't be cutting a power wire, otherwise your LED strip could be damaged.
Can the cut section of the strip be re-used?
While it is physically possible, it is not a simple procedure and not worth the effort. For practical purposes, you are better off discarding the cut portion.
Once cut, is the strip still waterproof?
If you cut it right, it will maintain a degree of "weather resistance". But to make a cut strip fully waterproof again, we recommend you add some silicone sealant to the cut end.
What is the best way to mount them?
Cable ties, also known as zip ties work for many installations. We also include a surprisingly strong 3M double sided adhesive mounting tape.
Do the LED strips require resistors?
No. The LED strips do not require any resistors. They are ready to work on any 12 volt power source.
What is the "Million" color?
The million color LED strips have red, blue, and green LEDs. They come with a tiny controller which automatically fades through millions of colors. At this time, you can't pause or set the color. It is all automatic. But we're working on a new controller that will give you more control. Buy these today, and you can easily upgrade to a new controller in the future. Check out an action video!
Which wire is power and which is ground?
The silver wire is 12v +, and the gold wire is 12v - (ground). If you accidentally reverse them, nothing bad will happen.

---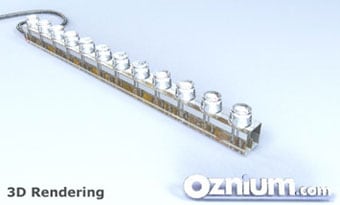 Other applications:
You are currently viewing Motorcycle applications for our Flexible LED Strips.
We also recommend this product for: