Extreme Multi-Colored LED Bulb - Direct Replacement - Remote Control! - Customer Questions
Frequently Asked Questions by Oznium Customers
Are the intermediary colors PURE colors, or a visible mixture of two colors projected simultaneously? (I have an inexpensive version that makes "aqua" by projecting blue + green, both of which show up, and "purple" by projecting red + blue, for example) - by Caroline (New Jersey, U.S.A.)
The red, green, blue chips make up the colors so not true colors.
Does the bulb come with a remote? - by Carlos (Montreal)
As mentioned on the product page, the remote is sold separately, so unless you buy a remote, the bulb won't come with one.
What is the difference between spot and globe? Which one is in the picture - by Chauncey (Spring, TX)
The one pictured is the Spot, which gives a narrow angle spotlight beam. The globe gives a wide floodlight beam and casts light in all directions.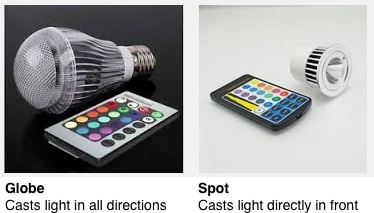 I have previously purchased this item from you, but I have lost the remote. Can I order another- just the remote? Thanks. - by Ryan
How many watts are these lights
I am building a bubble water feature in a large shopping mall. If I put two of these lights on the top pointing down and two underneath pointing up, would I get a pure color and would it be enough in that setting? - by Charlie (Richfield, Minnesota)
That should work for you, you would get either solid colors of red, green, blue or the RGB spectrum.
Do I need a specific driver or controller for led's
Not for the Extreme Million Color Light Bulb
will it light up a porch 16ft x 25ft i dont meen to be dum what is the differance between a spot & globe
The spot if flat on top, the globe is round like a light bulb. It will pretty much light the porch, only ambient lighting though.
will it light up a porch 16ft x 25ft
Yes. Will give good amount of ambient light.
What differences are there between the white led and rgb leds other than color?
Will this work in Australia 240v 50hz? - by Chris (Australia)
Yes, the bulb is rated from 90-220 V AC, 50-60Hz. This is a direct replacement for a standard US bulb.
What is the average life expectancy of a bulb?
Can one color be used without fader for an extensive period?
If yes, would it reduce the life of the bulb? - by Frank (Mohammed)
3-5 years.
Yes, Just select the color.
Nope.
Can this bulb be used for a pool light? The light has a self contained, water tight container that holds the bulb.
Are they remote specific? If I have one remote will it control multiple lights? That is the preference for my application. Can they be set up with separate remotes? - by Rich (Wisconsin)
One remote will run multiple lights, they are on the same frequency.
Hi. Saw a few people asked if multiple bulbs can be used on one remote. How many bulbs can be used off of one remote? - by Taylor (Texas)
Basically an unlimited number of bulbs can be controlled from the same remote.
How far away will the remote control's signal reach? - by Jeremy (Cedartown, GA)
These bulbs appear programmable from the buttons on the remote. I purchased four of them but they didn't come with a manual, if programming is possible (what color to start, what fade pattern, etc) can you post the manual? - Jack - by Jerry (Miramar, FL)
Is their a bulb like this that can replace the regular white light inside the car on a 2006 Monte carlo - by Mr. (mill)
No, just the dome lights are similar, but not million colors.
can you control the speed of the fade function and can you choose a specific color spectrum to fade in and out of? - by Parth (Florida)
Unfortunately there is no way to control the speed
How bright are these. IE how many incandesent watts would be needed to make up?
These are very bright bulbs when used in a dark environment. Due to the lumen ratings however, they are best used as accent lighting in rooms / dark areas, rather than sunny, bright areas for BEST visibility. Check out how bright they are in the YouTube video on the 1st page in a dark room. The bulb will flood a completely dark room, even whilst having the beam of a spotlight!
Can these be used outdoors? - by Ron (Illinois)
What about 220V 50Hz? - by Henk (Netherlands)
Hi: This will also work fine. The bulb is rated from 90-220 V AC, 50-60Hz. This will work fine in your outlet, providing you have a proper E26 or E27 base. -K
would this work in a 120v 60Hz 360mA socket? - by Noah (elk grove california)
Yes! 120V 60Hz is perfect for this bulb. It's a direct replacement for any standard US light socket.
can it " pulse ", so it can simulate fire? - by George (Columbia Falls, Mont)
I would suggest the 'Fading' effect / slow fade in and out of a Red to simulate fire. This bulb can create many different light modes / settings to create a full light show from a single standard light outlet!
Is it possible to sync multiple bulbs spread across an entire room to the same color fades?
Yes, just power them on at the same time to keep them in sync, and instead of using the remote to change their color or cycles, use power-cycles (turn on and off quickly / use a momentary power switch) to switch the modes. Perfectly synced show across any amount of lights! -K
can one remote control more then one LED bulb at the same time? - by Luis (Hastings, NE)
Yes, one remote can control multiple bulbs. To avoid interference, just aim close (within 4-5) of the unit you'd like to control.