Security LED Flood Light Motion Sensor FAQs
All Customer Questions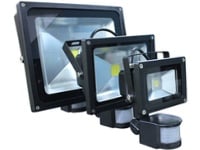 Motion Sensor Flood Light
Q:
Can I hardwire this light to the Romex in an electrical outlet box? Specifically the 10 watt light.
A:
Yes
Q:
How long the warranty will come with it?
A:
One year.
Q:
Can you provide information on how to rewire it? - by Satish (Brooklyn, NY)
A:
No diagrams available. You can remove the sensor piece and wire the internal wires together.
Q:
Is there a way to keep the light on all the time after the sun goes down? In other words, deactivate the motion sensor? - by Satish (United States)
A:
The only way would be to remove the motion sensor and by-pass it by rewiring some wires inside.
Q:
Can this be wired to a switch and not use the motion sensor? - by Roland (Hawai)
A:
Its possible, but not too simple. You'd have to open it up and re-wire something.
Q:
Can I extend the length of the wire using Romex and add a plug to the end of it?
A:
Yes.
Q:
Will there be a 5000k version available?
A:
No plans for a 5000k version, although we can certainly make one.
Can you buy at least 25 pcs?
Q:
Do you have this in 12 volt dc???
Love my 20 watt Eclipse spotlight from you.
- by Doug (Elkhorn, Wi)
A:
Sorry, we don't stock this in 12vdc.
Q:
Do you have any idea when the 50w version of this light is going to be back in stock? - by Vincent (United States)
A:
Hoping soon, no exact ETA yet.