12V Rechargeable Battery Pack - Ni-MH FAQs
All Customer Questions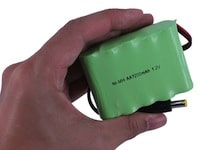 12V Ni-MH Rechargeable Battery Pack
Q:
I am going to use this to power an LED light strip in a storm cellar. How long will the battery pack hold a charge? I can't worry about needing to recharge it all the time. - by Kyle (Oklahoma)
A:
It would depend on how many leds are wired to it and how long the leds are on at one time.
Q:
How long does it take to charge this battery? - by Cliff (Fenton, MI)
A:
Usually 3-4 hours.
Q:
If I would like to power a 2'long strip of your LED ribbon with this battery pack....ballpark estimate on time before it needs charging?
thanks dolphins!
A:
Depending on color about 11 hours.
Q:
How do I connect this to the Waterproof SMD bar? - by Chris (Wolfe City, TX)
A:
You connect this to the bar, the other end plugs into the battery pack: https://www.oznium.com/replacement-parts/linear-light-power-adapter-wire
Q:
How long would this power the 10W Eclipse LED Light? Thanks! - by David
A:
Estimate is 2.5 hours.