Freedom RGB Controller FAQs
All Customer Questions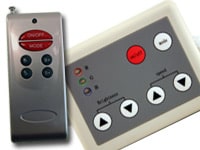 Freedom RGB Controller
Q:
What is the MAXIMUM number of feet of RGB strips this will power ?
I see you sell 15 ft roll - by Jeff (Copley Ohio)
A:
About 48 feet.

(By the way the roll you're referring to is not 15 feet, but rather 16.4 feet / 5 meters)
Q:
If I use a power adapter that will be turned on/off from a line switch, does this product RESTART in the same mode in which it was turned off?

Does the mode have to be reset every time the power is turned on?

In other words, if it's plugged into a wall switch, and I set it to cycle slowly through the infinite colors, then turn it off from a wall switch, will it RETURN to the slow infinity cycle?

MUST I buy the remote controller? - by John (Center City Philadel)
A:
It has memory. It remembers the mode/color/speed.

When you purchase this product, it will come with both items, exactly as you see in the photos:
Item 1) handheld remote control
Item 2) ECU box
Q:
I would like to use your product to light a few aquariums, what is the comparable wattage equivalent to incandescent light bulbs per foot, i.e. how many feet would I need to equal 2 x 60 watt bulbs - by Douglas (Indiana, PA)
A:
It is difficult to compare LEDs to standard bulbs, LEDs are much brighter. If you used the waterproof ribbon or a flood light you would have plenty of light. You would have have to test and see; https://www.oznium.com/flexible-led-strips/thin-waterproof-ribbon or https://www.oznium.com/led-flood-and-spot-lights/high-intensity-led-floodlight.
Q:
I see your controller is hooked up to a junction box. Is it the junction box that runs each light strip/bar through a seperate controller? If not how many runs (20 inch bars) will your Freedom controller power? How long a strip of 4 chip will it run. Can it be hooked to your battery pack. Sorry for all the questions I am elctrically challenged old guy! - by Dave (Saskatoon,SK. Canada)
A:
Are you referring to the video? The junction box powers the Freedom RGB Controller. The Freedom controls/powers the strips/bars. The number of bars the Freedom can power is determined by how many mA the bars/strips pull.

"How long a strip of 4 chip will it run." Depending on your power source, it would run forever.
Q:
2 Questions:

Does this device remember the mode/color/speed when the power is pressed off on the device?

When the car is turned off (total power cut), does this device remember the mode/color/speed?
A:
Yes and yes.
Q:
I have some strips already from a different manufacturer. PPG First I'm looking for a controller that fades uber slow. Like 1 or even more like 5~15 minutes between color fades. Does this slow down that much? - by mike (Arkansas)
A:
It does have a fade mode, please check out this video for more information.


Q:
In the video, what type of strip is that, I'm having a hard time finding it on your website?
A:
We don't have that exact strip anymore. We modeled a new strip https://www.oznium.com/home-led/heavy-duty-tri-chip-led-strip after the one in the video.
Q:
how many amps does the controller pull?
A:
Basically, depends on how many amps the lights you have hooked up to it pull.
Q:
how use remont control
A:
There is a video. https://www.oznium.com/led-controllers/freedom-rgb-controller
Q:
If I do not buy the controller right away, am I still able to turn them on? - by Jordan (Kenosha, WI)
A:
Most of our lights require a controller to make them flash.
Q:
if i mounted the controller in my glovebox would the remote still have a strong enuf signal?
A:
It should, but I haven't tested that situation.
Q:
if i mounted this in my glove box would the signal from the remote still be good?
A:
I would recommend testing it first, it should.
Q:
would it hurt to power this controller with 13.6VDC?
If it does not hurt it to be powered by 13.6VDC, what would the outpt voltage per channel? - by Aaron
A:
I think it could damage it at 13.6 volts. Keep it at 12 volts.
Q:
Will the controller be able to power...about 13 feet of RGB Ribbon Led strips? - by Trent (Florence, OR)
A:
Yes.
Q:
I'm looking to hook this up in my car. The voltage as you know can fluctuate from 6vdc to 14.4vdc. Can this controller handle this kind of voltage spikes? Or is a stabalizer/converter needed?
Lastly, does the voltage of each channel follow the input voltage or is it regulated to 12 vdc? - by Aaron
A:
Yes, this will be able to handle the voltage spikes. It is regulated to the 12 volt DC.
Q:
based on the answer of the first question:
the device would have the load potential of 12amps (4ampsx3Channels)?
A:
Correct.
Q:
Maximum amperage output per ch?
A:
max 4 amps per channel
Q:
Can the frequency of the remote controls be changed so that multiple controllers can be used in the same application without adjusting all of the controllers at once with the same remote control?
A:
We can not change the frequency on the remote.
Q:
will the controller handle four 9.5"s and two 3"s? - by dan
A:
Yes
Q:
What is the input power?
A:
12 volts.
Q:
does the remote have different channels so that u can control seperate led strips, with the same remote
A:
No
Q:
How many strips may be connected to the unit?
A:
Depends on the length.
Q:
How long are the wire leads leaving each end of the controller? - by Derek (San Marcos, CA)
A:
The leads are no longer than 9"
Q:
Will this remember the mode when turned off or having power cut? Thanks, Drew - by Drew
A:
It does have a memory when being turned off.
Q:
Do you have to use the million color LED's or can you use descrete LED's? Want to use to have chasing lights around a window with 3 different color LED's.
- by Allen (Stow, OH)
A:
Any LED will work.
Q:
Does the controller mode include a mode that scans through each of the modes? - by Allen (Stow, OH)
A:
No.
Q:
is the controller waterproof or water-resistant - by brian (Brossard, Canada)
A:
No, but it can be if you use silicone to cover the whole device.