Pack of dome light dummy bulbs FAQs
All Customer Questions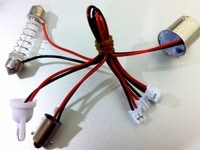 Pack of dummy bulbs
Q:
What gauge is the wiring?
A:
20 gauge.
Q:
What color are the kits - by Sean (Baytown,tx)
A:
These aren't a color.
Q:
i have a 2004 gmc sierra single cab and i need to map light LED lights and a dome light. were do i get all of this? - by Mike
A:
You'll have to look up what type of bulb is used. Then use our search function in the top right corner of the page to find the bulb on our site.
Q:
I've received the Superflux Dome Light from the mail today. I have a 168 bulb socket for my dome light and used the 194/168/T10 dummy bulb that was included, and it doesn't work. Nothing is happening. I tried switching the position of the dummy bulb and still nothing. Please Help! What can you do for me? - by Jordan (Mountlake Terrace)
A:
Are you sure you are using the correct dummy bulb?
Q:
Would this dummy bulbs fit a double end cap bulb with is entirely diffrently from these? - by Edward
A:
I don't think so, no. Sorry.
Q:
Will any of these work for a 912, or do you carry 912 LED bulbs - by Bernard (Minneapolis, MN)
A:
I'm sorry but we do not have a 912. This will not work for a 912.

From our website:
We include the eight most common bases in each pack.
(These bases fit 99% of vehicles)

* 194/168/T10
* BA9S Bayonet
* 1003 Bayonet - popular with RV owners!
* 27mm Festoon
* 31mm Festoon
* 36mm Festoon
* 39mm Festoon
* 44mm Festoon
Q:
do u know the size of the dummy bulb for my 2002 honda accord se
A:
No, sorry.
Q:
I want to replace all three front dome lights in my 09 tc. Do I have to buy three separate pacts or can I buy one with just the three I need? - by Ben (Peoria IL)
A:
Why not just buy our dome lights which already come with the dummy bulbs?

The dummy bulb packs are not able to be customized or split up. So if you need 3 of the same bulb, please buy 3 packs.
Q:
Is there a 1157 socket and can these be made for brake lights? - by Mike (Lakewood Wa)
A:
The following dummy bulbs come in the pack.
* 194/168/T10
* BA9S Bayonet
* 1003 Bayonet
* 27mm Festoon
* 31mm Festoon
* 36mm Festoon
* 39mm Festoon
* 44mm Festoon

These are not make for break lights.
Q:
Can I request a custom pack? Ex. (6) 194 and (2) BA9S Bayonet. If it will cost more thats cool. - by Bobby (Bronx, NY)
A:
No
Q:
For my 2007 Jeep Wrangler Unlimited (JK) the dome light replacements are listed as a #578 on Sylvania's website. Do you know which dummy bulb size that is? - by George
A:
44mm festoon which is included in the pack of dummy bulbs.