Energy efficient, and super bright LED Dome Lights transform your car's interior FAQs
All Customer Questions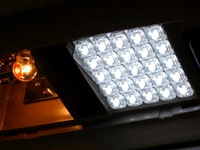 Superflux LED Dome Light
Q:
If I buy 1 dome light (Superflux LED or Thin Flexible), I get 6 or 8 common bases respectively.
If I buy 2 dome lights, do I get 12 or 16 common bases respectively and so on?
A:
Yes
Q:
Has anyone used these for a Jeep JKU...which ones and how many? - by C.Dennis (Clearwater FL)
A:
Not sure, it is best to measure the inside area for your domelight to see which one will fit.
Q:
My bulb reads as follows (12v8wal72) this is for my 07 FJ Cruiser the dome cap usable area is 2"x5" but very shallow, please advise if you are familiar with the FJ dome light set up , wanting the brightest red ,for not ruining my night vision. Thanks for your time - by Bob (Mt. Pleasant SC)
A:
Since you said its very shallow, please check out our Ultra Thin LED Dome Light.
Q:
How long of a warranty comes with this product? - by Daniel (United States)
A:
1 year
Q:
I am very interested in the 25 LED board of the Superflux. However, I am picky.... I want to know if it is possible to do half the board in one color and the other half in a different color and that will include a way to choose between which side you want on? - by David (Georgia)
A:
Sorry, only available in single color.
Q:
What connector setup would I need to install a blue led setup in a 2010 Chevy Cobalt LT sedan?
A:
We supply 6 different connector pieces. One will surely work for you. Just use trial and error.
Q:
I Have A 04 Scion Xb, Which Is The Best Fit For My Dome Light?
A:
Measure the inside of the dome light cover to find out which size fits best.
Q:
will it fit on a 2010 nissan altima - by mike
A:
No idea. Please measure the space inside of dome light area.
Q:
How many lumens do these put out? - by Craig
A:
Sorry, we haven't been able to test these yet for that information, but they are bright!
Q:
hi are the red superflux leds bright enough to read maps in the car
with out struggling to see? - by daryl (australia)
A:
Depends what is bright enough for you. Some people need more light, while others may need less light.
Q:
I read through the questions and the LED works with dimming funciton. Will the LED lights dim, or just turn on and off ? Thanks - by George (Australia)
A:
These can be dimmed.
Q:
I am interested in purchasing one of your white dome lights, but I wanted some clarification regarding the electrical requirements.

You stated above that the White LEDs power requirements are
"White 3.5V 80 mA"

(3.5V)*(0.08A)=0.28Watts/LED

(0.28Watts/LED)*(25LEDs)=7Watts

not the 24Watts(12V@2Amps) stated above.

I totally understand if there are losses due regulation in your system, but I sure hope you are not dissipating 18Watts of heat. Could you please clarify this for me. Thanks

- by John (SoCal)
A:
These lights do use 2 amps. We tested one in the warehouse leaving it hooked up over a 4 hour period. The light was warm but you could put your fingers on it without getting burnt.
Q:
what are the operating voltages for 16 Led board and 25 Led? - by r4e
A:
12 volts
Q:
I would like to use these for a mask i am making. Would i be able to connect these and 4-6 feet of prewired ribbon strip leds to one power source? If so what would the required voltage and amp supply needed? - by Jesse (New York)
A:
Yes. 12 Volts, 2 Amp AC Adapter.
Q:
Do you have LED bulbs that will work with the 194 style map lights? - by Jeff (Riverbank, Ca)
A:
We have a 194 bulb [https://www.oznium.com/accent-lighting/194]. This might work for you.
Q:
I have purchased LED bulb replacements for my dome lights in the past. Each time after approximately 1-2 months the LED bulbs begin to flash until they finally fail. This is very irritating. I contacted the seller of these bulbs and they claim the voltage is too high for the LED bulbs. This has happened in both of my vehicles. 1 - 2004 Chevy Suburban and, 2 - 2007 Chevy Silverado. Will your LED panels do the same thing? - by Jeff (Riverbank, Ca)
A:
Haven't heard of this happening with our dome lights.
Q:
I have the superflux 16 led, LOVE them. I now have a row of led's that have stopped working, is there anyway to fix this? or do I need to replace it. - by Roy (Tucson, AZ)
A:
I'm sorry to hear that. Go ahead and request a replacement with Customer Service.
Q:
whats brighter these superflux or the thin led dome light?

A:
The Superflux 4-chip LED.
Q:
is the adhesive foam conductive? or purely for bonding purposes?
A:
It is not conductive.
Q:
Pit one of these in a Cavalier (not my xB) and two rows of LEDS stayed lit, even when the ignition was off and the doors closed. What would cause this?
- by Zachary (Inwood, WV)
A:
To much power getting to the dome light.
Q:
When ordering any dome light are the dummy bulbs included?
A:
yes the same dummy bulbs that are sold in our dummy bulb pack are included
Q:
can this be wired to work with the transformer? as in not in an automobile application? trying to wire this for a fishtank with limited real estate. what is the draw in amps for the 25 led superflux panel? - by leroy (jenkins)
A:
Yes, these can be hooked up to a 12v ac adapter. They 25LED Superflux will pull 2 amps.
Q:
are these dome lights waterproof, intend to mount on under side
of a panel on open deck of sailboat for general lighting - by Capt (Panama City, Florida)
A:
Nope
Q:
Which bulb size would fit a 2001 celica gt? - by alex (houston tx)
A:
We do not know, but when you order a dome light, you get 7 festoon bulbs that are most common in vehicles.
Q:
Are you planning on offering these in yellow in the near future? - by Alex
A:
Unfortunately, not at this time.
Q:
The voltage atthe dome light connector on my 96 camry is 14.1 volts max. Can your LED dome light handle this?
A:
Yep
Q:
i have an application where i don't need the dummy bulbs, will just hardwire. i see you also offer dummy bulbs seperate, so i was wondering if it's possible to just buy the wired bulb, without paying for the bulb adapters that will go right in the trash
A:
The dummy bulbs come pre-packaged so they will automatically be in the Dome Light package.
Q:
has the "burning out" issue been fixed?
A:
Yes :)
Q:
Do you have a license plate LED - light available for the tC? - by Rico
A:
Check out our Forum, I'm sure other tC owners have come up with a way to do so.
We don't specifically make a LED Light for that.

www.oznium.com/forum
Q:
I took my lens off of my dome light and tried to pull the bulb out. it wont come out easily. Not sure if i have to unscrew it or not or if i just pull it out.. - by Jacob (Springfield)
A:
Need more Info. What kind of car do you have? Also, check the owners manual for your car.
Q:
do any of the plus fit the 08 fusion - by kevin (orlando)
A:
We carry a few different sizes of dome lights. All you have to do is remove the dome light cover and measure the inside dimensions of the dome light compartment.
We should have one the fits.
Q:
Do you have a shot of the 3 white colors side by side?
I'm looking for the purest white.
A:
Neutral white is the purest white color. No photos of the dome light, however they are very similar to the color temperatures seen here:


Q:
Is there a correct size dummy bulb for the center dome light in a 2005 Ford Focus, sedan? - by Jason
A:
I see that you have purchased one already.
It should have come with 7 different dummy bulbs, these are the average sizes for all cars.
There should be one that fits, or you can splice the wires and tap directly into power.
Q:
Does the "Cool White" color have a "bluish" tint to it? (much like the xenon HID effect bulbs).
A:
Absolutely!
Q:
Are the UV Dome Lights more harmful, or dangerous, to one's eyes or eyesight, when compared to an LED of a 'normal' color? - by Tam (Olney)
A:
No.
Q:
i have fluctuations in the voltage from transfer from battery to alternator. What are the safe operation voltages for the super-flux and rigid 5mm, or do you sell them with voltage regulators [Built-In]? - by Corey (Dracut Mass)
A:
I believe the the dome lights are voltage regulated. Just make sure your not pushing more than 12volts, just to be on the safe side.
Q:
I recently obtained your SuperFlux LED light. Yes its very bright but it got too hot and the adhesive backing melted and shrank. What would be a good replacement adhesive that can withstand the extra heat. Other than that it looks nice in my 7th gen civic. - by Nathan (Bumfuck Nebraska)
A:
Apologies for the adhesive problem. I do not know of a good replacement. Check your local hardware store, they might have a few options.
Q:
I am considering getting the UV 16 led dome light, but see no pictures on it and am curious to see what it looks like if possible and if it would give off enough light for a true blacklight effect.
A:
Our website designers are currently making some updates and changes to our systems and website including new pictures for just about all of our products. Please keep checking the website.
Q:
i have a honda element ex 2008. the dome light is a 578 bulb. would one of these adapters work for that?
A:
The 44mm should fit.
Q:
I have a Toyota 4runner 2006 and it says i need the 168 for the map lights. Will your adapters fit?
A:
Yup, the blue wedge looking one is what you'll use.
Q:
Will these lights fit in the overhead lights in my '05 Subaru Outback? - by Dan (Boulder,CO)
A:
You'll have too measure the dome light compartment to find out which of our dome light will fit.
Q:
I have a Toyota 4runner 2008 and it says i need the DE3175. will your adapters fit? - by 4Runner
A:
Yes, the adapters will fit
Q:
i have a 91 civic with a DE3022 dome light bulb. do you guys think this would work?
A:
I think it will work.
Q:
Can you give the Kelvin color temp readings for the white versions? - by Bob (SLC, Ut.)
A:
Cool White = 6500K
Neutral White = 5000k
Warm White = 3000k
Q:
which are brighter ?
Superflux LED Dome Light or Ultra Thin LED Dome Light or Thin Flexible 5mm LED Dome Light or Rigid 5mm LED Dome Light - by Joe (Sunny AZ)
A:
The Superflux LED dome light would be the brightest.
Q:
what is the mcd (BRIGHTNESS) of the blue, green, red and white superflux leds ? - by Joe (Arizona)
A:
As far as MCD's go, the Green Superflux Dome Light would be the brightest.
Q:
would it be safe to trim the edges off of the board? trimming one side off would make it fit perfect. - by travis (Boynton Beach, FL)
A:
No, sorry trimming the circuit board will cause the dome light to malfunction.
Q:
I have a Chevy Malibu and my Bulb size is 561 according to Sylvania. Will i be able to use the LED Dome light in my car? - by Ryan (Philadelphia)
A:
I do not see why not. Just measure the interior of the dome light compartment.
Dimensions
16 LED board: 1.5" x 1.5"
25 LED board: 2.0" x 2.0"
Q:
Will these fit an 07 4 runner??? - by Fangel (Baldwin Park, cA)
A:
Just measure the inside of the dome light compartment.

Dimensions
16 LED board: 1.5" x 1.5"
25 LED board: 2.0" x 2.0"
Q:
I'm doing the domes on a tC. Which color of white on these will best match the white on the thin flexible domes?

What would be the best match in the front (to go with the large thin LED dome in the back), the small thin or one of these small superflux? - by Bill (Scikotics)
A:
Cool white will match the thin dome light. Whichever one is best is up to you - they'll both function the same, however if you want the exact same light output, stick with the same kind of dome light.
Q:
How do we choose the plug type, like 44mm or 36mm there are no options it is just the 16 or the 25 led boards. How do you pick the 44mm? - by Chris
A:
There is no need to choose which plug type since they are all included.
Q:
What is the beamspread (approx) - by Jim (Pennsylvania)
A:
The individual LEDs have a beam pattern of about 110 degrees. So somewhere around there.
Q:
I currently have dierect replacement led bulbs in my 2000 monte carlo ss. The car has the auto dimming interior lights and since I have installed the bulbs half have either burned out or flicker constantly. Will these bulbs have the same result with the auto dimming feature? If not, what is the difference? - by john (atlanta,ga)
A:
Our bulbs should not be affected by an auto dimming feature. However you may want to check the voltage being supplied to the bulb. If it spikes on occasion, it can damage LEDs. That or you just got a cheap product previously.
Q:
Can I just buy the Adapters? I don't plan on using this light for my trunk, I actually want to use a LED strip. Thanks! - by Steven (California)
A:
Sure, you can use a 12V adapter in place of your 12V car battery.
Q:
ok so all 6 connectors are included with the purchase? Also is this product flexible or should i go with the thin led domelight if i need it to bend it to fit - by Nick (Pueblo, CO)
A:
Yes all the connectors mentioned are included. You should not bend this dome light. Get the flexible one if you need to bend it.
Q:
does the 25 led board fits on the dome light for the tc?? i know its bigger but would it fit good?? - by ronald (miami)
A:
It's a bit too tight for the 25, however the 16 fits great.
Q:
Looking for a white light - for overhead light - bright enough to read- can you help- 2005 Ford Super Dudy- I made the mistake of the rescon- replacements- they are blue- no good- if so what unit should I order - by Peter (San Diego, CA)
A:
Not sure which style dome light you have (can't find a reference for what size a 578 bulb is, you should take yours out and measure to see if it matches any of our sizes), but for the best normal white color you should get the Neutral White dome light.
Q:
Will either one fit a FJ cruiser
A:
No I'm sorry, we don't have a dome light adapter for the FJ Cruiser.
Q:
Can the wires be connected directly to + and - without the "adaptor" - by Tim (Tacoma)
A:
Yes - They are 12 volts.
Q:
how difficult would it be to splice the wires on all three board, to hook up into one? I can imagine doing two, but not so sure about three. Would the wires be long enough for three? - by Raj (Davis, CA)
A:
It should be very simple to splice multiple dome lights together. If you can do two, you can do three.
Q:
Is there any way to hook up 2 LED boards to one bulb?
A:
Absolutely! You can splice the wires together.
Q:
I want to get a Blue 25 Led dome light for my 2003 Saturn Ion and will any of the adapters fit a 561 socket ? - by Joey (Lapeer, MI)
A:
Not sure. The 561 bulb has a couple wire hooks on the end - not sure if these are critical for the bulb to work or if one of the festoon bulbs would work ok. If you wish, give us an email and we'll work out something where you can test it risk-free.
Q:
My 2001 Cavalier coupe has a rather small domelight area due to the sunroof...do you think the 16 LED board will fit in there, and if so will one of the provided festoons match the stock bulb? - by Adrian (Alberta, Canada)
A:
Measure it to see if it will fit. And yes, one of the adapters will work.
Q:
if the 25 led board is slightly bigger, is it possible to cut one row off and still have the leds work?
A:
We don't recommend that.
Q:
how thick are these boards? - by nick
A:
The thickness is about 0.5" with the adhesive foam attached.
Without the foam, the thickness is about 0.3".
Q:
My dome light takes a 906 bulb. The 194 connector looks similar to that of the 906 bulb. So, will the dome light work in my car? - by Allen (Gallatin, TN)
A:
Probably.
Q:
i see that you made a rear dome light for the tC.
http://www.oznium.com/thin-led-domelight

but will you be making one out of superfluxes?
A:
The thin LED dome light is universal, not specifically designed for the tC. It is really hard to fit superflux LEDs in the tC's rear dome light because the space is so thin. Our Thin Flexible Dome Lights are just as bright if not brighter than the superflux!
Q:
How do i get my LEDs to automatically turn on when the doors open ?
A:
Well if your dome light came on when the doors opened before, I'd suggest plugging in the Superflux LED dome light to your current one!
Q:
Warm,neutral or cool white? Which one is the brightest? Does the Scion XB have to use the thin-led-domelight?
A:
The cool white will appear the brightest.

The Scion xB doesn't have to use this. It could use others, but they will not fit as well.
Q:
So I've read that the 16 LED fits in the Scion tC dome light, and that you don't make any that will fit in the rear light or trunk light. Are there any easy mods that can be done to get those lights to be blue LEDs as well? And how would I go about setting the lights to go on when the door opens? - by Brad (South Carolina)
A:
Actually we just released a new type that fits in the tC's rear light (on the roof). We are still working on one for the trunk.

So, you'll need this one in the size "Large": https://www.oznium.com/led-dome/thin-led-domelight
The "Small" one would also work for the front tC dome light.

The "Large" one will fit the xB.
Q:
hey what size fits a '07 Toyota Corolla? will it be plug and play?
A:
I have no idea. I have not looked at the dome lights of an '07 Corolla.
Q:
will any of the included adapters fit a 578 socket? - by Chris (Lloydminster, Canada)
A:
Yes
Q:
Can I get just some connectors from you? I belive it's the 194/T10 that i need. I think it's the 2nd connector down from the top in the picture above. - Nick MA - by Nicholas (Shelburne Falls, MA)
A:
The connectors are not sold individually, sorry.
Q:
Is the price for the pair of dome led's or for just one. - by Carol (Orange County, Ca.)
A:
The price is for one unit with a cluster of 16 4-chip LED's OR 25 4-chip LED's.
Q:
Is there anyway to get a 74 bulb adapter? - by Michael (Olathe, KS)
A:
We do not yet have this bulb adapter. Perhaps we will include this in future generations of our LED Dome Lights.
Q:
Is this light waterproof / weatherproof? - by Suzanne
A:
No. If you are interested in a waterproof version, we can make one if you can order enough quantity.
Q:
I have a 1997 Saturn SC2 and my dome light is rectangular in shape. It measures about 2" by 3". Which would be better, the 16 or the 25? - by Jesse (Spring Hill, FL)
A:
The 25 count would be better if you only wanted to use one. Or if you wanted to spend a little extra, you could probably fit two 16s in there. Measurements for each are provided on the product page, the decision is up to you!
Q:
I have a '95 monte carlo and was wondering if any of the bases fit a 561 style bulb? - by Kenn (Lake Geneva, WI)
A:
Yes
Q:
what size led is supposed to go into a 97 dodge stratus i need a little more light in mine
A:
I have no idea.
Q:
If your factory dome light has a dimming function, will this still work with the LED dome light?
A:
Yes
Q:
How much current do I need to provide to the 16 and 25 LED boards respectively?
A:
Not sure exactly what you mean, but the dome lights work on a car's standard 12v system, and will draw less power than a standard bulb.
Q:
if both the wires break off. How do i fix it? also, when i installed it and put it into the "on when door is open" mode, it was off, but 4 out of the 16 lights were on. I don't know why it's like that. - by john (california)
A:
If both the wires break off, you can solder them back on. I don't know either.
Q:
so you just pop out the old one and pop in the new one? that easy? no way! - by john (california)
A:
Yea
Q:
Hi. I have a 1997 Chevy S-10 pickup reg. cab. Will the 25 led fit my dome? - by Scott
A:
I have no idea. Measure!
Q:
Just curious, would the 16 led board fit in place of the stock dome in a 00 Cavalier?
A:
No idea. Try measuring, or get one and see for yourself. You can always return it.
Q:
Why won't the Scion tC work for the rear? Is it just a fitment issue?
A:
Yes. A fitment issue. Working on a new one that will fit the rear. Stay tuned!

Update: This one in "Large" will fit the Scion tC rear: https://www.oznium.com/led-dome/thin-led-domelight
Q:
How long is the wire lead from the connector to the board? - by Gary (Socorro, NM)
A:
It is just under 4 inches.


Q:
Which one is the correct size for the tC dome light. Would this also work for the rear dome light and possibly the trunk light? - by Mike (Maryland)
A:
16 LED for the Scion tC. You can use 3 of them in the front dome light.

Update: This one in "Large" will fit the Scion tC rear: https://www.oznium.com/led-dome/thin-led-domelight
Q:
What size fits a Scion xB? - by Carlos
A:
You should use the "Large" size of these: https://www.oznium.com/led-dome/thin-led-domelight
Q:
My dome light area is rather small. What are approximate dimensions for the 25 LED board? - by Kevin (Matewan, WV)
A:
16 LED board: 1.5" x 1.5"
25 LED board: 2.0" x 2.0"