360 Degree LED Tube FAQs
All Customer Questions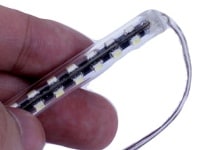 360 Degree LED Tube
Q:
Are these durable? With additional layering and use of a combat grade diffusion blade, these could be a breakthrough for Lightsaber enthusiasts. Would it be possible to make a custom tube 32 in long with the ability to light in a sequence? - by Landon (Michigan)
A:
Yes, these are durable but do get hot. Not sure of making a longer tube due to the heat it would produce. Not sure what kind of lighting sequence you were thinking of.
Q:
Will the heat affect the tube? Say if on for a few hours straight? - by ROLAND (Pearl City, HI)
A:
The acrylic tube itself shouldn't be affected much, but the lifespan of the LEDs will be sharply decreased if left on for a prolonged time.
Q:
Can you estimate the wattage of an equivalent incandescent bulb?
A:
Lumen output is approximately equivalent to 30 watts of incandescent light.
Q:
Can you make them in longer sizes (up to 80cm) and less bright about 5w/m? - by Omer (Israel)
A:
Yes, certainly. How many do you need?
Q:
What is the power consumption of one tube @ 7.5" long? - by Adrian (Vancouver)
A:
500 mA or .5 amps.
Q:
What is the outer tube made of - by Adrian (Vancouver)
A:
Acrylic
Q:
Can this be powered by a AAA battery?
A:
Yes, but since the LED tube is currently setup to run on 12v, you'll need to use 12/1.5v = 8 batteries in series to supply 12v.
Depending on how many tubes you need (hopefully at least a few hundred), we can re-configure them to run on 3v, so you could use less batteries.
Also, since these LEDs are so bright and draw relatively a lot of power, the batteries may not last for as long as you need/expect.
Q:
are these waterproof if not can it be made to be water proof?
A:
Add a little silicone to the ends, not good for under water.
Q:
Is there anyway these could be made in RGB? - by Marc
A:
Yes, if you need 100 or more.
Q:
Is there a version of these 360* tubes with color control / selection? And are they available in longer lengths?
A:
We don't have that right now, but we could certainly custom design and build them for you. How many do you need? How long?
Q:
HOW MANY LUMENS DOES THE TUBE PRODUCE
A:
Sorry, have not tested for that yet, but it is BRIGHT!
Q:
Do you offer these with IR leads? - by Bob (United States)
A:
I think you mean LEDs.
Leads are the wires, and that doesn't really make sense.

Yes, we can certainly make some custom for you using infrared (IR) LEDs, as long as you can order at least 100 tubes.
Just let us know the wavelength, and how how many you'd like.