LED Light Parts | Tube Mounting Clip FAQs
All Customer Questions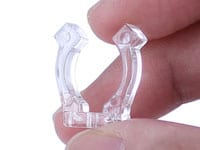 Tube Mounting Clip
Q:
Are they UV resistant???? I would like to use these on a boat that will be in the sun. - by Nathan (Florida)
A:
Sorry, we haven't tested the UV resistance of these.
Q:
Is this enough strong to hold tube upsidedown? How many clips do you recomend per each 20" tube? I plan to add three in line with no "spaces" in between, can this be done? - by Luis (Sant Feliu De Guixol)
A:
Very strong! 2 clips per tube. You can butt up the tubes very close together if you'd like.
Q:
Which is the minimum and maximum diameter that will hold properly? I've something similar if sizes meet. In milimiters, please. - by Luis (St.Feliu De Guixols,)
A:
Height: 3/4"
Length: 3/4"
Width: 3/8"