Momentary Round Rocker Switch FAQs
All Customer Questions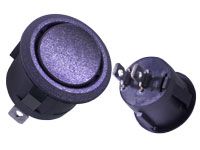 Momentary Rocker Switch
Q:
Hey my led strips are connected on the same wire of my hid's > on ignition so everytime i trun on my car they light up and i want to hoop it up with the switch for my led light so i could trun it off the day how do i connect the switch on my led strip ?? - by Alex (Montreal)
A:
You're HID lights use more AMP then the strips. So if you connect the strips to the same wire as the HIDs, you'll eventually kill the strips.

You can't have it both ways, unfortunately. You can either wire it up to a switch and turn it on and off, or wire them up to something else so they turn on automatically.
Q:
This might be a stupid question but is reverse momentary when it would ground instead of switch to positive?i I need a switch that will switch to negative. Do you have any that are waterproof switches? I am wiring up some police lights on my atv and will also be adding some of your lights. Pics will follow when I'm done. - by david (tampa florida)
A:
Sorry, are switches are not waterproof. Our Momentary Switch is NC which means Normally Closed, it only operates when pushed then the circuit is broken or shuts off when released. If I understand your questions correctly you are needing the opposite in which case you need a switch that is NO or Normally Open.
Q:
What is the switch diameter? Also, can this be used as a reverse momentary switch, where power is interrupted when you press the switch?
A:
3/4" mounting hole diameter. And no, the switch is set up only to make a connection when pressed.
Q:
Do you offer a momentary rocker with LED's?
A:
No, sorry. However you can easily attach an LED to the switch and create your own indicator.
Q:
What is the amperage ration on these switches, and will they hold 30A for a electric door popper for shaved handles? - by mike (Dover, PA)
A:
About 16 amps. 30 amps might work since it is just for short time. Or to be safe, you could always use some relays.