Remote Control Duplicator FAQs
All Customer Questions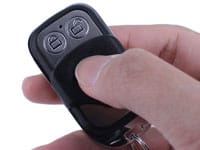 Remote Control Duplicator
Q:
Cannot duplicate my 2 button remote, Original remote is used for on/forward and off/reverse. Duplicator will not work. I checked and it is 315 Mz freq also. It flashes on the learn but will not function. - by William (Pahrump, NV)
A:
Please contact Customer Service at 800-245-8131.
Q:
This will not successfully duplicate any of the buttons on your new remote controller dimmer and strobe switch even though the latter puts out 315MHz. What gives? I bought it for that purpose, as the new dimmer and strobe switch has only one remote, unlike the previous version, which had two. - by Richard (Timonium, MD)
A:
We're aware that this 2 button Remote Control Duplicator will not work with the 4 button Remote Control Dimmer & Strobe Switch.
We're currently searching for another style (4 button) Remote Control Duplicator that will work, and once we find it, we'll add it to the site.
We're also considering whether we should include only 1 remote with the Remote Control Dimmer & Strobe Switch or 2 remotes.