35W HID Work Light - Brightest Possible! FAQs
All Customer Questions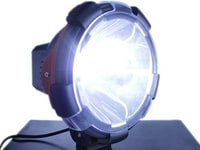 35W HID Work Light
Q:
How does it work with marine application , like on a shrimping boat to see crab traps corks in the water? - by Kevin (south Louisiana)
A:
It should work fine, not for underwater. Ww have this 20 watt for underwater: https://www.oznium.com/led-flood-and-spot-lights/super-bright-10w-20w-led-spotlight
Q:
Do you have parts available for these? If I break a lense can I order another one?
A:
We do not sell individual parts for these.
Q:
Are these lights sold as a pair or as singles?
A:
Sold per unit. So if you enter a quantity of "1", you will receive 1 light. If you enter a quantity of "2" you will receive 2 lights, and so on.
Q:
How far does the 9" beam shine....im looking for lights for the front of the jeep but am not trying to spend 400$ on a single HID light.. your price already seems more reasonable! - by Evan (Henderson, NV)
A:
Sorry, but its impossible to give one number for "how far it shines".
Perhaps you can buy one, test it out, and see if it is suitable for your needs.
You're always welcome to return it for a refund, for any, or no reason.

How would you measure the "shine". For example, by measuring how far it can illuminate? Or from how far away it can be seen?
It depends how bright it outside. Is it daytime / night time? How high up is the light mounted? Is it foggy / clear?
Q:
What is the Amp draw while runnung? - by Phil (Elgin, IL)
A:
6 amps
Q:
Is this spot or flood? It looks like there might be an interchangable lens cover on the front, is this the case?
A:
Spot.

There is a plastic cover piece that can snap off on the front, but it has no effect on the beam angle. The beam angle is determined by the reflector/lense, rather than the plastic cover.
Q:
Are there any advantages to the bigger diameter lights ?
A:
Just more light for you project.
Q:
Do you have with more watts like 75 or 80 watts? How big ar they around
A:
4" = 5.5 inches diameter
9"=9.5 inches in diameter
7"=7.5 inches in diameter
No larger wattage available right now, sorry.
Q:
Are the HID bulbs replaceable to change colors?

If so, will you carry other colors? - by Jordan (Kenosha, WI)
A:
You're welcome to replace the HID bulb with a different one.

No plans to carry other colors.