5 Pin Relay Harness FAQs
All Customer Questions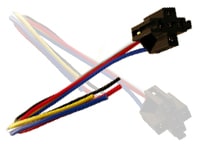 5 Pin Relay Harness
Q:
Are these the type of harnesses that interlock together? I need 30 harnesses, but they must interlock. - by Scot
A:
They do not interlock.
Q:
Are all five wires the same gauge?
A:
No
Q:
Can you explain what the colored wires are suppose to connect to? - by mike
A:
It depends on your application. There's a million ways to use a relay.
Q:
What gauge wire is used for the main power leads in the harness? How long are the leads? - by John (Jax, FL)
A:
Don't know the gauge exactly - it is around 16-18 gauge wire.

The attached wire is about 8-10 inches long.