Diamond LED Strips - Extremely thin, bright, in Warm or Cool White
Want it delivered

Thursday, February 11

?

Order it in the next

22 hours and 30 minutes

, and choose

One-Day Shipping

at checkout.
Perfect for wherever you need a blindingly bright, yet
thin
light source.
Available in one length only: 11.5"
Two colors: Cool White & Warm White
- Mostly flexible
- Has 12V power wires already attached at one end
- Can be cut every 3 LEDs. (And if you have a steady hand, you could solder new wires. But be careful, the strip is so tiny!)
Waterproof? No, it is not designed to be waterproof, but you could always put it inside a clear tube, and seal the ends with silicone.
Doesn't come with 3M tape, but you could easily apply your own to the back. Or mount with tape, glue, cable ties, etc.
There is a thin strip of aluminum on the back to help with heat dissipation.
If you need longer lengths, you could solder multiple strips together.
Or if you need 100's of a custom size/color, let us know.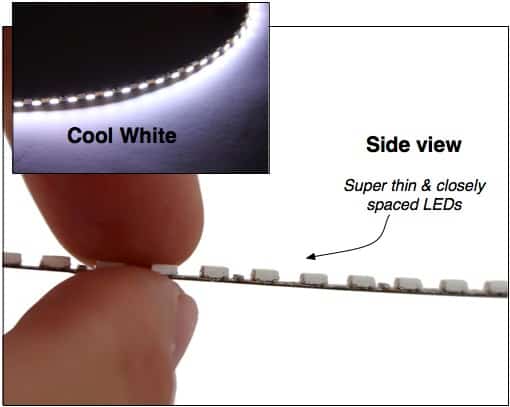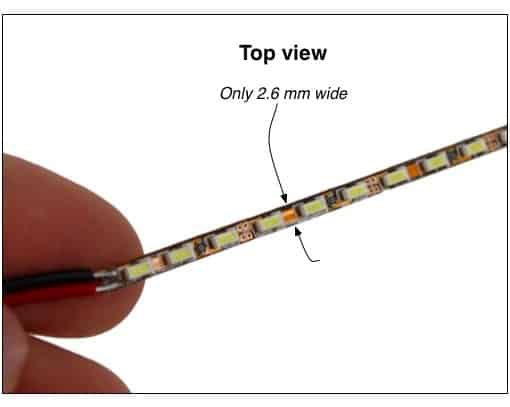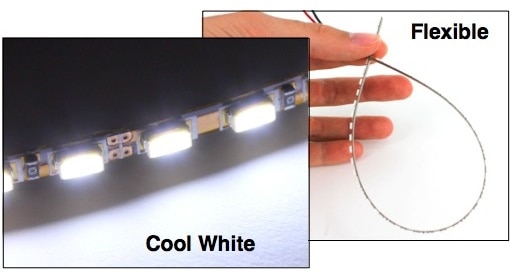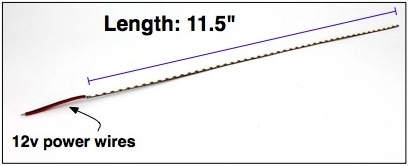 Customer Questions?
Our customers have asked 20 questions about this product.
→ Read common questions and answers.
Customer Reviews
Yeah, really cool
Reviewer: Jordan Moddes (Kenosha, WI)
Item: Diamond LED Strip
These are one of the brightest type of LED strips I've come across. They are as bright hands down as the COB LED Strips in Oznium's accent lighting. These, however also get incredibly hot where you cannot hold them. The use I had was amazing and I was able to sell the project I completed with these as turn signals. Now is it for you? If you have use in an area that will be on for less than 20 minutes (mounted on plastic) that isn't exposed to weather, it's great. You mount it on a metal surface and it isn't exposed to weather you can use it whenever. Oznium has a GREAT product and you're still able to cut and re-solder the points. It is tedious but so worth it. Good job Oz on yet another great product.
Write an online review and share your thoughts with other customers.
Upload your own action shots - show us how you creatively used our product.