Flexible Marine LED Strips : Ultra Energy Efficient & Unrivaled Glow!
Want it delivered

Tuesday, February 9

?

Order it in the next

17 hours and 11 minutes

, and choose

One-Day Shipping

at checkout.
Break free from the crowd, and be the first at the marina overhaul your current boat lighting scheme. Switch from dim incandescent lights to environmentally friendly, energy saving, efficient waterproof LEDs!
Oznium's Flexible LED Strips not only use less wattage than halogen and incandescent equivalents, but even utilize less energy than fluorescent bulbs, and unlike CFLs, don't contain any harmful chemicals inside! Did we mention they have an average life span of over 50,000+ hours, and cost less than fluorescent bulbs? To give you an idea, that's over 11 years of usage, even with the lights on 24 hours a day. Since the Waterproof Marine LEDs contain extreme weatherproofing so they will stay lit anywhere you can think to mount them.

The Flexible LED Strip gives you total lighting flexibility to mount seamlessly in any size or space, put next to no drain on battery, and will never fail due to rigorous quality control testing.
Through advanced heat displacement technology, and low wattage, Oznium's
Marine LED Strips
put out a
minimum
amount of heat, so there's
no fire risk
, and they'll fit in almost any home application you can think of!
Suggested Uses
:
In your boat's storage area
Under & around your steering area
Under boat cabinets
Stair Lighting
Under seating areas
The only limit is your imagination.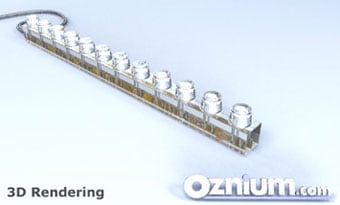 Frequently Asked Questions
:
Can the LED strips be cut or trimmed?
Yes! You can easily cut the LED strips. Use a sharp utility knife. The LEDs are wired in groups of 3, so you should cut every 3 LEDs.
Note: Some of the shorter lengths can't be cut because of a critical power wire inside. Before you cut, just make sure you won't be cutting a power wire, otherwise your LED strip could be damaged.
Can the cut section of the strip be re-used?
While it is physically possible, it is not a simple procedure and not worth the effort. For practical purposes, you are better off discarding the cut portion.
Once cut, is the strip still waterproof?
If you cut it right, it will maintain a degree of "weather resistance". But to make a cut strip fully waterproof again, we recommend you add some silicone sealant to the cut end.
What is the best way to mount them?
Cable ties, also known as zip ties work for many installations. We also include a surprisingly strong 3M double sided adhesive mounting tape.
Do the LED strips require resistors?
No. The LED strips do not require any resistors. They are ready to work on any 12 volt power source.
What is the "Million" color?
The million color LED strips have red, blue, and green LEDs. They come with a tiny controller which automatically fades through millions of colors. At this time, you can't pause or set the color. It is all automatic. But we're working on a new controller that will give you more control. Buy these today, and you can easily upgrade to a new controller in the future. Check out an action video!
Which wire is power and which is ground?
The silver wire is 12v +, and the gold wire is 12v - (ground). If you accidentally reverse them, nothing bad will happen.
---
Other applications:
You are currently viewing
Marine
applications for our
Flexible LED Strips
.
We also recommend this product for:
Customer Questions?
Our customers have asked 33 questions about this product.
→ Read common questions and answers.
Customer Reviews
4 Reviews
Average Customer Review
(4 customer reviews)
T-top flourescent replacement
Reviewer: KBH (West Palm Beach, FL)
Item: Flexible LED Strips
Two 19" marine LED strips made an easy 10 minute job of replacing the old fluorescent bulbs. Couldn't be happier.
Great Costumer Service
Reviewer: LKS (TN)
Item: Flexible LED Strips
I just wanted to thank you all for the quick and hassle free that I received on my replacing my lights. That the difference in a what a great company you have. Thank you again. LS
Black lights in my Rub Rail
Reviewer: Cupp22 (Thorn Hill, TN)
Item: Flexible LED Strips
I bought 3 of the black light strips for my bass boat to put in the rub rail. They work great. I put 2 on the left side of my boat and one on the right. It was so much cheaper than buying another led black light and having cords in the way. plus it makes my boat look pretty awesome.
Great product
Reviewer: Capt in the Keys (Big Pine Key, FL)
Item: Flexible LED Strips
Bought two 19inch white strips to replace the florescent lights in my boat t-top. Removed the florescent lights and replaced with the strip lights. Stuck them into the factory tubes and wired them up.
Cut my amp draw so while fishing at night, at anchor, no battery worries.

I will be uploading some pictures of the final product to oznium this evening.

Great product, fast shipping, will be ordering again.

Write an online review and share your thoughts with other customers.
Upload your own action shots - show us how you creatively used our product.