Motorcycle LED Strips - Super Bright, Durable, Waterproof and ultra efficient!
Looking for the brilliant glow of Motorcycle LED lights without the hassle of installing LEDs individually with a soldering iron, or outdated and overpriced "motorcycle kits" ?
Our ultra flexible Motorcycle LED Strips hook up to your bike in one easy step, bringing you all the convenience of our LED strips in a weatherproof, affordable, high tech package. The strip has all resistors embedded in the strip (no bulky adapters or transformers) and the lights are 100% plug-and-play with any 12V source.


Very bright and very cool (literally, no heat output!), these strips, which sell for as little as $3.99 each, give you total lighting flexibility on your motorcycle or bike, while the small power footprint will little to no drain on your battery due to the super efficiency.


Also, like all of Oznium's LED strips, our motorcycle LED strips are made with durable plastics. No matter where or when you use them on your motorcycle, be it in hard / acid rain or the driest night on record, this motorcycle lighting solution offers ironclad protection against any harsh elements.

Action shots!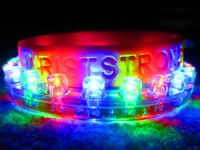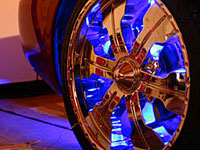 Check out
more stunning photos
.
Oznium LED strips put out a minimum amount of heat, so there's no fire risk, and they'll fit in a variety of places:
wheel or ground effects
upper and lower side vents
behind saddlebag
below headlight
windshield
openings in fairings
Wherever the heck you want them to go!
The only limit is your imagination.
Works great with V-Rods, Yamaha, Kawasaki, Suzuki, Honda, and other Sport bikes; Also works well on Goldwings.
Can the LED strips be cut or trimmed?
Yes! You can easily cut the LED strips. Use a sharp utility knife. The LEDs are wired in groups of 3, so you should cut every 3 LEDs.
Note: Some of the shorter lengths can't be cut because of a critical power wire inside. Before you cut, just make sure you won't be cutting a power wire, otherwise your LED strip could be damaged.
Can the cut section of the strip be re-used?
While it is physically possible, it is not a simple procedure and not worth the effort. For practical purposes, you are better off discarding the cut portion.
Once cut, is the strip still waterproof?
If you cut it right, it will maintain a degree of "weather resistance". But to make a cut strip fully waterproof again, we recommend you add some silicone sealant to the cut end.
What is the best way to mount them?
Cable ties, also known as zip ties work for many installations. We also include a surprisingly strong 3M double sided adhesive mounting tape.
Do the LED strips require resistors?
No. The LED strips do not require any resistors. They are ready to work on any 12 volt power source.
What is the "Million" color?
The million color LED strips have red, blue, and green LEDs. They come with a tiny controller which automatically fades through millions of colors. At this time, you can't pause or set the color. It is all automatic. But we're working on a new controller that will give you more control. Buy these today, and you can easily upgrade to a new controller in the future. Check out an action video!
Which wire is power and which is ground?
The silver wire is 12v +, and the gold wire is 12v - (ground). If you accidentally reverse them, nothing bad will happen.

---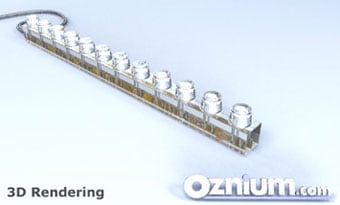 Other applications:
You are currently viewing
Motorcycle
applications for our
Flexible LED Strips
.
We also recommend this product for:
Customer Questions?
Our customers have asked 36 questions about this product.
→ Read common questions and answers.
Customer Reviews
8 Reviews
(5)
(1)
(1)
2 star:
(0)
(1)
Average Customer Review
(8 customer reviews)
help
Reviewer: Eugene Peterson (Cleveland, TN)
Item: Flexible LED Strips
I just got my led lights and I did not get a diagram on how to hook them up I don't want to short them out. if any one can tell me how to hook them up to my street bike I have a96 zx9r
waterproof strip
Reviewer: Carl Hurst (New Orleans, LA)
Item: Flexible LED Strips
I purchased 8 of these for my gsxr put them on with the 3m tape and the next day 3 off them pulled lose from the silicone backing. So I called customer service and they replaced those 3 with no problem. I replaced them with the led modules and ordered 5 more. Now one led light doesn't come on, on the waterproof strip. I'm not going worry about because I don't feel like calling them for one strip. But the customer service was great. I would not recommend these but I would recommend the led modules as they are more sleek and brighter than the waterproof strip.
Great product, great price!
Reviewer: Y. A. (Riverdale, MD)
Item: Flexible LED Strips
I purchased two 12" flexible LED light strips to install in my Buell Ulysses top case as a "3rd" brake light (i.e. high mount brake light for better visibility). I placed the order Thursday and received the product on Saturday. The LEDs emit a very bright red light and fit perfectly under the red plastic "reflector" of the stock Hepco-Becker top case.

I had purchased a similar product from a different company (i.e. major motorcycle luggage manufacturer that starts with the letter "G"...) for a different topcase and ended up paying much more money for much less light! Needless to say, I wish I knew of Oznium prior to making that other purchase. Oznium is my new LED light supplier of choice!
LED Tail Light for Motorcycle
Reviewer: DVS (Chicago, Il)
Item: Flexible LED Strips
The product itself is excellent and so is the service from Oznium.
I'm using the 9.5 inch strip for a brake light on my Honda Shadow. It's nice and bright at night but barely visible during the day.
LEDs were broke
Reviewer: Lavell Mabato (Milwaukee, WI)
Item: Flexible LED Strips
I was so excited to get these for my cafe racer build and I was hoping to even order more 2 more. I received them, hooked them up and found out that the strip was shorted and I could only get 3 LEDs to light up. I tried to wiggle the strip and got them all to flicker then back to 3 lights.. I have to say i am very disappointed.
AMAZING
Reviewer: Geoffrey (Tallahassee, FL)
Item: Flexible LED Strips
Great Product, Extremely bright, flexible and durable, amazing shipping time. Installed 12 strips of varying lengths on my 2007 ZZR600 and I Couldn't be any happier with the results. Highly recommended!!!!
Amazing Customer Service
Reviewer: Michael Alteri (Ticonderoga, NY)
Item: Flexible LED Strips
I placed my order for 12 flexible LED strips that included 6 2.4", 2 1.2", 2 4.7", and 2 9.5" in UV (Purple/Black) and 1 12v dimmer/strobe remote at 2:58am EST (11:58 PST) on Saturday morning/Friday night. My order shipped Saturday and I received it on Monday with my regular mail. I didn't expect it until at least Wednesday! I haven't hooked them up yet, but will be later tonight. My 2008 Yamaha R6 is gonna look awesome! Great Job Oznium!
Flexible LED lights
Reviewer: Drew Irby (Rhode Island)
Item: Flexible LED Strips
Great product!! works as expected, and would recommend anyone get these if you have an idea, these make that idea a reality. they work on any contour(in my opinion) and are perfect for any automotive modification because they are 12v out of the box!!
2 thumbs way up.
Write an online review and share your thoughts with other customers.
Upload your own action shots - show us how you creatively used our product.