LED STRIPS - Flexible, weatherproof, and economical
Want it delivered

Thursday, February 11

?

Order it in the next

3 hours and 16 minutes

, and choose

One-Day Shipping

at checkout.

Looking for the brilliant glow of LED lights without the hassle of installing them individually with a soldering iron?
Our LED strips hook up to your car in one easy step, bringing you all the convenience of weatherproof, inexpensive, high tech auto accessory ingenuity.
Very bright and very cool, these strips sell for as little as $3.99 each, give you total lighting flexibility, put next to no drain on your car battery, and no matter whether you use them in hard rain or the driest night on record, they won't fail you.
Action shots!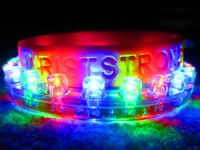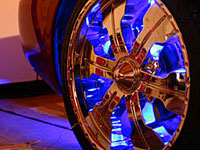 Check out
more stunning photos
.
Oznium LED strips put out a minimum amount of heat, so there's no risk of fire, and they'll fit in a variety of places:
Around the front grille
Under foot-wells
On wheel wells
In the trunk
Under the hood
Along the dash
Wherever the heck you want them to go!
The only limit is your imagination.
Oznium LED strips come in Blue, Green, Red, White, Amber, UV - BlackLight, Pink, and Million color. Prices range from as little as $3.99 to a max of $71.99, depending on your size and color choice.
Can the LED strips be cut or trimmed?
Yes! You can easily cut the LED strips. Use a sharp utility knife. The LEDs are wired in groups of 3, so you should cut between sets of 3 LEDs.
Note: Some of the shorter lengths can't be cut because of a critical power wire inside. Before you cut, just make sure you won't be cutting a power wire, otherwise your LED strip could be damaged.
Can the cut section of the strip be re-used?
While it is physically possible, it is not a simple procedure and not worth the effort. For practical purposes, you are better off discarding the cut portion.
Once cut, is the strip still waterproof?
If you cut it right, it will maintain a degree of "weather resistance". But to make a cut strip fully waterproof again, we recommend you add some silicone sealant to the cut end.
What is the best way to mount them?
Cable ties, also known as zip ties work for many installations. We also include a surprisingly strong 3M double sided adhesive mounting tape.
How should they be mounted in the wheel well?
Before removing the wheel, you should hold the strip in a few locations behind the wheel until you find a suitable location. Play around with some different options. We find it works best if they are mounted on or behind suspension components.
Do the LED strips require resistors?
No. The LED strips do not require any resistors. They are ready to work on any 12 volt power source.
What is the "Million" color?
The Million color LED strips have red, blue, and green LEDs. They come with a tiny smooth fade controller which automatically cycles through millions of colors. These "Million" color Flexible LED Strips work on a common negative wiring, and aren't compatible with our other LED controllers. If you'd like to use a more advanced external controller, consider pairing it with our Ribbon LED Strips which work on a common positive wiring.
Check out an action video!
Which wire is power and which is ground?
The silver wire is 12v +, and the gold wire is 12v - (ground). However, some strips will have the 12v + on the gold. If you accidentally reverse them, nothing bad will happen.
Can I use these for underbody glow under the car?
Yes! The result will be fantastic. Try the 6 foot strips for a wheel-to-wheel gapless glow.

---
Other applications:
You are currently viewing
Automotive
applications for our
Flexible LED Strips
.
We also recommend this product for:
Customer Questions?
Our customers have asked 207 questions about this product.
→ Read common questions and answers.
Customer Reviews
123 Reviews
Average Customer Review
(123 customer reviews)
Great lights
Reviewer: Cameron Walker (Apple Valley, CA)
Item: Flexible LED Strips
I ordered 2 of the 9.5" and 2 of the 4.7" strips. Wow. I was surprised at the amount of light the 9.5" strips put out. I used them in the footwells of my Jeep Cherokee. The 4.7" strips however, I overestimated them. They're bright, but not bright enough for the back floorboard to light up. Had them about 2 weeks and no problems so far. The leads could be thicker though. It's hard to find butt connectors that will hold the wire tight.
Great Again!
Reviewer: Mark Lanoue (El Paso, TX)
Item: Flexible LED Strips
This is the 3rd time I have ordered from Oznium. I have used pre-wired leds, light bar, and cathode tubes. I broke one cathode tube, but the other still works(after like 4 years, and 3 vehicles). So I ordered a replacement set, as well as a couple flexible led strips. As always, the shipping was super fast, and the product is great!
Stay away from the White!
Reviewer: Cyrus Atkinson (Fuquay Varina, NC)
Item: Flexible LED Strips
I am now on my 4th set of White 10in strips in less than a year, every set has failed within the first 3 times it was turned on. I had the yellow/orange strips for 3 or 4 years and NEVER had one led go bad, the white are simply a bad product.
RV Exterior Lighting
Reviewer: Michael Hermann (Crystal City, MO)
Item: Flexible LED Strips
They seem to be an excellent product. I mounted some strips under my RV for campsite accent lighting. Very easy to install and connect. They work great. I just ordered some more for under my awning.

I am using the ac transformer. I purchased the junction box but did not use it.
Flexible
Reviewer: Andrew Dao
Item: Flexible LED Strips
Just bought these. My only complaint about is the 3m tape that it comes with is HARD to PEEL. I had to get the misses to peel it for me. I don't have any finger nails. Good product. would buy again
4 years
Reviewer: Cyrus Atkinson (Fuquay Varina, NC)
Item: Flexible LED Strips
I got my first strip for my Mazda 3 in early 2008, to this day they are all operating, and equally bright. A simply awesome product.
Great product!
Reviewer: Curtis Clark IV (Central NJ)
Item: Flexible LED Strips
Pros: Simple to work with, super bright, easy install with the included 3M tape, can cut to where you need it.

Cons: Wish the leads were a little thicker gauge wire.

I bought a 38" strip to install behind the grill of my 2012 Escape. I found a great spot behind the bumper and mounted it with the included 3M double sided tape. Ran wires through the grommet for the clutch and mounted a rocker switch near the trunk release. The power is wired to the parking lights so that they shut off with the car in case I forget to turn them off. Oznium shipped these SUPER fast (well trained dolphins).
AWESOME!!!
Reviewer: Charles Holdsworth (Delta, Canada)
Item: Flexible LED Strips
These Flexible LED Strips are nothing more than EXCELLENT. I Received mine in the mail just over a week ago and just wired and mounted them yesterday. Picked up a box of fuses today, popped the fuse in, flicked the switch and let me say i will DEFINITELY be shopping at Oznium again. 5****+
Great Customer Service
Reviewer: Greg (Cranberry Twp, PA)
Item: Flexible LED Strips
I purchased Red LED Strip Lights to be installed on my motorcycle and one of the strips arrived defective. One call to Oznium.com and they replaced the LED strip with no questions asked. Excellent customer service, good product and superior shipping. I will always look at Oznium.com first for LED lights. Also the price was good.
Very poor quality
Reviewer: Charles Gatewood (Canyon Country, CA)
Item: Flexible LED Strips
I purchased these led strips to install around my headlights, I installed them I should have checked them first but I didn't. One strip had 3 leds out another strip had 1 led that was dim. I was sent free replacements and when I received them I checked them before I installed them and leds in them were out and the strips that were already installed on my car started to go on and off in different spots. I was told by an Ozium rep that it could be cold solder joints or the weather and did I want a full refund, I think the led strips that are being sold by Ozium are haunted because they basically do whatever in the hell they want to I was so frustrated that I took them off my car and threw them away and just took the loss. I ordered the same exact leds from another company I checked them installed them and they've worked perfect every since
See all 123 customer reviews...
Write an online review and share your thoughts with other customers.
Upload your own action shots - show us how you creatively used our product.