Waterproof Marine High Intensity LED Flood Light
Make constant use of that battery eating flashlight a thing on the past on your vessel! Are you tired of constantly fumbling for a dull flashlight for almost every task on your boat? See through the haze, and light up your entire boat with only a few watts with Oznium's Maritime LED Flood Lights!
This high intensity LED flood light packs the punch of a high powered halogen flood light and more, with ultra-low energy consumption, at only 1W, so almost no drainage on your battery! These can be used 24/7!

This versatile product was designed to provide multiple options for your boat & marine lighting needs. Forget those tedious hours of soldering resistors; just connect these LEDs to your 12V power source and you will have the smallest flood light you've ever seen! It couldn't be easier!
This product is truly and fully waterproof; once you secure your wires, it can even be fully submerged for years of underwater brilliance. And your options are endless, because this wonderful waterproof module is available in six variously vibrant colors: warm white (3300K), cool white (6500K), red, green, blue, or amber.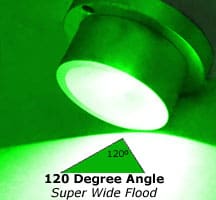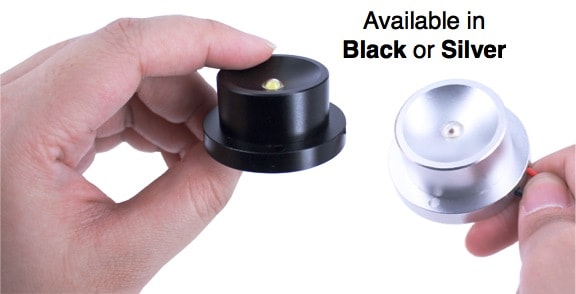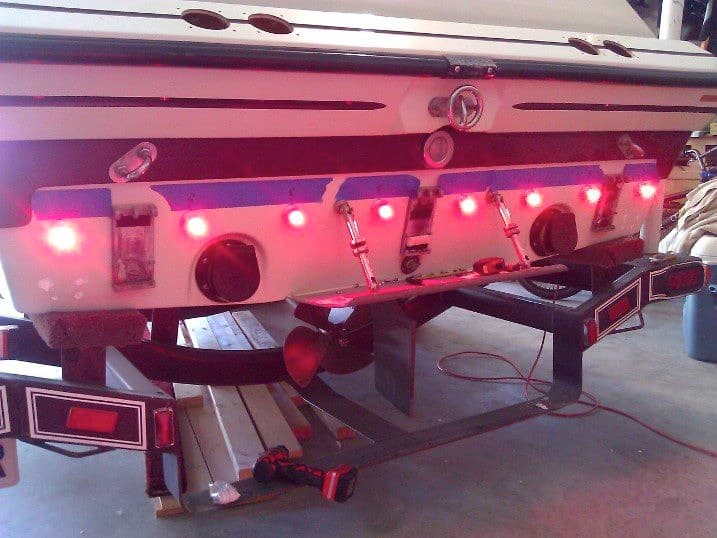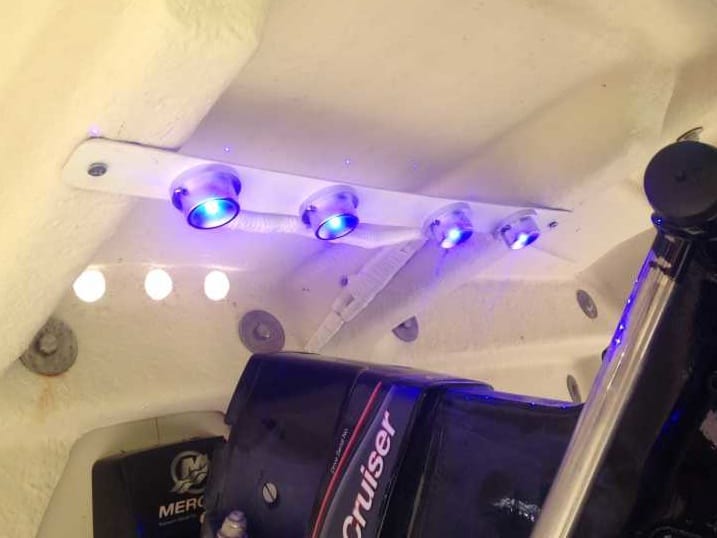 Do you need larger holes for mounting your LEDs?
We offer an elegant mounting bracket solution.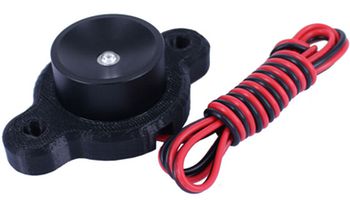 Other applications:
You are currently viewing
Marine
applications for our
High Intensity LED Flood
.
We also recommend this product for:
Customer Questions?
Our customers have asked 42 questions about this product.
→ Read common questions and answers.
Customer Reviews
18 Reviews
Average Customer Review
(18 customer reviews)
Landing Lights
Reviewer: Tom Imsland (Marshalltown, IA)
Item: High Intensity LED Flood
I usually fish Lake Michigan at night for King salmon. Landing fish in the dark is difficult. I've added three of these white lights under my swim platform. This addition has dramatically increased my catch ratio by making it possible for the net man to see what's going on and not loosing fish at the boat.
Thrilled with my High Intensity LED Flood lights
Reviewer: Robert Stack (Plymouth, MA)
Item: High Intensity LED Flood
I just can't say enough good things about this company or their products!! I installed 5 Flood lights as a test on my 20' Center Console boat and its like daylight!! I couldn't be happier!!
Great lights but even better customer service
Reviewer: Tim Jones (Harlan, KY)
Item: High Intensity LED Flood
I ordered 12 lights total, 2 white for fishing and 8 to light up the houseboat at night. The boat looks great and the lights put out plenty of light. See uploaded pictures.

One of the light has a flashing problem. I called Oznium and explained the problem and the sent me a replacement that day. I didn't have to give them any information, they had it from my phone number. They where great to work with.

It did take a couple of weeks to receive the replacement but I blame this on the US snail mail.

I would highly recomend the lights but over that I would recomend Oznium as the place to do business.
Nice!!
Reviewer: Rubio (Coldspring, TX)
Item: High Intensity LED Flood
More than a bang for the buck in my opinion. The floods are really bright and put off a nice wide glow. Only two negatives. They dont have enough of a flange for mounting. The holes are so close to the led housing that there isnt a self tapping screw that will fit. Also the orange color isnt orange at all, its more of a light amber. I still give them 5 stars because of the quality and brightness which is what i was looking for. Thanks
VERY PLEASED WOW !!!
Reviewer: Craig Smith (Palmer, MA)
Item: High Intensity LED Flood
I orderd 3 of these lights fo a customer of mine for his 22 TROPHY, to be mounted on the transom , Well after some problems with shiping (not do to OZNIUM at all ) they arived and I installed them on his boat . WOW was I pleased super bright and very well made . I will be ordering 6 for my boat soon . We used green on his boat and at night I can see him at a half mile away (with under water lights) very cool . Graet job OZNIUM
Very Please
Reviewer: Tim Jones (Harlan, KY)
Item: High Intensity LED Flood
Installed the blue led on the houseboat. I was more than pleased with the results. I will try to remember to take a picture and upload them at a later date.
I was wrong, these are great lights, I made a mistake
Reviewer: EXTREMELY PLEASED (Tennessee)
Item: High Intensity LED Flood
I wrote the review below about the lights not being bright. I was WRONG. I had used some cheaper brand lights on my last boat, but I didn't judge fairly. The last set was red, these I ordered from Oznium were blue. I thought they weren't bright enough.

Well like an idiot, I went and bought the other brand too, and soon realized I was very wrong. The Oznium's blew the other brand away. I've since installed all 4 of my flood lights, and am actually on here to order 4 more. Very pleased. Disregard my comments below, they were made in haste and frustration.

Not too mention, Oznium took the time to ask me about my lights, and to aslo inquire about the other brand to learn more about their competition. That's a company that wants to stay the best right there.
Nice craftmanship, but poor lighting.
Reviewer: Unhappy (Tennessee)
Item: High Intensity LED Flood
These are nicely built lights, but they are not as bright as I had hoped. I purchased these lights and expected them to be brighter than the $6 ones I had from another place. Unfortunately they were not that bright. I had to line up three to get them even equivalent.

My biggest problem was I had purchased these and some of the smaller 4-chip LEDs, and the light color was different. I had purchased these floods to compliment the 4-chip LEDS that I had just bought as well for my boat, but they made the output two-toned. I had hoped they would be close, but once together, one was blue and one was violet.

They were very nicely built, and they were extremely fast on the shipping. No doubt they are nice. I tend to try to get the best for my equipment, and while these look the best, they didn't perform the best. I will be sending these back to Oznium. I was so excited to be replacing my lights with oznium thinking they would be so bright and awesome. Alas, I was wrong. I've already wired back up my old lights.
Great little light
Reviewer: D Thomas (Fountain, FL)
Item: High Intensity LED Flood
I ordered 7 of these little lights. Just recieved my lights today, hooked them up, and received a pleasant surprise. Very bright little lights. My friends loved the way they performed. When the time comes, I will order more!
perfect !
Reviewer: Dave Lay (Russellville, AR)
Item: High Intensity LED Flood
I bought these as "rock lights" for nite running in my rock crawler, these are perfect. almost no drain on battery, water proof, tough, and after epoxieing them to rare earth magnets, can be placed on the underside my jeep with no drilling.
unbelievable how much light these put out.. like i said they are perfect.. thank you . Dave
See all 18 customer reviews...
Write an online review and share your thoughts with other customers.
Upload your own action shots - show us how you creatively used our product.