Wire Splice Connector - Quick, Easy, and Secure
Choose from a 3 pin, or 5 pin model.
- All pins have electrical continuity.
- Spring loaded: lift up the orange "finger", put in stripped wire, push the orange finger back down, and spring loaded action clamps down on wire.
- Not waterproof.
- Need more than 5 pins? Multiple units can easily be daisy chained.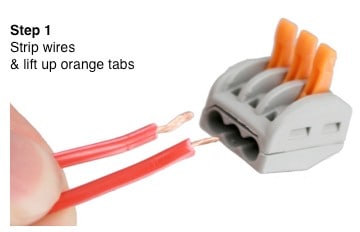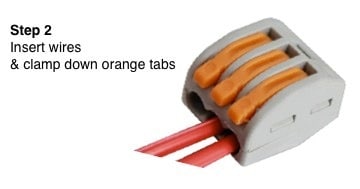 Customer Questions?
Our customers have asked 10 questions about this product.
→ Read common questions and answers.
Customer Reviews
they rock
Reviewer: corvettecrazy (MA)
Item: Quick Splice Connector
We use these Wago connectors for EVERYTHING at work, they are the **** bomb! From just a few volts DC to 277 AC, they rock.

3 Pins are great. The 5'ers definitely come in handy just not as often since you can make make a 5 pin out of a few 3 pin ones.

Only 2 downsides of them.
When you snap it shut if you're not careful, the orange lever hits the tip of your finger it stings.
Eventually the orange levers break off.
Write an online review and share your thoughts with other customers.
Upload your own action shots - show us how you creatively used our product.