LED Round Rocker Switch
Want it delivered

Friday, February 12

?

Order it in the next

3 hours and 59 minutes

, and choose

One-Day Shipping

at checkout.
Available in 8 popular styles:
- Plain/Regular (No LED. Does not light up)
- Blue (LED lights up when switch is on)
- Red (LED lights up when switch is on)
- Green (LED lights up when switch is on)
- White (LED lights up when switch is on)
- Amber (LED lights up when switch is on)
- Pink (LED lights up when switch is on)
- On / Off / On (A 3 position switch. No LED)

The maximum current load is about 16 amps at 12 volts, so you can safely power plenty of LED tubes, thousands of individual LEDs, plus an underbody kit.
For your convenience, the switches come pre-wired with about 4 inches of wire crimped on.[1] The LED switches use 3 wires, and the regular switches use 2 wires.
Very easy wiring. To hook up the LED switches: The black wire goes to ground, the red wire directly next to the black wire (this is the red wire in the middle) goes to your constant power source, and the other red wire on the end goes to the circuit you are powering. Check out a wiring diagram.

Hole size? Use a 3/4" hole saw to drill a cutout[2]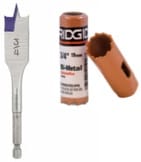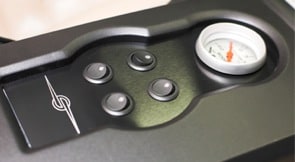 [1] Wire is included on all except the "On / Off / On" style.

[2] Depending on the thickness and type of material you're mounting the switch to, the hole size may have to be a little bit larger than 0.75 inches. But somewhere between 0.75 and 0.8 should work. If you're mounting it to a somewhat flexible material like plastic or wood, you can still make the hole larger by "wobbling" the drill bit around until the hole gets larger.
Customer Questions?
Our customers have asked 58 questions about this product.
→ Read common questions and answers.
Customer Reviews
26 Reviews
Average Customer Review
(26 customer reviews)
A+ FAST Shipping
Reviewer: Evan (PA)
Item: Round Rocker Switch
I ordered this switch along with a battery holder and LED flush mount no lens, it got here in 1 day AND I ordered it on the weekend, if I ever need anything else LED or electrical switches etc I will be ordering from you again! easy to navigate through your website, good prices and fast shipping.
Liked it at first...
Reviewer: Sean Tinnish (North Olmsted, OH)
Item: Round Rocker Switch
i had this switch for three day and it worked great then on the third day it got stuck in the on position. so i am having a new on sent to me. i hope this one will work.
Great Switch!
Reviewer: Adam (Americus, GA)
Item: Round Rocker Switch
This switch is perfect. I ordered one to kill the power to my led's on my motorcycle. The switch arrived fast, was easy to install, looks great, and functions flawlessly. Im here today to order two more! Thank you Oznium!
GREAT CS
Reviewer: Thomas Talbot (Owens Products) (Colon, MI)
Item: Round Rocker Switch
GREAT customer support. Really shows when you have an issue and the owner takes the time to respond back you your issue. Had a problem with the switches fitting in the 3/4" hole but after a few e mails back and forth with Phil the problem was solved and a solution was put on the web site same day! Couldn't be happier! Plan to do lots of business in the near future!

great customer service
Reviewer: Teo (Canada)
Item: Round Rocker Switch
I never seen such a quick customer service anywhere else . My replacement issue for this LED switch has been solved within the last 10 min by just email. Thank you. Will do business with this company. No doubt what so ever.
They don't get any better
Reviewer: Benjamin Sawyer (Milwaukie, OR)
Item: Round Rocker Switch
These switches work flawlessly! If you want a professional look, but are concerned about cutting a hole in your dash, get these. They fit tight in the whole, just like the diagram on the specs page. Drill the hole, one small notch, and some pressing pops these into place and they look like it was done at the factory!
Only place I found with PINK switches!
Reviewer: Mikeal McDaniel - RMAS Owner (Colorado Springs, CO)
Item: Round Rocker Switch
I have a lot of requests for pink accent lighting - the problem is it is so much harder to find pink lighting than other more common colors! And then when I want to make the ultimate distinction between my lighting projects and other shops that do vehicle lighting, the switch is an easy place to differentiate myself from my competition. It was real awesome to find a 12V switch with a PINK LED! well done!

On a side note, I timed shipping, and much credit to Oznium.com for getting my order here faster than ANYBODY EVER HAS! 25 hours from payment to picking up the order from my mailbox! Incredible!! Will absolutely do business again!
A+++ product and customer service.
Reviewer: David Forbus (Bowdon, GA)
Item: Round Rocker Switch
Got the switches and they are prefect for what i need them to do. One was defective when i got it but they are sending another one to me free of charge. That's great customer service. Thanks.
Great Company!
Reviewer: Brandon White (Centerton, AR)
Item: Round Rocker Switch
I purchased 4 of these rockers with a green LED and I am happy with the product but I am beyond excited about Oznium! Not only was it fast shipping but they actually called me the day USPS dropped off my order just to make sure everything was okay!! I have never experienced such customer care!! Great product - even better company!!
great switches.
Reviewer: Brian Dodds (Topeka, KS)
Item: Round Rocker Switch
I absolutely love these switches! great price and very fast shipping. Thank you and i will be doing business with you for a long time!
See all 26 customer reviews...
Write an online review and share your thoughts with other customers.
Upload your own action shots - show us how you creatively used our product.