Waterproof SMD Bar
Want it delivered

Monday, February 15

?

Order it in the next

2 hours and 53 minutes

, and choose

One-Day Shipping

at checkout.
Looking for bright light that won't get hot, even if it looks that way? Our 12 Volt Waterproof SMD bar has a contoured design that will hold up in all weather conditions, indoors or outside, providing a visual experience that will turn heads so fast there might some neck sprains to deal with.
Use it for underbody lighting, engine bay lighting, or interior lighting. Use it on your car to announce your presence in no uncertain terms. The waterproofing technology means you can throw this unit outside without worrying it will get splashed and short out.
And, of course, as with all our LED pieces, you can leave it running all night without worrying about excessive heat.
The waterproof SMD bar is 0.16 inches high, 0.41 inches wide, and 20 inches long, but the light it throws is waaaay larger, with 30 surface mount LEDs pumping out an amazing intensity.
They can be cut every 3 LED's which is equivalent to 2 inches. You can then use both sides! Its unfortunately not possible to attach new wires to the middle of the cut portion. If you need the cut section to remain waterproof, you'll need to apply silicone, epoxy, or some other waterproofing material.
While this 120 degree viewing angle waterproof SMD Bar is slightly bendable, you should be aware that it is not as flexible as some of our other strips, simply due to the durable aluminum housing. Warranty?? 1 year.
This product is perfect for creating a seamless underbody glow. You can "daisy-chain" a whole string of them together in one long run.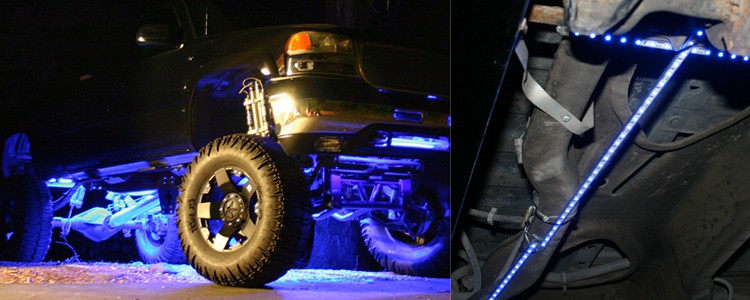 Customer Installation Video - Surface Mount SMD Bar
Other applications:
You are currently viewing
Automotive
applications for our
Surface Mount LED Light Bar
.
We also recommend this product for:
Customer Questions?
Our customers have asked 50 questions about this product.
→ Read common questions and answers.
Customer Reviews
8 Reviews
(8)
4 star:
(0)
3 star:
(0)
2 star:
(0)
1 star:
(0)
Average Customer Review
(8 customer reviews)
Excellent Lighting.
Reviewer: Andrew Graper (Pioneertown, CA)
Item: Surface Mount LED Light Bar
I ordered two of these bars to use as lighting for my Motor home. I will be mounting them outside the door for table lighting and could not wait to install them so I quickly wired them up and sample mounted them to the front of my jeep...WOW. Not intended to be used as a driving light but these put out plenty of light to see our dirt roads at slow speed, and without any means of "directing" the beam ! I deliberately left them on all night, 8 pm to 8 am, and the battery did not even notice the draw.
They will be mounted as intended on the coach and will provide more than enough light for table seating under the awning. Very nice.
Galley lighting on the boat
Reviewer: John K Quick (S Pasadena, FL)
Item: Surface Mount LED Light Bar
I bought a bright white and a bright red bar and mounted them in the work area in the galley. I used a 3-way toggle in order to use either (white at the dock or on the hook and red underway at night). Great application! Perfect for maintaining nightvision.
Great glow
Reviewer: Ryan (MS)
Item: Surface Mount LED Light Bar
I just recently installed six of these under my car as underglow. Worked perfectly, using spray glue to mount. No problems thus far other than one of the wires pulled out of the end of one strip, though that seems like a freak thing and not at all a common occurrance with this product thus not hindering my rating this as five stars. On a side note, the extenders will likely be needed for most applications of this light bar. I didn't realize they had those until after I had already chopped off all of the connectors and spliced them with other wire that I bought. Heh, my fault entirely.
Worth every penny.
Reviewer: Photon (Florida)
Item: Surface Mount LED Light Bar
Bought the dummy bulb pack and installed it in cargo bay. It lights up the whole area at night.

I have bought several items from Oznium and every time their product works flawlessly.
Great Product highly recommend
Reviewer: Anthony Lovitt (Snow Hill, NC)
Item: Surface Mount LED Light Bar
Great product I bought a low profile toolbox to go on my truck and wanted lights to light it up at night just pull the latch and lights on. plenty of light great product would recommend to anyone Thanks Oznium for great reliable products
Really bright!!!
Reviewer: Mike (Cary, NC)
Item: Surface Mount LED Light Bar
I mounted these under my motorcycle and it's is brighter than any of the other LEDs on my bike... I bought one bar, cut in half, and spliced the 2 halves together as wires are attached on both ends. The light up nice and bright... I'm gonna buy more!
Wow! These are awesome! BRIGHT!
Reviewer: Fred von Graf (Tempe, AZ)
Item: Surface Mount LED Light Bar
I installed 4 of the cool light SMD bars in my son's Play System from PlaySystemsDirect.com and connected to a wireless remote on/off switch and a solar panel with 12v lead acid battery. These things are crazy BRIGHT! Silly thing is that I was worried that four wouldn't be bright enough to light his fort, after all they were only LEDs right. Wrong four is almost too much.

They are super easy to install, love the output and the overall power requirements are minimal. The connectors are keyed to no worries with getting the wrong polarity connected.

This is a great product that I intend to use as part of a solar LED lighting kit.

Buy some!
gonna buy plenty more where this came from
Reviewer: blaine k. mellom (Santa Rosa, CA)
Item: Surface Mount LED Light Bar
these leds are sweet, just as bright if not brighter than pirhanna bars, for a little more buck you get a way slimmer product that is already water proofed! super easy to install, plus you can link more of them together for an even easier install!! these are top notch WAY TO GO OZNIUM!
Write an online review and share your thoughts with other customers.
Upload your own action shots - show us how you creatively used our product.