Scion tC Full Third Brake Light - OEM Quality Replacement
Want it delivered

Friday, February 12

?

Order an in-stock product in the next

20 hours and 40 minutes

, and choose

One-Day Shipping

at checkout.
FULLY lit
third brake light for your tC. Now, that's something to grin from ear to ear about!
Direct OEM Replacement! No retrofitting, cutting, or ugly gaps! Designed to fit
snugly
and
securely
on
your
Scion tC!
Unit includes a
one-year warranty
. If anything goes wrong, as always, we will promptly fix it.
Fully lit brilliance!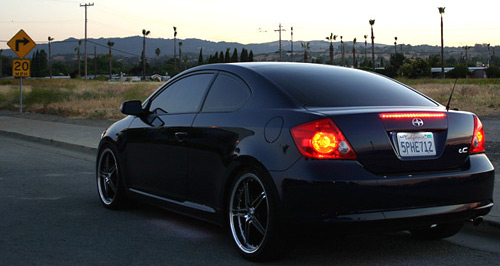 ✓

2005 Scion tC

✓

2006 Scion tC

✓

2007 Scion tC

✓

2008 Scion tC

✓

2009 Scion tC

✓

2010 Scion tC
Customer Questions?
Our customers have asked 25 questions about this product.
→ Read common questions and answers.
Customer Reviews
45 Reviews
(34)
(5)
(4)
(2)
1 star:
(0)
Average Customer Review
(45 customer reviews)
Great service
Reviewer: D Nieves (Long Island, NY)
Item: Scion tC Full Third Brake Light
I had a tC brake light that failed on me (few dead LEDs) just outside of the warranty period. I called about it but was offered a discount on a replacement because it was just out of warranty coverage. I never followed up for a couple of years and after reading the glowing reviews other customers have had with Oznium's customer service I decided to revisit the issue (as I lost more LEDs and didn't want to go back to stock).
Oznium graciously sent me an exact replacement free of charge. If only they would expand their Scion Zone to include the FR-S/BRZ I'd make this my first stop for LEDs (as LEDs from ebay are usually questionable).


Cheap but looks it too.
Reviewer: Paul Wykes (Auburn, MA)
Item: Scion tC Full Third Brake Light
The good:
- Fast delivery.
- Cheaper than buying from the dealer.
- Full bar lights up.
- It works.

The bad:
- It looks cheap. I bought the red one and there are very visible dimples running along the length of the light. Contacted customer service and evidently this is normal, though the dimples show more with the red light. None of the pictures on the website show the dimples, however. Given the rave reviews here, this was disappointing.
Looks great except for 2 things.....
Reviewer: Alexander McGroarty (Quincy, MA)
Item: Scion tC Full Third Brake Light
Alright, putting in the TBL wasn't that bad. Thing was I had to cut the new TBL's electrical connection (they didn't connect together properly) & i used the old connections from the original TBL. Also, there was silver spray paint randomly on my TBL, i just used some Throttle Body Cleaner to rub it off. But wtf is there spray paint on my smoked TBL? Looks great just shouldn't have been like how it was when I recieved it.
Scion tC Dark Smoked Third brake light
Reviewer: Garrett Guanti (Kingsville, MD)
Item: Scion tC Full Third Brake Light
I had a slight deformation on my first brake light I received, but after calling and talking to Susan in Customer Service I was sent an extra brake light free of charge. I am now a loyal customer.
third brake light
Reviewer: S. Lukitsch (Moseley, VA)
Item: Scion tC Full Third Brake Light
Just did the soft install on my TC with the red third brake light and it looks awesome. Can't wait to put the finishing touches on it. All around great purchase, price, product.
Amazing Customer Service!
Reviewer: Chris Osorio (North Hills, CA)
Item: Scion tC Full Third Brake Light
I've had my Full TBL for over 2 yrs, but 6 LED's went out on it. I sent an email asking how I could repair it myself and Phil offered to just send me a new one. This is the reason I will continue to buy all my Led's from Oznium.
Oznium's customer service is awesome!
Reviewer: DENNIS GROMAN (Reedley, CA)
Item: Scion tC Full Third Brake Light
After having a problem with my first TBL Oznium sent me a new unit right away, even after my warranty had expired. Way to go Oznium! Your customer service is unmatched in this biz. Thank You!
Somewhat Happy 1+ years later.
Reviewer: DENNIS (Reedley, CA)
Item: Scion tC Full Third Brake Light
Loved my TBL it looked great. However 1 year and 6months later 3 of the bulbs have failed. What happened to LED's outlasting normal bulbs?
Looked Great for the First Year
Reviewer: Jon Ruhnow (Dallas, TX)
Item: Scion tC Full Third Brake Light
I purchased this about 3 years ago and 1/4 of the LEDs started to go out after the first year. It looked good for the first year and made my tC different, but after that, it looks 'ghetto' with some of the LEDs no longer lighting up.
Great
Reviewer: Andy (San Diego, CA)
Item: Scion tC Full Third Brake Light
had this on for about 2-3 years now, still bright. Dark Smoked still looks brand new. satisfied customer!! recommended to many of other friends.
See all 45 customer reviews...
Write an online review and share your thoughts with other customers.
Upload your own action shots - show us how you creatively used our product.