Waterproof, Stainless Steel Bezel - Push Button On/Off Switch, with LED Dot
Push the button to turn it on. Push it again to turn it off.
Stainless steel, and IP68 rated. Fully waterproof from the the front at least....
You choose between three fancy colors: red, blue, or green. Or get all three :)
This is
ONE OF OZNIUM'S HIGHEST QUALITY SWITCHES
.
To save you time, these are available
pre-wired with about 3 feet of wire
, so you're ready to go right out of the box. Or if you want to add your own wires, the switches are also available without wires.
The mounting hole diameter is 16 mm (0.63 inches).
Need a drill bit? We sell
metric 16 mm bits here
.
Like any lighted switch,
there's three wires to hook up, and here's how
: the black wire goes to ground, the red wire goes to your constant power source, and the brown wire goes to the circuit you are powering.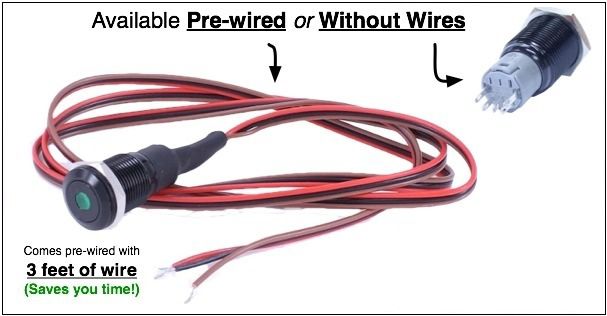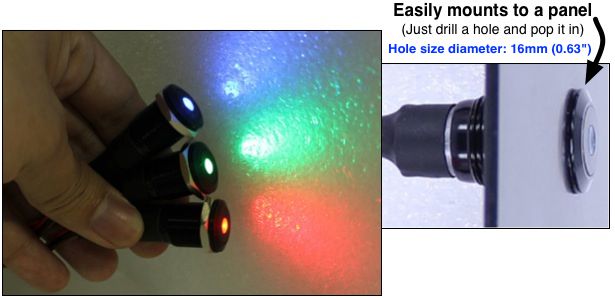 Customer Questions?
Our customers have asked 19 questions about this product.
→ Read common questions and answers.
Customer Reviews
2 Reviews
(2)
4 star:
(0)
3 star:
(0)
2 star:
(0)
1 star:
(0)
Average Customer Review
(2 customer reviews)
Awesome addition to my 20' daysailer
Reviewer: Wes (Evans, GA)
Item: LED Dot Switch
I bought two of these switches for my 20' open cockpit sailboat. I mounted them in one of the seat faces so that the wiring/back of the switch is protected inside one of the dry compartments, but the switch is easily accessible from the cockpit. The switch is very low profile, so no worries about it snagging/scratching against equipment or the backs of passenger's legs.

I'm using one for a master battery on/off switch, and the other for activating a bilge pump. The switches are well made, nice looking, and easy to install. If you don't have access to a 16mm (metric) drill bit, a 5/8" drill bit works great. I chose the blue LED color. They light up fairly brightly when activated so it's easy to tell whether they're on or off.

These are wonderful switches at a great value. And the customer service on the website was outstanding.
Great Button!
Reviewer: Jake (Clarkston, WA)
Item: LED Dot Switch
So far I have purchased two of these for various reasons throughout my truck, and they have worked great. It is very nice to have 3 feet of wire already on the switch! The button itself has a very bright led when it's on which makes it even more appealing to the eye. I would highly recommend these to anyone who wants to install LEDs into their vehicle and wants a cool looking relay!
Write an online review and share your thoughts with other customers.
Upload your own action shots - show us how you creatively used our product.