Surface Mount LED Light Bar - 12V Super Bright - Customer Questions
Frequently Asked Questions by Oznium Customers
I have two 4 shelf bookcases (one on each side of our TV). I would like to mount a light bar under each shelf (8 total) and contol them with a single dimmer. What additional products do I need to purchase to make this work? - by Bob (Hendersonville, Tenn)
You need the 2 amp adapter: https://www.oznium.com/power-adapters/ac-adapter
Dimmer switches:
https://www.oznium.com/switches/led-dimmer-knob
https://www.oznium.com/switches/rotary-led-dimmer
https://www.oznium.com/touch-led-dimmer
You might need some extra items depending on which dimmer switch you choose: https://www.oznium.com/install-bay/dc-barrel-adapter or https://www.oznium.com/replacement-parts/linear-light-power-adapter-wire
We want to hard-wire these LED's directly to the house electrical and a dimmer switch. It mentions that you must need a 12v ac adapter to make it work? Will this work without it at all? I have seen other brands hard-wire their kits directly even though they said that they needed a 12 adapter. If it won't, can you mention other ways we can hard wire? - by Rushdee (Rochester, MI)
If you power a 12 VDC LED with 110 VAC, it won't work.
You'll need some sort of 12V AC adapter to make it work.
It can be something you plug into a wall outlet, OR you can hardwire it to 110 VAC.
You could use
this AC adapter
, simply snip off the plug, and hardwire it: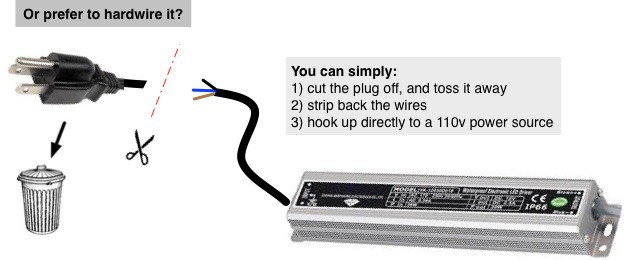 And for the wall dimmer switch, consider
this remote controlled one
.
For good uniform.lighting under cabinents, what is the maximum distance these should be mounted apart? Hoping I don't need to put them end to end the get an even light along my counters/cabinents. Thanks! - by Kevin (Wenatchee Wa)
Its subjective, but anywhere from 4 to 12 inches apart would probably be fine.
How long are the wires on each end of the light bar? - by Randy (Minnesota)
About 4 inches. You're welcome to extend them yourself by hooking them up to any other wires.
We also offer this handy extension cable (20", 40", and 16 foot):
Linear Light Extension Cable
which plugs right in.
how many lumens does one bar produce
Here is the tech info for that: https://www.oznium.com/linear-lights/smd-bar#tech
Is it possible to run 12 light bars on a 12 volt transformer with 42 amps. - by Robert (Reno, NV)
12 of the bars would be 2.3 amps or less depending on color.
will the light strips work off 12v ac (simple transformer). I need a very small adapter that is wired in, instead of a plug in. - by Ted (Jay, OK)
just wanted to make sure these are 12volt dc lights. I live in my motorhome and ONLY have 12 volt dc power. Your description is vague? thanks again!!! - by Chance (boulder colorado)
Is the Surface Mount LED Light Bar UL listed? - by Harrison (Hebron, KY)
Will it be problematic to trim off the connectors from the ends of the bars and solder in my own wire runs between bars?
Is it possible to dim these bars with a dimmer on a switched outlet? - by Tim (Palm Beach Gardens,)
Yes, but it needs to be a low voltage dimmer. We don't sell those. Try http://www.dimmers.net/cfl_led_dimmers.asp
I would like to hook this up to a battery pack. What is the mah of these lights. - by Richard (BRONX NY)
200 mA

Lights are rated in mA (milli-amps)
Batteries are rated in mAh (mili-amp hours)
Do the light bar have wires on both ends? - by Carlos (Montreal)
Can these strips be dimmed?
The above FAQs lead me to believe that I can't just purchase and install the surface mount lights and viola...let there be light. I can't tell what I'll need to light up the underside of one cabinet: a new lighting system, a on/off switch, a 12V DC power source, and/or an extension cable? Any chance you have compiled a comprehensive list of things I should get from Oznium before I give up and go to the local big box home improvement store for plug-into-an-outlet-flourescent-under-cabinet lighting? - by Nancy (Stamford, CT)
The reason why you can't just plug these in and 'let there be light', is because these are 12V ready. Home outlets are 110-120v. So you'll need an AC Adapter to drop the voltage down from 110 to 12volts. There is your power source. Now, from the power source is two wires, a positive and negative. You can run those wires to your Surface Mount Bars, since there are two wires coming from the bar, a positive and negative wires, run that to the power source.

The 'FAQ' section is for quick questions with quick answers. If you ever have any questions, that is more on the a quick answer, you can always emails us at CS@oznium.com. This is where we can go more indepth on your project.

I hope this answer doesn't make you give up and go the local big box home improvement store.
I currently have 3 slim 18 inch fluorescent lights under my kitchen cabinets (also 3) controlled by a wall switch, what will I need to convert my lights to led? - by Angell
You'll need a new lighting system, since ours don't plug or connect directly to the sockets.
If I cut some of the bars to certain lengths for use in my kitchen, can I still connect them end to end and have them all powered at the same time? - by chris
It is really difficult to hook up wires to where you cut. You can obviously still power the ends that have wires coming out though.
Do the bars come with a mounting clip, double sided tape, or other mounting device? How do the bars mount under cabinets? - by Shane (Lancaster)
They come with mounting clips. You could also use double sided tape if you'd like.
Can the Waterproof Surface Mount Bar be chained end-to-end, and if so, do they come with the required cable? - by Marco (San Jose, CA)
I am looking to run Blue lights in my toolbox at work along the back wall under the overhead cabinet. Looking at the parana or the light strips which are brighter? and my work top area is 68 inches long so 3 20 in strips should do it... then which a/c adapter do I need 2amp enough? and does the adapter com with the cut terminal to wire to the light strips as shown in some of the pics? - by Mike
The Surface Mount LED Bars are almost exactly the same brightness as the Piranha Bars.
A 2 amp or 3.5 amp will be sufficient. I would suggest getting a
junction box
.
Which is brighter, this bar or the Piranha bar?
The use different LEDs, but they will be about the same brightness.
Can three bars be attached end to end without using the three foot extension?
how are these turned on and off? - by Anthony (Wayland, MI)
Usually with an on/off switch. We have many
switch styles
available, including a remote controlled switch.
what else do I need to use this SMD waterproof bar with a portable battery pack that has a 12 V plug in and an AC plug in. I was told it wouldn't drain the battery as fast if I used LED's with a 12 V plug? - by Nancy
All you need is some sort of 12V DC power source. If you're battery pack has that, you're good to go.