New Ultra Thin Surface Mount Downlight FAQs
All Customer Questions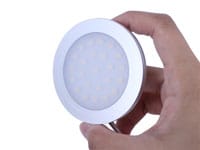 Surface Mount Downlight
Q:
are this lights dimmable ?
A:
Yes.
Q:
I have a Hatteras Motor Yacht and the DC current on board is 32V. What is the max voltage these lights can take? - by Ray (New Buffalo, MI)
A:
12V DC.
Q:
Which power supply do I need to power this puck light? - by Bill (New York)
A:
This AC Adapter will work.
Q:
can you get bigger ons
- by william (5050 Elk River Rd. s)
A:
If you need 100 or more we might be able to.