12V Delay Timer Relay FAQs
All Customer Questions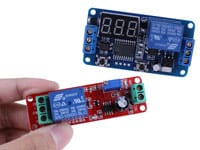 12V Delay Timer Relay
Q:
Hello, i need 720 seconds in the first period, an 720 seconds in the second period , for the second, it's impossible , 99,9 seconds max. How to do ? - by Serge (81800 Mezens France)
A:
You could try using a second timer.
Q:
I want to have a set of LEDs come on for a few minutes, and then go off for a few minutes, and then I want it all to start all over again.
A:
Sure, its possible with the use of two controllers.

Here's a video explaining how to do it, and a wiring diagram.





Q:
Can this be set up so if i have an LED connected to the module and i power the module up the LED will not turn on, and then when i start the timer the LED will not turn on until the timer has count down to zero at which point the LED will turn on?
A:
Yes.
Q:
I'm wanting to use this switch to delay my car stereo from turning on after ignition so I'm using the "CB" terminal. It appears that the relay has a small time period in which "CB" is closed before the countdown starts which causes the stereo to briefly flash on. During and after the countdown it works as expected. How can I prevent this initial "flash"? Do I have something wired incorrectly? - by Skip (Oklahoma City, OK)
A:
Sorry, not sure what you mean by the CB terminal. Could you offer more explanation?
Q:
Will this work with 6v?
A:
Probably not or not as well.
Q:
Hi. I need a circuit that waits f.ex. 10 seconds when it receives a trigger signal, and then triggers a relay - on for some seconds, and then off. Can this circuit do this job?
A:
Yes.
Q:
Once the device is energized and the counter starts, does the counter reset if voltage is applied again before it shuts off ?
A:
Yes.
Q:
Can this be used to daley the ignition of a race car? - by Larry (Michigan,USA)
A:
Yes, if the ignition does not run more that 12V.
Q:
Is the 0-10 sec timer infinitely variable? When will it be back in stock? Once set, what is the repeating accuracy of the set interval?
A:
These are on order, maybe 2 weeks for more stock. We have not tested for repeating accuracy.
Q:
What amperage is this rated for? - by Chris (Canada)
A:
10 amps.
Q:
Is the 0-999 timer capable of 1/10th's of a second? Is the 0-10 timer capable? When will the 0-10 be back in stock? - by Gerald (United States)
A:
These are not capable of 1/10th's of a second.

If you need a bunch of these, we can always custom design one for you. How many do you need?
Q:
Is the 0-999 timer capable of turning on a load upon being energized with 12v and turning the load off after, say, a minute or so. I need to turn on an electric fuel pump on my boat to prime the carburetor after it sits for awhile? I don't want the pump running after the engine starts. - by Ernie (Sequim, WA)
A:
Yes.
Q:
Will that stop the turn on pop that i hear in my speakers when i turn the radio on.
A:
It's doubtful. It may only "delay" it.
Q:
I have 5 car audio amplifiers. I need to have the remote turn on lead wire to turn the amplifiers on at lease 5 to 10 second after the radio is turned on. Will one of your delay relays work or will I need more than one or will I need to have each amplifier come on a few sec. behind each other - by Renard (Midlothiam,VA)
A:
If you want them to all turn on at the same time, one delay timer will be suitable.
If however you want them to turn on at different times, you'll of course need more than one delay timer.