12V Delay Timer Relay - Customer Questions
Frequently Asked Questions by Oznium Customers
I want to have a delayed timer relay for up to a minute of time then turn off power to an ignition switch. the main thing I want is to turn off the timer delay with the use of a hidden rocker of vandal switch. purpose is to allow a car jacker time to drive away and me to escape to safety in the opposite direction once the truck is started and unless the switch is engaged the time delay will turn off the ignition. I could use 3 setups. I was car jacked recently and mu son's truck was stolen last night and I have another truck I want set up before it is stolen or the driver is car jacked. Is something we can use your components to be integrated as anti theft / car jacking. I realize if the switch is off and vehicle is running they will not have any effect but I will incorporate a GPS tracker device too
Please contact Customer Service at 800-245-8131.
can i use this to delay my LED blinker lights so i can delay them on and off and control the burn time on the leds? what i would like to do is just hold my lights on a little longer than the stock on and off flash. does thaty make sense?
Would you be wiring the timer relay to your stock turn signal lights on your vehicle?
Can this relay be powered by AA or AAA batteries?
Hello, I am looking for a 12 volt dc timer that when powered up it will wait say 30 to 60 seconds using an adjuster then send power to an output for 1 to 5 seconds again using an adjuster then turn off. When switch is powered down it will reset. I would need at least 100 per year in our manufacturing. I can use a solid state on delay timer for the 30 to 60 seconds to send power to your timer if needed. The out put needs to power a 2.5 W coil.
We have a special version that can do this.
Hello, i need 720 seconds in the first period, an 720 seconds in the second period , for the second, it's impossible , 99,9 seconds max. How to do ? - by Serge (81800 Mezens France)
You could try using a second timer.
I want to have a set of LEDs come on for a few minutes, and then go off for a few minutes, and then I want it all to start all over again.
Sure, its possible with the use of two controllers.
Here's a video explaining how to do it, and a wiring diagram.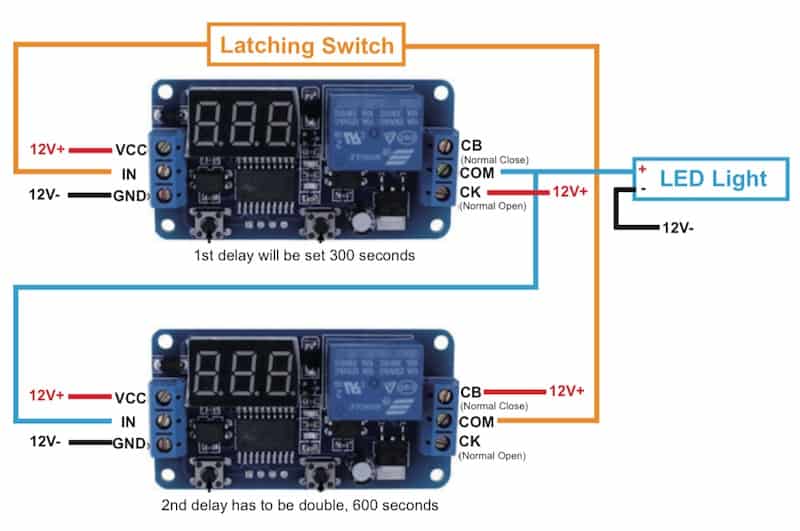 Can this be set up so if i have an LED connected to the module and i power the module up the LED will not turn on, and then when i start the timer the LED will not turn on until the timer has count down to zero at which point the LED will turn on?
I'm wanting to use this switch to delay my car stereo from turning on after ignition so I'm using the "CB" terminal. It appears that the relay has a small time period in which "CB" is closed before the countdown starts which causes the stereo to briefly flash on. During and after the countdown it works as expected. How can I prevent this initial "flash"? Do I have something wired incorrectly? - by Skip (Oklahoma City, OK)
Sorry, not sure what you mean by the CB terminal. Could you offer more explanation?
Probably not or not as well.
Hi. I need a circuit that waits f.ex. 10 seconds when it receives a trigger signal, and then triggers a relay - on for some seconds, and then off. Can this circuit do this job?
Once the device is energized and the counter starts, does the counter reset if voltage is applied again before it shuts off ?
Can this be used to daley the ignition of a race car? - by Larry (Michigan,USA)
Yes, if the ignition does not run more that 12V.
Is the 0-10 sec timer infinitely variable? When will it be back in stock? Once set, what is the repeating accuracy of the set interval?
These are on order, maybe 2 weeks for more stock. We have not tested for repeating accuracy.
What amperage is this rated for? - by Chris (Canada)
Is the 0-999 timer capable of 1/10th's of a second? Is the 0-10 timer capable? When will the 0-10 be back in stock? - by Gerald (United States)
These are not capable of 1/10th's of a second.

If you need a bunch of these, we can always custom design one for you. How many do you need?
Is the 0-999 timer capable of turning on a load upon being energized with 12v and turning the load off after, say, a minute or so. I need to turn on an electric fuel pump on my boat to prime the carburetor after it sits for awhile? I don't want the pump running after the engine starts. - by Ernie (Sequim, WA)
Will that stop the turn on pop that i hear in my speakers when i turn the radio on.
It's doubtful. It may only "delay" it.
I have 5 car audio amplifiers. I need to have the remote turn on lead wire to turn the amplifiers on at lease 5 to 10 second after the radio is turned on. Will one of your delay relays work or will I need more than one or will I need to have each amplifier come on a few sec. behind each other - by Renard (Midlothiam,VA)
If you want them to all turn on at the same time, one delay timer will be suitable.
If however you want them to turn on at different times, you'll of course need more than one delay timer.