Waterproof Surface Mount LED Light Bar - 20" long FAQs
All Customer Questions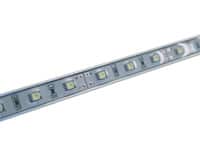 Surface Mount LED Light Bar
Q:
Above you say that the bar comes with a mounting bracket and screws can be to attach the bar. Could you post an image of the mounting bracket or where the screw holes that could be used are?

Thank you
Jake - by Jake (Minnesota)
A:
This is the clip: SMD Mounting Clip
Q:
I cut the bar along the line marker and now when I try to power the bar, it doesn't turn on. What's wrong? - by Patrick (Mississauga, Canada)
A:
This is not an easy product to cut and may take a few tries. Its likely that in cutting it you damaged some internal circuit board traces. It sounds like the traces could be shorted together (you can try to verify with a multi-meter). Try to make as clean of a cut as possible, ideally with a dremel cutoff wheel.
Q:
I want to use two ambers on the running boards of my truck as turn signals. How can I prevent hyper flashing? - by Chad (Spokane)
A:
Hyper flashing? It will flash the same as your truck when wired to the turn signals. Or you could use this dual-color strip with the driver: https://www.oznium.com/flexible-led-strips/2nd-gen-side-emitting-led-strip
Q:
I would like to use these on the ceiling over a bathroom shower. The plan is to connect 3 together, run the wire up into the attic where it would connect to the wireless RF dimmer.

I would like to slip these into a 45 degree profile so that the light is focused on the granite back wall. Will I be able to use them in an aluminum profile?

Heres the URL for the profile I would like to use...

www.glowbackledstore.com/Aluminum-Profile-H-8-ft-p/alumh8.htm

Thanks! - by Rick (Maryland)
A:
Yes.
Q:
Connecting wires, both ends? How long?
A:
Connecting wires on both ends are about 3 inches long.
Q:
I would like to install a light strip across the top of the 72" mud flap on my RV. My question is is there a way to connect the power supply to my towing connector on the RV? This would allow me to have the lights controlled by the brake pedal, turn signals, head lights, a and emergency flashers. - by Lane (Texas)
A:
Yes, certainly, you could simply tap into those wires.
Q:
What are the lumens for this light - by Bryan (Texas coast)
A:
Please see lumens on the "Technical Info" tab.
Q:
Sorry but I have another question !
You said these bars have the ability to be slightly bent towards the rear, is this correct ?
If so and since I am worried about the edge lighting of these strips, can I put a small block in the middle of the strip and mount them with a slight arch rearward ?

How much of an arch will be able to employ in this manner; how much can I deflect the center ?

Thanks - by Grev
A:
Sorry, we don't have an accurate measurement for this.
The farther you bend them, the more likely something is to go wrong.
Because they are in an aluminum U channel, they can only be bent slightly, but again, we don't have a number of degrees to define "slightly".
Q:
1)How much area will one of these LED Strips light up ?

My project, a Cupola on a Barn, with four sides, each measuring 36" wide x 30" high, one strip LED on each side and would be mounted on the edge of the roof overhang, facing the sides of the Cupola with a slight downward angle.

Will I need more of a light spread or will these actually cover the whole side of the Cupola ?

I am looking for an LED Lighting System that will light up the four sides with no shadowing at all, not even the top corners.
I was thinking a wider strip would be better but so far I have found nothing I like.

2) Do you make a 30" version of these Strips ?

Please advise ?

thanks / ltr
A:
1) Area: its not really possible to give a measurement for this. It depends how you define the area. It depends on the ambient light, etc.

2) We make only a 20" length. We're happy to make another length, but it only really makes sense if you can order about 100.
Q:
can i submerge these for a few hours at a time.. - by jeremy
A:
Yes
Q:
do you have these in orange ? - by kyle (texas)
A:
The yellow would be more of an amber.
Q:
How many of these could be connected together? Would 10 work? - by Alexander (Virginia Beach, VA)
A:
10 is no problem at all.
Q:
If this is hooked to a dome light power line, will it fade the same way the dome lights do?
A:
Yes, of course.
Q:
what is the best way to get to the connections once the bar is cut? the coating is pretty tough. - by David (Riverview, FL)
A:
To be honest, it's not worth trying. Just buy another bar.
Q:
i would like to incorporate these in a sequential format on my motorcycle, do you offer a sequencer modual? and would you recommend the bars or the flex? - by Gary (prairie du sac, wi.)
A:
Sequencer: no
Bar or flex: bars, because they are more durable
Q:
What are the heat dissipation concerns (if any) when using this in a sealed enclosure? I'm replacing the LED strip in my 3rd brake light, which is sealed and mounted in the rear spoiler. Thanks!
A:
No problem with heat.
Q:
Which are more waterproof the surface mount light bars or the waterproof flexible ribbon strips? What makes one more waterproof than the other? they both say waterproof but the ribbon strips actually have wp in the title.
A:
They are the same waterproofness (is that a word?).
Q:
Would it be possible to drive the LED light bar with an alkaline 8-D or 8-AA battery pack? This would be for the inside of a cargo trailer for a Scout Troop that is often NOT attached to a vehicle when camping. - by Doug
A:
Yes, you can use 8X AA batteries. We offer battery packs here: https://www.oznium.com/install-bay/12v-led-battery-holder
Q:
Would the SMD be a good light source for inside the bed of a pick up truck? Thanks! - by James (Chicopee MA 01020)
A:
Yes
Q:
I have a cigarette lighter plug that has the wires spliced already with a 2amp fuse. Do you think its possible to wire this to it so I can plug it into the cigarette lighter? - by Adrian (Barstow, CA)
A:
Yes. Go for it!
Q:
I have a 12v 9amp battery for ice fishing. If I use 1 bar, how long will these run for about? Will it be bright enough?
A:
About 20 hours. Yes!
Q:
what is best product to replace 3rd brake light?
A:
This one will work nicely.
Q:
how do you separate the conector, and once is cut, how you attach it - by leo (Gilbert, SC)
A:
You separate the connector by pulling it apart. Solder on new wires to the soldering joints.
Q:
how do you connect the separated light bar portions?
A:
With the end portions. Just plug and play.
Q:
I saw in one picture it looks like it was mounted to an exhaust pipe? Would that much heat damage these?
A:
Don't mount this to an exhaust pipe.
Q:
Can I use a dimmer with this light? ( and have it work, LOL) - by Susie (Auburn, WA)
A:
Yes
Q:
I would like to mount some of these under my dock to shine down on the water. How would I configure them to plug into an exterior home outlet? - by Dan (Gulf Breeze Fl)
A:
You'll need an AC Adapter - https://www.oznium.com/power-adapters/ac-adapter
Q:
Do these have an IP rating for waterproofing? - by Sean
A:
Sorry, we don't.
Q:
Since using 8 of these will draw 1600mA, assuming I use a 2amp fuse, can I link all 8 in a chain?
A:
1600 mA is 1.6 amps so your 2 amp fuse is fine, and yes you can link these together.
Q:
if i got 2 bars and cut them in half, would one half in each wheel well provide enough glow to illuminate the rim?
A:
Each person will think it is either good enough, or not good enough. That is for you to decide.
Q:
What do you use to cut the SMD bar?
A:
We used a very sharp ratcheting pipe cutter. I imagine there's a variety of tools you could use to cut it though.
Q:
What has a more even glow, these or the piranha bars?
A:
The glow is almost the same. The only real difference is the form factor.
Q:
what method of attaching the lights is provided - by mike (NEPA)
A:
You can attach them with glue, tape, double sided 3M tape, screws, zip ties, clamps. Really, any method will work.
Q:
how long is the wire that comes with the bar - by Rob (Canada)
A:
About 6 inches on either end. A 3 foot extension cable is available.
Q:
What is the LED Brightness (mcd) for the yellow? - by Patrick
A:
750mcd
Q:
I'm putting them inside my car, to hook them up, is it just a normal power and ground wire? - by Alex (Pennsylvania)
A:
Yes, the hook up for this is a simple positive/negative wire.
Q:
How many chucks would a wood chuck chuck if a woodchuck could chuck SMD bars? - by bill (Kansas)
A:
about 32
Q:
Whgich is brighter? These or the led strips? I am looking for a motorcycle useage. Thanx - by Russ (Saratoga NY)
A:
The Surface Mount LED Bar is slightly brighter than the Flexible LED Strips.
Q:
How many hours will the SMD bars last? - by mike
A:
50,000 hours.
Q:
I'm getting two of these for my car so how many amps in the fuse I would need?
A:
3 or 5 amp fuse would be fine
Q:
How do you wire this to the battery I don't see the hot and ground is there any installation instructions around? - by James (Philly)
A:
Standard two-wire hookup. You can simply snip off the plug and strip back the two wires.
Q:
Are these or the pirahna bars brighter? - by Jarrod (Manteca)
A:
The brightness is the same.
Q:
Are the mount brackets available separatly? - by Michael (Fernley, NV.)
A:
No
Q:
I would like to use these as undercabinet lighting. How many can be linked together?
A:
Each SMD Bar uses only 200mA, basically 5 SMD Bars per Amp.
So if you used our 3.25amp AC Adapter, you can link up to 15.
Q:
how much AMP in the fuse would i need if i were to install these on a car?
A:
It depends how many bars you're going to use. Each bar uses about 200 mA, so with that number you can calculate the required fuse.
Q:
I need to fasten the SMD bar to a wood surface and don't want to use glue or double sided tape. Is a mounting method available for use with wood screws?
A:
The SMD Bars do come with mounting brackets but no screws.
You would have to but the screws yourself.
Q:
What is the best way to fasten to wood?
A:
3M double side tape or glue
Q:
Do you have a cable with female connector suitable for the SMD bar ? If so, what is the part number? - by Inge (Catena AS, Norway)
A:
This product will be available in early April.
Q:
what kind of amp draw does this unit have, and will it hold up on a snowmobile.
A:
This product is very durable and only draws 200mA!!