Ultra Thin LED Light Bar - Customer Questions
Frequently Asked Questions by Oznium Customers
I'd like to use this for my desk in a small, narrow spot directly above my keyboard return (so I can see they keys better). How should I power it? I have access to a power strip nearby, but what power supply should be used? Any 12v? Thx
Any 12v converter will work, our amp adapter would plug into your power plug and wire to the led using this 2 wires to female plug: https://www.oznium.com/install-bay/dc-barrel-adapter And the 2 amp adapter: https://www.oznium.com/power-adapters/ac-adapter
Can you make a Bi LED version so I can use them as a switch back running/turn signal?
We can make a custom order for 200 pieces or you can use two of the bars and wire to your running lights and turn signals. They will perform the same as the factory lights.
can I trim to the size I need? I need 6" im making a desk lamp
Cuttable between every 3 leds.
can I wire these for turn and brake lights? One 12v signal for turn and one 12v for brake. ?
These LEDs simply have two wires: 12v+ and 12v-
It sounds like you might want to use our
Switchback Driver
Can I use these LEDs for trailer brake and turn signals?
Yes, that is a good application for these strips.
Can I bend these laterally or is the aluminum very rigid?
The aluminum is very rigid and not designed to be bent at all.
How can I cap off the unused wires on the other end?
Because some customers daisy chain multiple LED bars together, we include wire leads on both sides.
If you're using a single LED bar, you can use electrical tape, or heat shrink tubing to cap off the wires which aren't used.
Is it possible to get 24" lengths? - by Russell (Washington State)
We could make that for you if you can order at least 100 pieces.
Can the wire come through the back or bottom of light? So you don't see the wire if mounted. I want to make a square out them and mount it on a mirror however don't want to see the wire. - by Bryan
Yes, the wire can either come out from the side or the back.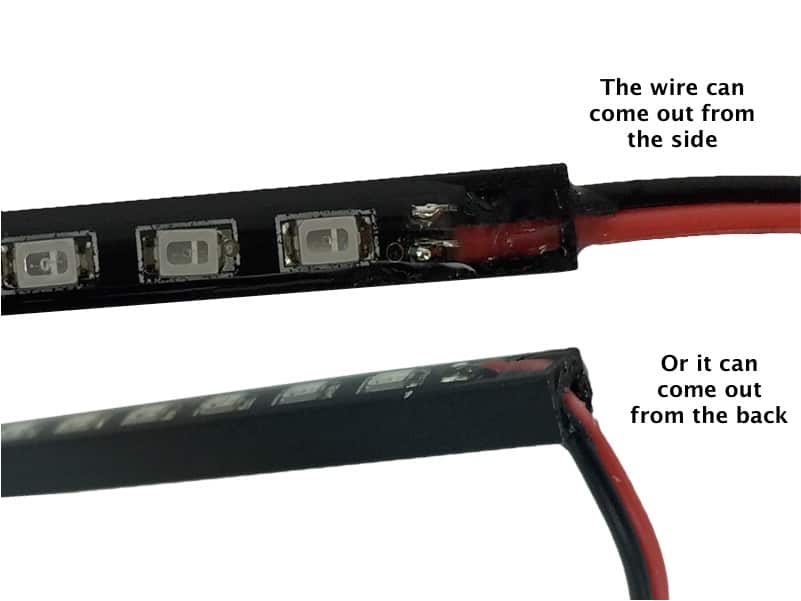 Is the light bar dimmable? - by Joe (Hartford, CT)
How do I attach the light bar?
You can use double sided 3M tape, velcro, cable ties, epoxy, etc (not included, but you can find at your local hardware store).
To mechanically fasten the light bar, you can use the mounting clips/screws (we include 2 clips & 4 screws):