Boats are often fitted with powerful lights to help navigate the seas at night, but few are likely to be anywhere near as cool as our 6-watt marine floodlight.
Specially designed to withstand the rigors of the deep blue sea, the floodlight is so cool that even fish will be drawn in droves to its mesmerizing glow - making it the perfect tool for night fishing.
Available in white, blue, green and orange, the high intensity 6-watt floodlight penetrates surprisingly deep into even the murkiest of waters. Comprising a Marine-grade 316 Stainless Steel shell, which boasts a waterproof rating of IP68, the floodlight provides excellent longevity and is able to cope with prolonged exposure to salt water.
Mounting the floodlight onto a boat is reasonably straightforward and requires just 3 x M4 screws (not supplied – see technical specifications for installation instructions). Owing to its sleek profile, the light can be positioned in various locations on a boat; although, for the most striking results, it is usually best to install the light just beneath the waterline on the hull.
So, if your boat requires a little extra decoration or you enjoy watching the fish swim at night, you can hardly go wrong with this powerful high intensity floodlight.
Customer Action Shot!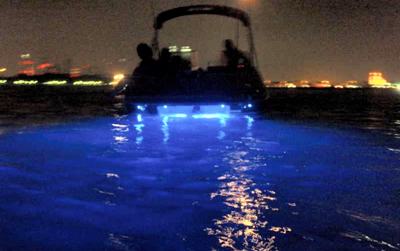 6W LED Marine Floods light up Arabian Gulf. Dubai.
Also five,
Prewired SuperFlux LEDs
point down into the water from under the swim platform. Check out
more stunning photos
.