Marine LED Spotlights - High Intensity & Waterproof - Customer Questions
Frequently Asked Questions by Oznium Customers
are the light made of stainless steel or aluminium thank Greg of Australia
These housings are aluminium. Should you require stainless steel, we can certainly custom make them for an additional cost.
What is the Diode Forward Voltage for the White spot and White flood? Do I need to use a resistor for one spot or one flood from 12 volt battery. Now how about adding a 9.5 white light strip to the array, resistor requirements. The power voltage resistance change when alternator going to 14- how accommodate both voltage. - by Hilton (Austin, Texas)
It doesn't really make sense to talk about Forward Voltage for this.
If it were just the raw 1W LED, then yes, but this is a fully integrated product which already includes an LED driver to stabilize the voltage and current.

The input voltage is a nominal 12v (yes, 14 OK).

Resistors are not required with this, nor with adding 9.5" white LED strips (which are also already 12v).
which lipo battery would you suggest using 11.1v or 14.8v. Does higher voltage effect the performance or life of the LED
It shouldn't really matter.
how long for the wire? because i use it for waterfall. Thanks
How long are the wires from this unit - by Vinny
I see a voltage range of 8-24vdc. is there any output difference based on the voltage used? i.e. higher the voltage the brighter the light.
Do you make a Neutral White (4000-4500 kelvin) version of this light? If not, can they be ordered in that color temp? - by Fred (United States)
We make a Cool White and a Warm White.
We're certainly happy to make a Neutral White for you as long as you can order about 100 pieces.
What is the appropriate light to be used under the deck of a sailboat shining up through a clear plastic lens to light up the mast of a medium sized sailboat (45 feet)?
Sorry, we don't know. We haven't tested it on a sailboat with a mast of 45 feet. You are welcome to get a few, and return however you many you don't need, for a refund.
Can you run a flasher unit with them to make them flash or strobe
on the 25 degree spotlights could you explain the cone of light in relationship to the wires example if the wires are at 12 o clock would the 25 degree spread be left and right or up and down or would it matter,is their a graph that shows this thanks JW
Sorry don't really understand.
how do these light hold up in saltwater?
We've had mixed results. Some customer have no problem with other's devices get eaten up by the salt.
How are these mounted to the boat like in the picture? is the screw going in from looking at the top, or does it go in from back? - by Chase (Osage Beach, MO)
Don't think it really matters which direction the bolt goes. You could do whichever way is easier for you.
How do the wires exit from the unit? Do they exit from the bottom or the side? I want to mount them under the swim platform of my boat but do not want to have exposed wire. If the wire exists from bottom then this wouldn't be an issue but from the side they would be. Thanks. - by Shawn (TTown)
How about instead using the
Ultra High Intensity 6W LED Marine Flood
, which is designed specifically for that purpose.
Will be a lot brighter, and even more reliable. And of course the wires will come out from the back as you'd like.
The wires on the "High Intensity LED Spotlight" as you've asked about come out from the side: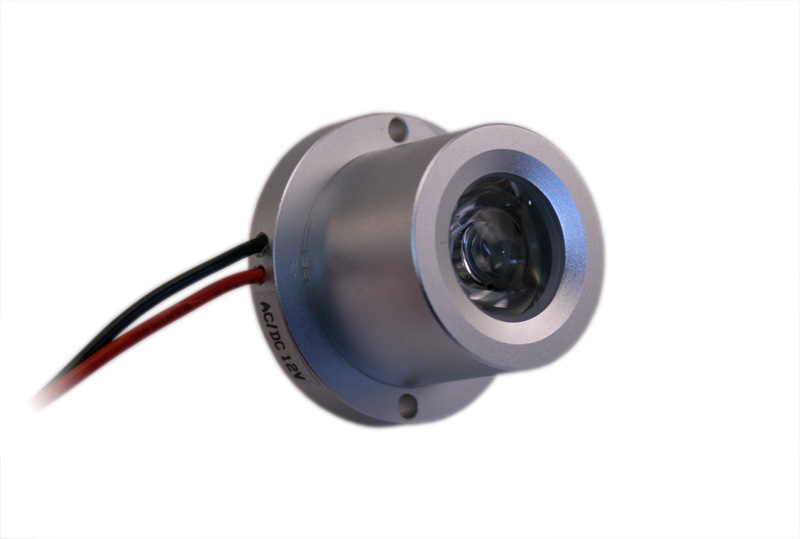 Are your product safe to use in a tropical or saltwater aquarium? - by Jonathan
We've had many customers use these with mixed results.
What size wire needed for running about 20ft. to power source,will be used in a under water marine lighting
Anywhere from 16-22 gauge.
Can I order two warm white spots and one red spot and still get the 3 light price, or do they all have to be the same color?
Can multiple colors of the same product count toward the the minimum quantity required for the price break?
Since we often pack products in even sets, the quantity pricing has been set for each version of the product. For example, if the price break is offered at a quantity of 10, you must buy 10 of that specific color. We don't offer the special price if you buy four red, and six blue.
https://www.oznium.com/wholesale
The first question here states that the lights are not dimmable. What about with a pulse-width modulation dimmer? - by Steven (Detroit, MI)
I'm sorry, but that will not work to dim these spotlights
I have tested one of these lights at 24 volts and it seems to work fine. Will prolonged usage at 24 volts damage or reduce the lifetime of the light?

Steve - by Steven (Detroit, MI)
Yes, they will shorten the life expectancy.
Are these units dimmable? - by Dave (San Francisco, CA)
How many lumens do these 1 watt waterproof LEDs produce? - by David
This varies with each color, here is the information from our tech page [https://www.oznium.com/led-flood-and-spot-lights/high-intensity-led-spotlight#tech].
Can these be ran to a toggle then to a marine battery without having to use any kind of adapter or converter? in other words- are these 12volt ready? - by Matt (Rocky Mount, NC)
They are wired for 12 volts
What material is the housing on the lights made up of. It appears to be some sort of metal. - Scott - by Scott (Baltimore)
would it hurt if i use the 5 amp. ac adapter for a few leds now and later run more if i want to? i'm not sure if this will put too much load on a few leds.
thanks
Yes you can use the 5amp, and add more LEDs later
I am looking for a directional UV/Blacklight LED for night fishing. Do any of the colors you offer cover the UV spectrum (i.e. blue)? If not, is there any chance a UV/Blacklight color will be available in the future? - by Kevin (Austin)
We don't sell the Spotlights in UV. It might be possible to make these, but we don't plan on it at this moment.
How many can you link together? plan on running straight to boat battery with one toggle switch - by Kev (Florida)
There is no limit to the number of LEDs that you can link together.
can the led spotlight be fixed to timber by michael - by Michael (carlisle england)
Yes, certainly it could be fixed to timber. There are two tiny holes which you could put a small screw through.
Is the bulb area directional or stationary? - by Jason
can these lights be used as transom mount underwater lights - by Fred
Would these Light hold up in mineral Oil?
They are waterproof, so I don't see why not
I would like to use LED spotlight on my bow for night fishing? We are using large handheld 12v spot light . To heavy ! Would you have any sugestions?
Yes, you could try these LED spotlights. They are not too heavy.
I would like to run 4 of the 25 degree LED spotlights, what 12 Volt adapter do I need to power them,? I will be using about 18 ft. of wire. - by Richard
This AC adapter will work fine: https://www.oznium.com/power-adapters/ac-adapter