Bright LED Bolt for Motorcycle License Plates & more FAQs
All Customer Questions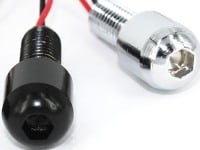 Side View LED Bolt
Q:
so for a motorcycle(12voltbatt) I basically bring my red to my battery and ground my black to any metal
- by davide (MTL canada)
A:
Yes
Q:
So i was riding and the nut came loose. I tightened it down in a parking lot and the bolt broke :-( -- my fault for not looking it up beforehand, what's the torque spec for these so I don't do that again? (Also investing in a lock washer this time 'round) - by Mikeal (Colorado Springs, Co)
A:
Sorry, there is no torque spec.
Q:
Do you think there is enough metal on the thread body to have these turned and threaded down to an m6?

M6 is the most common license plate bolt size.. Im suprised that these are m8. - by Mike (USA)
A:
There probably is enough metal, but we can't say for certain, as we haven't tried it yet.
Q:
How many lumens?
A:
Sorry, we have not measured for the lumens yet.
Q:
How many lumens ?
A:
Sorry, we haven't tested for that.
Q:
I have little space and need the brightest light possible for a rear turn signal. Which product would be best?
A:
The bolt would work or so would these: https://www.oznium.com/flexible-led-strips/led-flex-strips https://www.oznium.com/led-string-modules/super-bright-12v-led-module
Q:
Will these be bright enough for a good rear turn signal?
A:
Depends... hard to say because its a bit subjective.
Q:
How many amps does the motorcycle license plate LED's use for 1 bolt? Need to know what size fuse to use if I have 4 bolts hooked together? - by Raymond (Canton, NC)
A:
20 mA
Q:
I am going to hook 4 up to my raptor grill and I'm going to wire all of them together. I am thinking of installing a switch so I can turn them off in the daytime. If I do add a switch will I need a relay and if so what size and kind? - by Raymond (Canton NC)
A:
No relay needed, just wire the hot leads and ground leads together, then wire that to the switch.
Q:
Can it be wired up to a basic car battery without any additional products?
- by michael (Hazleton)
A:
Yes. You may want to use a fuse, although you don't have to.
Q:
Can I use this as turn light ?
A:
Yes
Q:
What kind of resistor is used for this LED? And is it included in the wiring?
A:
A standard carbon film resistor is already installed inside of the bolt, so it isn't even visible. It is thus designed to work on 12 volts.
Q:
Do you include the nut along with each bolt? - by Alec (Boise Idaho)
A:
Yes
Q:
What material is the bolt made of? ( plastic or metal) - by Jeff (California)
A:
Metal
Q:
what is thread size? 10mm?
A:
Thread size: M8x1.25
Q:
I have a single power wire coming into my license plate that I'd like to illuminate with two LED Bolts. Will this product wire up correctly in a single wire application? If not do you have a way to make it work or do you have another product that would work?
A:
Assuming the single wire you're referring to is positive, just hook up the red wire from this to that wire.
Then hook up the black wire from this to any ground/metal part. It will then light up.