12V LED Dimmer and Strobe Remote Switch - Plug & Play! - Customer Questions
Frequently Asked Questions by Oznium Customers
Will this controller smoothly dim 10W led motorcycle spotlights?
Yes, it can handle up to 3 amps.
Thanks for you quick response (and for making your product waterproof). So by running a red lead from an Add-A-Fuse and a black lead (grounded to the chassis) to the controller, this should be sufficient to power my LEDs, correct? With this configuration I get no measurable voltage through either set of output wires. - by Nicholas (Tampa, FL)
Yes, correct. Are you grounding your LEDs to the car chassis, or to the ground output from the controller? You must use the ground output from the controller!

You should also make sure the inline fuse on the controller wire is not blown (if you accidentally shorted out the wires).
Has your controller design changed since these instructions were published: http://www.teslarati.com/tesla-model-s-lighted-t-installation-instructions/ ?
The follow up question is how does the controller need to be wired in order for it to function when the car is ON or daytime running lights are on. Thanks! - by Nicholas (florida)
We have gone to a waterproof unit. The orginal switch was not fully waterproof and that created problems.
You can wire it to the battery itself or to the fuse block.
Do you have any to power a 300 watt LED light bar ?
if I use multiple modules, will they all work to the same remote? - by Paul (Hawaii)
No, they are all coded to the receiver they come with.
If I am just going to use one channel, does it matter which wire I use?
I'm wanting to get my halo rings, reverse lights, cargo bed lights, and license plate lights to do different strobes and effects. Would this be able to control all of them? - by Noel
Yes, all long as the amperage doesn't exceed 12 amps.
I have a 90 watt 6 strobe (Whelen) set up on my 2002 Corvette Z06.. (NOT LEDS)... This Whelen unit offers 10 different flash patterns. First, will this remote work for me & secondly, will I be restricted to only 6 flash patterns? If all answers are positive, could I be emailed instructions how to connect this all up? Thank You - by David (West Virginia)
Your unit and our unit will not work together.
Can this be used to strobe a relay or are relays not fast/reliable enough?
I am using the million light strips with this remote .how can i use a rgb controller with this and how do i need to wire it up please help - by Eliel (Rio Grande City, TX)
The Dimmer & Strobe Switch will not work with RGB lights. You need a different kind of controller since the dimmer/strobe switch will not work with another controller. You could use these: https://www.oznium.com/led-controllers/inline-rgb-led-controller or https://www.oznium.com/make-leds-flash-to-music
what size fuse do i need to put right after the battery source?
Depends on the current draw of the LEDs you're powering.
If you don't know, you could just start with a 5 amp fuse.
i see you have the remote control dimmer&strobe switch detailed here but does it come with the power box too? - by Johnny
As you can see from the photo, yes it comes with this: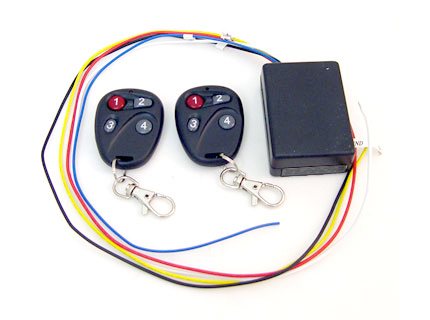 I want to attach a strobe light to a trafic sign in front of my house, so I can remotely activate it so people know I'm aware of them speeding (ive lost many pets there to speeding cars) can you help suggest where I can go from here? Will I need to find a solar pannel, and a strobe light and the somehow attach your device? How far can I stand away from the sign to activate with the remote? - by Luma (balmorhea TX)
With any of our LEDs, you can certainly use this device to signal passing drivers. Maybe this route is better? https://www.oznium.com/accent-lighting/led-headlight-strobes
Sorry, this is not really a question. You have a lot of patience with a lot of these questions. Can't believe people don't read what is on the page for it.
No problem at all! We all get excited about products and want quick answers. That is what we are here for. :)
Is it 12 volt output, so I still need a resistor before the led
do i have to use the ground out wire? can i ground the lights to the chassis and just use the positive wire to have it pulse and strobe.
You must use the ground wire since the on/off/dimming signal is sent over the ground wire.
It is the positive wire that you may, or may not hook up.
I will using this with (2) 8 watt daytime running lights is a 3amp fuse on the positive enough or should I use a 5amp - by Gregory (Raleigh, NC)
Depends on the amps being used.
CAN I CONTROL MY HEADLIGHTS WITH THIS
Probably not. These can handle up to 6 Amps. If your headlights are less than that, then yes. Highly unlikely.
Will this thing pulse to your music. And if not is there a way I can make it
Can this control 4 2foot and 4 1 foot waterproof ribbon led strips and 6 Surflex 4 chip LEDs? - by Trevor (Torrance, CA)
Yes, it can handle up to 6 amps per channel.
Do you have a 2 channel remote that would allow you to have the "police effect"? - by Ronald (Springfield, MA)
What is 'police effect'? Check out of videos; they might come close to what you want.
How do you set it up with the LED's strobe and change the brightness? - by Landon (Hawaii)
You simply push a different button on the remote.

As shown on the "Technical Info" tab:

Transmitter / Key Usage
Upper left button (Red): Choose between 1 to 8 levels of brightness (press the button to cycle to the next brightness level)
Upper right button (Grey): Turn on Strobe / Flash mode
Lower left button (Grey): Automatically cycles from dim to bright to dim to bright (like a heartbeat)
Lower right button (Grey): OFF
Would I be able to hook up 14 white surface mount led light bars to this controller
Considering that the
Surface Mount LED Bars
each use 200 mA, and you can power up to 6 amps with this controller, you could run... 6000/200 =
30 LED light bars
.
how many led light bar would i be able to hook up to this remote - by jose (Wisconsin)
Depends how much current the LED light bars draw. You can power up to 6 amps with this.
You say this product has limited function when used with the High Intensity LED Floods & Spotlights. I was wanting that combination for rock crawling on an ATV or just for show. Can you be more detailed on the limited functions? - by Chad (Georgia, USA)
Of course! The "High Intensity LED Floods & Spots" are one of the only products that use a built-in power driver, and thus won't respond to the normal dimming function. They can however be strobed on and off. And of course be turned on and off by the remote. But on dimmer mode, they will stay at full brightness for a while, then turn off at a certain point. Hope this helps :)
Can I mount my controler underhood near the fusebox on my 300C? - by Kenneth (Tuskegee, AL)
As long as it doesn't get wet.
Will this work with other company's Led strips ? or is it for your led kits only ?
Already have LED'S on my bike but this would be awesome! - by Phillip
This will work with any 12 volt product.
If the unit is wired to power on when the car is turned on, will it remember the setting it was last on? Meaning if I have my LEDs set at like a dimness of 3 and then turn the car off, the next time i turn the car on will they be at 3 again or all the way back to bright? - by Alex (Smithfield RI)
can i connect 7 ft of pre wired ribbon led strips to it as well as 2 superflux domelights? - by Jesse (North Salem, NY)
I know this remote kit only controls one channel but is a similar remote kit offered that can control more than one channel? - by HPNO300
Our Remote 4 Channel Million Color Controller.
PLEASE CAN YOU TELL ME IF I CAN EXTENDE THE ANTENNA WIRE
Yes, you can extend the Antenna.
Hello, I need to make a instalation for a theater performance. What I need is to control remotely a little led placed on satge. It must be powerful to light an actor, without wires because he must move it, and not very heavy. Is it possible with that system? How should be the circuit? What type of LEDs and batteries? Thank you! - by Pau (Madrid - Spain)
I'm not sure how you power an LED without wires. You can definitely use a battery pack and place it on the person. Just run the positive wire to the positive wire on the battery pack and negative to negative.
I will be adding this to a current installation that comes on with the dome lights, though just the added LED is what these will control. but the current setup is a switched positive with a static ground. So if I add this, wouldn't they always be on? I read something about adding a relay to solve this, how would this be accomplished? Thanks for any help - by Nic (Oklahoma)
I think a relay would fix this, however, I've never tried.
i have 6 beefy leds and 4 flexible leds getting professional installed on my car. Will they have any problem wiring them to this dimmer remote switch.
Nope, should work just fine.
will this work on a motorcycle with 8 seperate flexible leds.
Can i hook it up to 3 leds. If so, how do i do it? I looked on the forums and didn't see anything. - by H.Alfonso (Cincinnati, OH)
You certainly can. Basically connect the wires together...
In the description, it says that it has the ability for a strobe pattern to "wig wag"(that it has 2 outputs) but the technical specs say only one positive output wire. Is it able to do it or not? - by Mason (California)
It is certainly able to wig-wag in strobe mode.

The description is correct. It has 1 positive output wire, and 2 negative output wires.

All the switching is done on the negative/ground side.
I just installed my Scion xB Front Bumper Vertical LED Running Lights with this controller as the only way to turn the light on/off/etc. The system is wired directly to battery power so the lights can be on any time I want them. My question is, how much power does the control unit use when in standby - no lights on?
the dimmer and strobe unit uses 1 to 2 ma when in idle mode.
How would you just turn a device on without using any strobing/dimming effects ?... I read the technical information and button 4 is only to turn off a device off. - by JMarv3lous (New York City, NY)
It's simple - just press the upper left (red) button once.
Is this a pulse width modulated dimmer? - by Eric (San Diego, CA)
The instructions mention an antenna, but it was not included. - by Mike (Fair Oaks, CA)
Antenna = the blue wire coming out of the ECU box.

You simply leave this wire hanging / don't connect it to anything.
Okay this should be a good question. I have a set of dual color halos for my Chrysler 300C (Red and White) if I want to control the white separate from the red, and I buy a second control box, will it be on a different frequency or will it wind up being the same, meaning one remote will trigger both boxes at the same time (not what I want to do) I want to be able to strobe the white and the red out of phase with each other.

TIA,
Brett D. - by Brett (Greensburg, PA)
Can u control two seperate led strips with one remote? - by Sean
Yes, they will be doing the same actions
I one question about the voltage, on my bike I have about 14.7 volts when running. Would it be a problem to have the volts that high or would it burn out. - by Kevin
Is there any chance of failing LED or damaging LED during continuos dimming? - by Madan (L&T, India)
can it be used on factory head/tail lights?
No
They are designed to be used with LED Products
Where would the antenna wire go if I installed it to control led's in my computer or would I not need it at all? - by Kenn (LKG)
You don't hook the wire up, it is the antenna for the radio remote.
i have the inferno v2 i wanna hook it up 2 it how is that done, the inferno only has a - and + wire, and the device has those wires also, but they also have a ant wire and led wires - by Eddie (chicago, il.)
These should NOT be hooked up to the Inferno V2 or any other body kit with an ECU. The underbody kit requires full power at all times for the brain and controller. LEDs, LED Strips, and all others are fine, but this product isn't meant to dim body kits. That's why they have their own ECU built in.
Its mentioned "6 Strobe / Flash modes" but the video you have as an example only shows 1 strobe mode. Is this a upgraded model?
Strobe modes are considered (2-8 Flashes Per Mode) - The particular reviewer only showed 1 strobe mode. We assure you this has 6 different strobe cycles!
If i were to use this with an underbody kit and get the power to go threw first the strobe box then to the control unit, to use its dimming or strobe feature. Would that work?
It is NOT recommended to use these with under body kits. Any other LED will be fine, but Underbody kits are not recommended to be used with this product.
If you are using million lights, will this contoller stop on 1 light? or does it just affect the brightness of all the lights? - by Russell (Broadalbin, NY)
It will affect only the brightness, it is not an RGB Controller. You could use it with a controller though!
does the strobe feature alternate between say like left and right or is it just all strobe at once - by bryce (Fort Wayne, IN)
How many channels does this control? - by Mahmood (Bahrain)
Essentially 1 channel for on/off, and dimming functions.
Although in strobe mode, there are 2 output wires so you can have a wig wag effect.
Can I use this with a few Beefy LED Strips? - by matt
Yes. This will work great with any of our LED strip products including the popular Beefy LED Strips.
It is waterproof enough to use on a boat? - by Michael (Gresham, OR)
It isn't waterproof at all, but you could still use it on a boat if you're careful to install it in a dry location.