18W LED Work Light - with 1080 lumens FAQs
All Customer Questions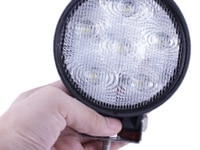 18W LED Work Light
Q:
What is the gauge, AWG, of the individual positive and negative wires for this light? - by ROSCOE
A:
18AWG
Q:
What are the steps involved in the mounting of this light by means of four screws (through the four screw holes on the back of the light)? The YouTube video indicates that this is an alternative mounting option, but the technical drawings do not indicate the steps involved. Must the light be fully disassembled, and if so, will this, in any way, compromise the water-resistant qualities of the light's housing? - by ROSCOE
A:
You should not disassemble the light.

As you can see from the drawings on the "Technical Info" tab, there's 4 screw holes on the back of the light which can accept an M5 screw. By "M5", this means a metric 5mm diameter screw/bolt.

You should take the light with you to your local hardware store and then pick out a screw/bolt that'll fit into the holes.

Here's a quick diagram to show how you could mount it:

Q:
can this be used on a snowblower? Is a resistor required?
A:
Yes it can be used on a snowblower.
A resistor is not required.
Q:
I am looking for lights to place on the back of my boat trailer for backing up. Can these be submersed up to 5 feet?
A:
These are not designed to be submersed.
They can be, but we can't promise how long they'd last.