Inline LED Controller
Want it delivered

Wednesday, February 10

?

Order it in the next

9 hours and 19 minutes

, and choose

One-Day Shipping

at checkout.
Remote Control Dimmer & Strobe Switch
.
The biggest benefit to you?
It has memory
, so when you remove power, it will
start right back up on the same mode/speed you last left it on
.
Why is this cool? Its so tiny and easy to tuck away, you could set it to your favorite mode, and then forget about it.
Ideas:
- Make your own motorcycle taillight strobes to draw more attention. Just set it on one of the super fast flashing modes.
- Heartbeat fade in / fade out mode for event decoration, costumes with LEDs, etc.
- Strobe modes for headlight flashers.
- And of course it can be used for many more cool projects. Use your imagination!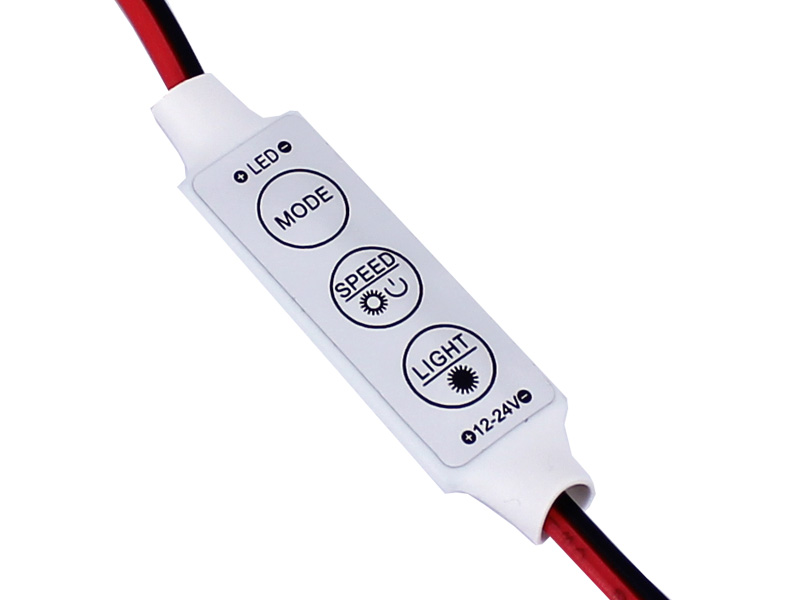 We have two different out look for Inline LED Controller, but function is same.
Waterproof? No, but with a bit of silicone, you could seal up the ends.
It can power up to 2 amps, which is A LOT of LEDs ;)
Customer Questions?
Our customers have asked 23 questions about this product.
→ Read common questions and answers.
Customer Reviews
INCREDIBLE for the price
Reviewer: Jordan Moddes (Kenosha, WI)
Item: Inline LED Controller
This thing is simple, small, and has AWESOME features. I have a buddy who is going to buy one and we're going to tap into his HALO's and use them for his HALO's to mess with people. :) A good 2 inches of wire comes on both sides (one side is input the other output) and it's a simple 3 button set. Just like the video describes and the picture reveals it is a EASY to use item. For 10 bucks you're FOOLISH not to buy this.
Write an online review and share your thoughts with other customers.
Upload your own action shots - show us how you creatively used our product.