SUPER BRIGHT LEDs - starting at just 29¢!
Want it delivered

Friday, April 25

?

Order it in the next

20 hours and 42 minutes

, and choose

One-Day Shipping

at checkout.
Sometimes you just need total control over your vehicular light show, and the best way to control your car lighting is to work with LEDs. These Super Bright LED lights are available in 9 colors, they're incredibly inexpensive, they can be installed just about anywhere on your vehicle, draw a tiny amount of battery power, last for years and produce next to no heat. About the only thing they won't do is give you more horsepower!
We don't know of any other lighting technology that can boast a set of features like these:
- Extremely low power consumption
- Extremely low heat output
- Can be installed almost anywhere
- Will last up to 100,000 hours
- Available in 9 colors (mix them to create other colors)
- Low cost - less than a dollar each
Is it any wonder that traditional lighting companies have been moving towards implementing LED lights in their own products?
Since we added this product to our range, we've been continually amazed at the creative and inventive ways our customers have found to incorporate LED lighting into the appearance of their vehicles - from speaker grilles to cup holders, under hoods, foot wells, on interior ceilings and in the dash... really, there's no limit to where you can put these surprisingly bright, surprisingly cheap, surprisingly flexible lights.
In fact, one such customer, finding that the light on his camera drained the battery too quickly, used over 100 white LEDs to create his own custom-made camera light, only to discover it actually produced better color for his photos.
Where can you use LEDs? They look great on:
- Speaker grilles
- Cup holders
- Interior ceiling
- Under the hood
- Under the foot wells
- In the dash
- Dome lights
- Door pockets
- Under the seats
- Glove compartment
- Headlights
Helpful Hints:
Resistance is futile! But resistors are pretty handy...
Depending on how you plan to install your LEDs, you might want to consider the option of using resistors. LEDs are designed to work with roughly 2 to 4 volts of power, which your 12 volt car battery will burn through pretty quickly. If you run too much voltage through LEDs, they will either burn out quickly, or in extreme cases they would stop working altogether.
Thankfully, there are two easy ways to work around this problem: One is to install the LEDs in series rather than parallel. This method requires some basic electrical engineering math to get the number of LEDs right (depending on color, voltage, etc.) - we'd recommend that only if you know your way around a soldering iron.
The other method is to install resistors on each LED, which will level out the power flow and prevent the burnout problem (unless, of course, you get very high power surges), and since resistors cost just 5¢ each, that's a genuinely inexpensive way to ensure your LED investment pays off for years to come.
Adding range to your LEDs: If you like LEDs, but want a wider spread of light, simply cut the curved top off of the plastic resin case of the LED with a metal file or some rough sandpaper. As long as you don't cut too close to the diode, your LED will function just fine, and instead of a sharp beam, there'll be more of a spray of light.
Instructions for wiring a single LED:
The longer lead of the Light Emitting Diode (LED) is positive (+). Reversing the polarity of the LED will not damage anything; the LED will simply not light.
Step 1 (optional): If you want the wiring of the finished product to be as small as possible, then trim the leads of the LED and resistor to about 1/2 inch each. This step is not necessary ? do this only if you want the wiring to be very small.
Step 2: Connect the resistor and the positive lead of the LED by either soldering or twisting them together. The resistor orientation does not matter.
Step 3: Connect a wire to the open end of the resistor. You will eventually hook up this wire to a positive 12v source. Connect another wire to the (-) lead of the LED. This will be hooked up to ground (-). To connect the wires to the LED and resistor, either solder or twist them on.
Step 4: Insulate the connections with either electrical tape or heat shrink tubing.
Step 5: Connect the (-) lead to ground. Connect the wire that you connected to the resistor to a positive 12v-power source. The LED should now light.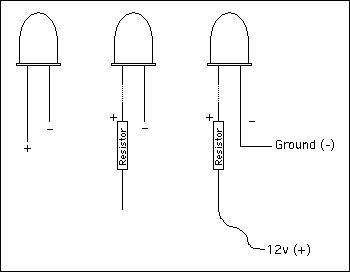 Customer Questions?
Our customers have asked 53 questions about this product.
→ Read common questions and answers.
Customer Reviews
54 Reviews
(54)
4 star:
(0)
3 star:
(0)
2 star:
(0)
1 star:
(0)
Average Customer Review
(54 customer reviews)
I love Oznium
Reviewer: Nico Wagner (Glendale, AZ)
Item: Super Bright LEDs
I ordered 25 of these bad boys for a small project in my Tahoe, these are very bright, excellent price, and they shipped fast! When I got my package I noticed I only received 20 :( (they're human) I submitted the form and THE SAME DAY they responded and shipped out the replacements. Wow..I won't ever buy my leds anywhere else
AWESOME!
Reviewer: David Monville (Bay City, MI)
Item: Super Bright LEDs
i ordered ten blue along with resistors, and some wire. ordered on a friday, came on a monday. and i must say, the blue ones are BRIGHTTT!

VERY NICE JOB OZNIUM!!!!!! I NEED A STICKER NOW!!!! lmao
Awesome Lights!!!
Reviewer: Michael Aschbacher (Spooner, WI)
Item: Super Bright LEDs
I have these installed in my engine bay, front grill, footwells, and headlights, and they look amazing!!! I would recommend using resitors thou... I had orange LED's hooked up in the correct series, and without thinking anything about of it, started my car with them on. all the other led's were fine, but those went out on me from a small power surge from the starting/running of my car, and now i gatta order a few replacements, but with the low prices of these, I'm not worried about it. Other than that I am EXTREMELY happy with Oznium and its products. Rock On Oznium!
Great LED's
Reviewer: Rob Jones (Winchester, VA)
Item: Super Bright LEDs
I got these to add a little ambient lighting inside my vehicle, they do a great job! Unfortunately i was sent two different beam angles of LED's, one a narrow beam and one a wide beam. I really like the wide beam, but not so much the narrow beam. To bad I only noticed after I had them all hooked up!
SUPER BRIGHT
Reviewer: sapperranger04 (Oklahoma City, OK)
Item: Super Bright LEDs
I orderd 50 bright white leds and resistors. Used them to make a brake light for my top box on my motorcycle. super bright and fast shipping. Every led worked, not a single dud.
Dark Spots
Reviewer: Donald Fredrichsen (Plano, TX)
Item: Super Bright LEDs
LEDs are not only a way to add WOW to your car, but also a great way to light up those dark spots where droped things go and you can't find them at night.
great LEDs
Reviewer: ~JJ~ (OHIO)
Item: Super Bright LEDs
these are great LEDs works great and light output and really good..i installed these in my tC's cuphoders...and looks beautiful.
if u want to save some hassle just buy ur self a pre-wired LEDs but if u can wire them...they are best bang for ur bucks!
so thankful
Reviewer: rollout (cali)
Item: Super Bright LEDs
these lights are wondrful, i used them to replace the stock onces for my fog light switch. they are much brighter and sooo much cheaper than that of the retailers in my area ($6 for 1). i bought extras just in case i find other uses for them. i do recomend getting the resistors. install was simple and painless.
FAST
Reviewer: ralph eli munoz (San Antonio, TX)
Item: Super Bright LEDs
You guys are supper fast!

Great product and REASONABLE prices!!

Thanks,
-e
Cheap, Bright and Awesome!!!
Reviewer: Jimmy J. Manibusan (Yigo, GUAM)
Item: Super Bright LEDs
Ordered these on the 19th of July and got it in four days. Super fast shipping to Guam!! And these are freakin' bright leds..Thnx Phil, I'll upload some pics once the project is done :) Already done with the gauge cluster panel!
See all 54 customer reviews...
Write an online review and share your thoughts with other customers.
Upload your own action shots - show us how you creatively used our product.