ICELED 2 Million Color Scanner
Sorry, this product is no longer available.
12" Scanning LED Strip - Knight Rider Style
The Iceled Scanner is a 20-inch long tube. It has 72 separate red, green and blue integrated LED elements, which together provide a directly viewable scan array.
Based on the same principles as all other Iceled light sources, using no more than a 12 Volt DC supply, this Scanner can be left to scan through the 2 million colors on its own, or can be frozen to scan on any particular color.
Better yet, connecting its data wire to an Iceled controller gives control over the scan color and pattern. Linking the Scanner to UFO for example will synchronize the two systems so that each UFO pattern produces a unique scan in complimentary colors. This extends to sound reactivity, so the Scanner patterns also respond directly to music!
Scanner Control: The scanner will work in a stand-alone mode, but to take advantage of its many patterns, you should use the Zap+ controller. You can also sync the Scanner with an Iceled UFO underbody kit.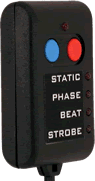 Optional Zap+ controller
With just two buttons you can dial-up any static color, produce a phasing color sweep, have colors beat to the music (using the built-in microphone), or create a strobe effect with a variable flash-rate.
- Standby/Bypass Effectively turns off light-sources by blacking them out or passes through external Iceled data if present
- Static color Provides fine-tuning of any particular hue or shade
- Phasing color Automatically creates smooth sweeps through one of four different color ranges
- Beat to color Sequences random colors in time with an audio beat, with adjustable fade-out
- Strobe Produces maximum intensity flashes in time with an audio beat or from an adjustable time-base
Settings for each mode are stored in a non-volatile memory. You can disconnect the power and not lose your settings.
Customer Questions?
Our customers have asked 21 questions about this product.
→ Read common questions and answers.
Customer Reviews
5 Reviews
(5)
4 star:
(0)
3 star:
(0)
2 star:
(0)
1 star:
(0)
Average Customer Review
(5 customer reviews)
The best product ever !
Reviewer: Anil.K.Dave (Ahmedabad, India)
Item: ICELED Scanner
Well i bought this Icled Scanner from oznium, at first i was confused how its gonna react, but then i came to know that it captures each beats and even single sound.It was fun, in india we don't have this type of lights, all we find is only led strips only, it is very new that i bought here, no one has this scanner or underbody kits, its very much cool having this scanner, when i go out and i run hiphop or psy trance music and it rocks, people on the streets are watching like nothing.Thanks to oznium, got the package right in time.And i thank them for this product.It is really cool.
Awsome
Reviewer: Tre` (Redlands, CA)
Item: ICELED Scanner
Ok i have had the iceled scanner for a while and, man i have to tell you this is the $hit hardcore awsome product
hehe its like a newage version of night rider !!
thanks OZ
the only thing i think can be improved is to have a audio hook up to you radio like the "v2 inferno underbody kit" , however; the iceled scanner is still good with music just extend the wires a bit more and its even better

Reviewer: huseyin ozcan (Hamilton, ON)
Item: ICELED Scanner
hi guys!! I JUST RECEIVED MY SCANNER TODAY AND GOTTA TELL U IT IS THE MOST AMAZING THING U CAN ADD ON TO YOUR CAR IT IS SO BRIGHT SO CLEAR AND AMAZING TO SEE HOW THE COLOURS ARE FADING IN,AND I DON'T EVEN HAVE THE CONTROLLER YET FOR IT BUT I KNOW FOR SURE NEXT THING I WILL BUY IS THE U F O UNDERBODYKIT CAN NOT IMAGINE HOW BRIGHT AND NICE THAT IS IF THE SCANNER IS ALLREADY LIKE THIS.... EVERY PENNY WORHT PRODUCT CAN TELL YOU THAT MUCH DON'T EVEN THINK JUST GET IT U WILL SE WHAT I MEAN PEACE OUT AND KEEP TUNING UR RIDEEEEEEE BY THE WAY THX OZNIUM U GUYS ARE GREAT .... OZI
Reviewer: Matthew Mosman (Waltham, MA)
Item: ICELED Scanner
In my grille I have had over 5 diffrent types of LED and Neon lights. The ICELED scanner is by far the best glow item I have ever put there. Its sweet to watch the colors sweep and pulse and shine to the music. It is super easy to install and is very durable. This is a great addition to the ICELED line. No car should be without one.
Reviewer: Mike Deshong (Staten Island, NY)
Item: ICELED Scanner
this scanner is great it works really good with the iceled ufo kit it has a different pattern for every mode of the ufo kit and it's really bright for it's size it is a really good addon to any neon or led undercar kit because it has a standalone mode as well and it looks really cool in the grill of my car and it's so small you can put it just about anywhere i say A+++ very good product but thats what you can expect from all iceled products!!
Write an online review and share your thoughts with other customers.
Upload your own action shots - show us how you creatively used our product.