Side Emitting "Headlight" LED Strip - Blowout Sale
We've slashed the prices, and are doing a blowout sale on all remaining inventory for these Side Emitting Headlight Strips.
Our new 2nd generation strips are now
available here
.
Please note, since the price is so low:
- all sales are final
- no warranty for this product (even if it arrives defective)
- we don't check to make sure all LEDs work before it ships, so if you absolutely need all the LEDs to work, you might want to order a few extra strips
Traditional Ribbon LED Strips have the LED's facing and shining straight 'up' from the circuit board. With the Side Emitting Ribbon LED Strip, the LED shines parallel with the circuit board, allowing you to outline edges or spaces where a normal LED Strip would be unable to reach. The Side Emitting LED Strip is extremely thin and fully waterproof and has high quality 3M adhesive already attached for a seamless install.
One of the best and most popular uses for this product is in or around a car headlight mimicking the Audi style LED headlight look.

If you enter a quantity of "1", you will get 1 strip. If you enter a quantity of "2", you will get 2 strips, etc.


Customer Action Shots! Check out more stunning photos.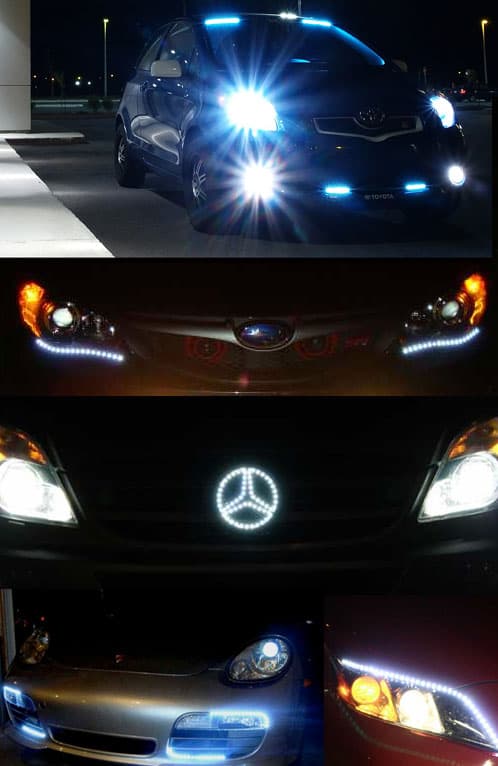 Need to make it shorter? They can be cut every few inches (or between every 3rd LED). The all-black circuit board offers an elegant aesthetic, especially for installations where the strip may be directly visible. Each end has pre-attached power wires. You only have to hook up one end. The other may be used to extend the strip. Simply plug another one in! Hook the wires up to your 12V power source. One is indicated with a white stripe, for positive, and the other is all black for negative. You can easily connect multiple strips of any length together by plugging them in together with the quick disconnects.
What is
Cool White
&
Warm White
? Cool White is like a bright vibrant white HID with a blueish tint. Warm White is a yellowish white like a regular household light bulb.
Customer Questions?
Our customers have asked 62 questions about this product.
→ Read common questions and answers.
Customer Reviews
43 Reviews
Average Customer Review
(43 customer reviews)
They're bright but seem to be rapidly degrading
Reviewer: Chris D (Virginia Beach, VA)
Item: Side Emit "Headlight" LED Strip - Blowout Sale
I have a pair mounted in my side view mirrors as a blinker accent and while they're wicked bright and small they seem to be falling apart. They have minimal weather exposure since they're in my mirror shroud but have fogged up with humidity and appear to be cracking apart now. I just bought a 40" strip to use in my bumper as a set of running lights but am now worried it's going to get mangled in no time.
Fantastic customer service. Buy with confidence.
Reviewer: Ray Christoff (Delray Beach, FL)
Item: Side Emit "Headlight" LED Strip - Blowout Sale
I ordered two, 2 foot sections and had a problem with one. After a "NO HASSLE" phone call, I received a tracking number within two hours for a replacement Two days later I received my replacement. I had further problems with this item. With another "NO HASSLE" call I've returned the item for a refund. I know that I can buy with confidence. I will surely buy again from Oznium.com
Simply awesome LED strip!
Reviewer: Travis (North Florida)
Item: Side Emit "Headlight" LED Strip - Blowout Sale
Ordered two 1 foot neutral white strips to place inside the headlights of my 2006 Toyota Tacoma as I had them opened up to black out the bezel inside. Came out looking FANTASTIC! They're thin enough so you can squeeze them in almost anywhere; in my case, a very thin gap along the inside of the headlight housing between the bezel inside and the clear lens along the bottom. You can power the strip from either lead off either end of the strip, so you're not bound to using the single plug end that's included.

The neutral white actually came out looking a little more "blue" than I thought it was going to, but no big deal. Looked a little funny in the headlight with normal halogen bulbs, but after installing HID's the following week, they look a lot better!

They're EXTREMELY bright as well; FAR brighter than I imagined they were going to be. Don't expect to be able to use them for fog lights or anything, but they might make for good interior lighting if you're looking to use them for that in some way.
Fast Shipping, good lights!
Reviewer: T. M. (Fort Wayne, IN)
Item: Side Emit "Headlight" LED Strip - Blowout Sale
Placed the order on Saturday, shipped a few hours later, and received the lights on Monday...Colorado to Indiana! Unbelievable...
As far as the lights themselves, they are very bright, I am using them as turn signals below the fender of my XV1700 Yamaha Warrior, they work perfectly...I trimmed off 3 LEDs from each strip and the other 6 on each strip still work great!

Unfortunately, they do NOT have 3M tape on them. I have used 3M tape numerous times before, and the tape on these does NOT STICK. But, I can go buy some. Add to the fact they sent 3 strips and I ordered 2 (mistake or just good service?) and the ULTRA-fast shipping and I actually feel a little guilty complaining about anything...
LED light strips look Great
Reviewer: jay (Mass)
Item: Side Emit "Headlight" LED Strip - Blowout Sale
The strips are great, the only thing is you have to be very, very careful with them. The first time i set them up, i went to turn them on and a couple LEDs were out. i contacted Oznium and they sent replacements right away. i finished installing the new ones look awesome. this is a great product, you just have to be careful with them.
Problems with this specific LED Strip
Reviewer: M. Oliver (Indiana)
Item: Side Emit "Headlight" LED Strip - Blowout Sale
To begin, I just want to say Oznium has incredible customer service; extremely prompt, accommodating and responsive to any problems you might encounter.

That being said, there are problems with the "Side Emitting 'Headlight' LED Strip". They advertise them to be flexible, but the flexibility is extremely limited without damaging the actual product itself. The LED segments (3 LEDs to a segment) are soldered to each other in a very delicate way where if you bend them at the solder point, it will break and you will lose connection to the entire segment. Now, this is usually unavoidable because if you are bending the strip in anyway, there is a chance for it to break. For me, I was using them to outline my headlights (2005 Mazda3). They looked amazing, dont get me wrong but the failure rate seems to high to go with this type of strip.

I would recommend the Flexible LED strip if you don't plan on daisy-chaining or the TriChip.
DONT buY
Reviewer: zack m (Sugar Land, TX)
Item: Side Emit "Headlight" LED Strip - Blowout Sale
rather than making pieces of junk wires that fall apart and arrive not working the majority of the time, spend a little more $$$ and get some wires that dont have to be replaced every couple months.

VERY DISPLEASED
I DO NOT RECCOMEND

###
Note from Oznium.com:
Full refund issued. Sorry they didn't work out.
Installed perfectly on a 2006 Toyota Prius Trunk Lid
Reviewer: Chuck (Raleigh, NC)
Item: Side Emit "Headlight" LED Strip - Blowout Sale
I managed to fit two 12" strips (one on each side of the rear emblem) perfectly on my 2006 Toyota Prius trunk lid's rubber moulding strip which is located between the glass lid (above) and the painted section holding the license plate frame (below) without any problems. They worked the first time and I think the rubber silicone covering has been improved (having read previous comments). To prevent the strips from "peeling off" from the adhesive backing eventually, I used a small amount of waterproof adhesive on each end of the strips. These side-emitting LED's are quite bright and I'm using them as rear daytime running lights when the ignition is turned on; I ordered red. Although there are some negative reviews posted about these strips, I encountered no problem and the quality seems to be solid so far.
Revised comment
Reviewer: Roger Lalonde (St Albert, Canada)
Item: Side Emit "Headlight" LED Strip - Blowout Sale
I had made an earlier comment about their warranty department taking no action. In all fairness I just received notice that they will be replacing my lights. So thumbs up for honoring their product.
I ordered more Unfortunately.
Reviewer: Roger Lalonde (St Albert, Canada)
Item: Side Emit "Headlight" LED Strip - Blowout Sale
I have had 2 2ft lengths on my car for one season,(summer car). I was so impressed I ordered 2 more to add to my existing ones. Plugged them in and turned them on and they did not come on. I sent deffective notice request, was acknowleged and that was about it. I latter checked them on an power source and found that they were reverse polarity to my prior set(explains why they did not come one). Also found that one of the strings only lights up about a third of the lights right out of the bag. I also found that the lead wires are a smaller guage the tape is thinner. I would not recomend these, I am trying a different supplier Hero-led.
See all 43 customer reviews...
Write an online review and share your thoughts with other customers.
Upload your own action shots - show us how you creatively used our product.