The Eclipse™ 12V LED Spot/Flood - Our Brightest Solid-State LED Ever - Ambient LED Lighting
Want it delivered

Monday, February 15

?

Order it in the next

13 hours and 23 minutes

, and choose

One-Day Shipping

at checkout.
Named after the epic "Pink Floyd" song, but only to allude to the fact of how incredibly bright this LED spot/flood is
!
A fully loaded
arsenal of lumens
packed into an ultra sturdy & rugged solid-state aluminum LED fixture.
You'll be amazed by the
sheer intensity and vibrance
cast from this ground breaking new LED from Oznium.
No need to use multiple smaller LED spotlights to "fill up" the light gaps in your project, as this solid-state beast boasts 10 watts of pure luminosity.
TIP
:
Need a less focused "spotlighting" effect and going for more of a "floodlight" look? It's as easy as 1-2-3 : Simply unscrew the top of the spotlight, remove the domed glass-lens, and pop in the flat glass lens. You now have a
rampaging flood light
that will throw out more than 180 degrees of sheer luminescence, the Eclipse™ is
that versatile
. The spotlight lens gives a 60 degree beam angle of light. Need to wire it to a power source without cutting off the barrel connector? No problem, just buy one of the DC Barrel Adapters
They come in 4 different styles.
Suggested Uses:


Ambient Mood Lighting : Home, Restaurant, Hotel Rooms, Suite, Cabin, Nightclub & VIP Lounge Backlighting
Restaurant & Casino Accent Lighting
Home & Office Art Decorative Lighting
Ultra Energy Efficient Halogen Replacement Lights
Super Bright R.V & Camping 12V Area Light
Theater Production & Stage Lighting
10W, 20W and 50W Eclipse Spotlights are available now.
Features of 20W & 50W Eclipse Spotlight:


Share the same lenses: Diameter of the 10W & 20W eclipse lenses mounting rings are same.
Fully waterproof with IP68 rating: All circuits inside are wholly covered by epoxy. It can be used under water (Note: 20W is waterproof, but 10W is NOT waterproof)
Much brighter: 20W CREE LED provides double lumens brighter than the 10W eclipse spotlight
Perfect for Flounder Gigging applications: Bottom of the 20W spotlight can be unscrewed and opened to install the standard 1" threaded pipe

Caution: 50W eclipse light green is for UNDER WATER use only

- 50W eclipse LED is needed to run under water for cooling, otherwise it will be too hot and burnt out.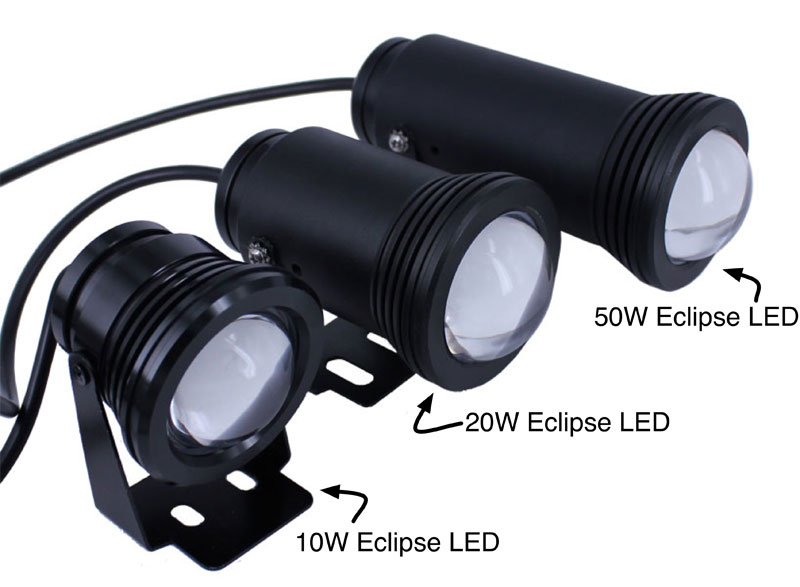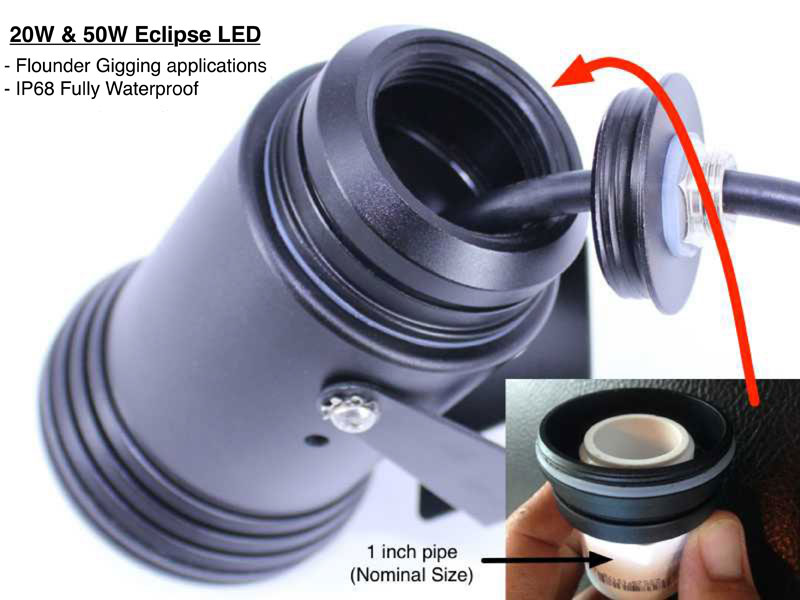 10W, 20W & 50W eclipse spotlight comes with the same lenses, flat & curved.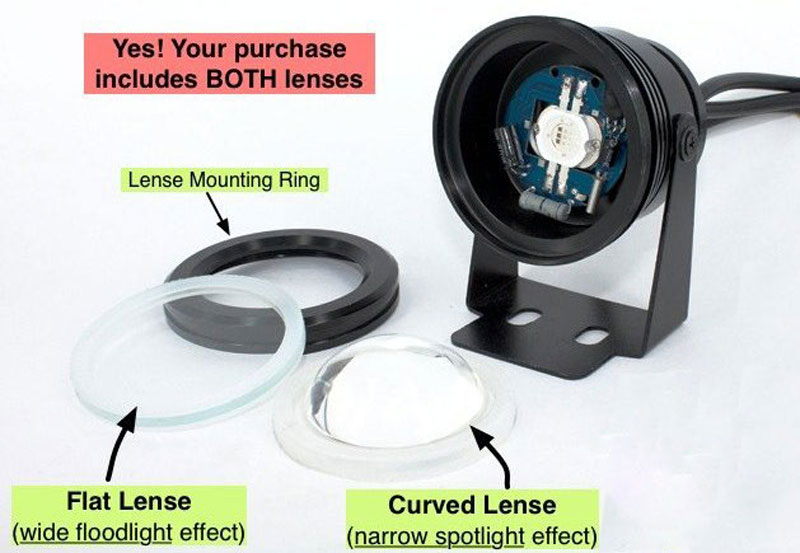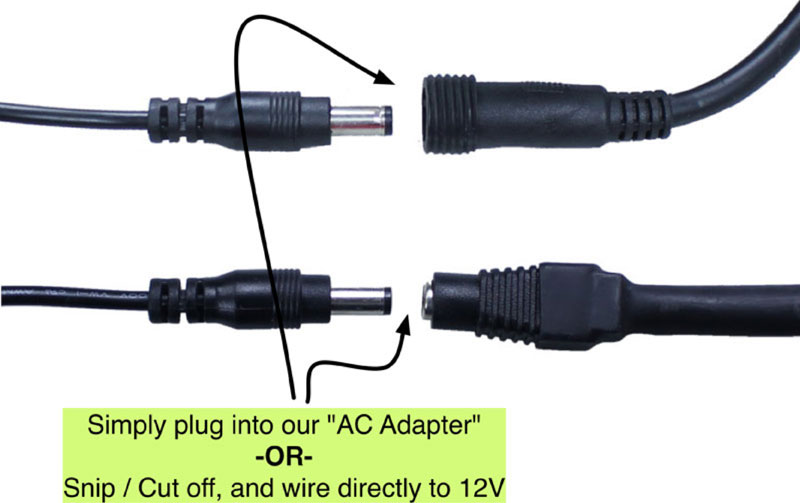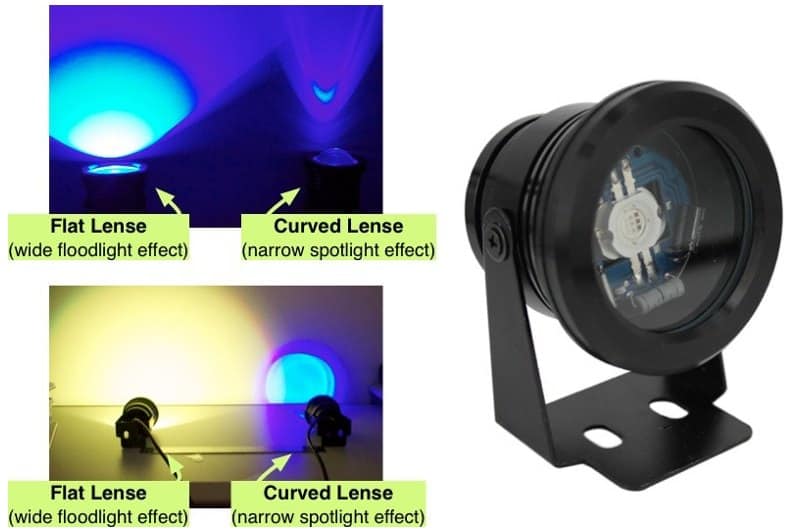 Other applications:
You are currently viewing
Automotive
applications for our
Eclipse High Power LED
.
We also recommend this product for:
Customer Questions?
Our customers have asked 22 questions about this product.
→ Read common questions and answers.
Customer Reviews
10 Reviews
Average Customer Review
(10 customer reviews)
awesome flounder gigging lights
Reviewer: Chad Elmore (Opp, AL)
Item: Eclipse High Power LED
I bought 4 20 watt green LEDS for gigging flounder. I have been using above water lights but decided to try these for underwater use and I will never go back. The green lights are great for murky water. I am seeing flounder way ahead of me before I get to them . I highly recommend them to anyone wanting to try underwater lights. You will not be dissatisfied.
fantastic bright light for size and power draw
Reviewer: William (St Louis Park, MN)
Item: Eclipse High Power LED
I use this to light up a 10 ft by 12 ft wall tent and it does the job perfectly all by itself.
Great backup and work light
Reviewer: Dale Park (Salt Lake City, UT)
Item: Eclipse High Power LED
I use these on a Polaris Ranger as backup and work lights. As for waterproof, I have not had any problems with snow, ice, rain. I did put a dab of silicone on the power cable entry but the lens never fogs and is very bright. I would not hesitate at all using these in an outdoor environment. They also don't show any problems with harsh environment on the Ranger and bouncing/jarring movements.
Top notch lighting for home or business. See my action shots!!!
Reviewer: J. Conner (Laporte, TX)
Item: Eclipse High Power LED
I am an electrician who has been installing home and business lighting for about 16 years. Finally the LED technology has reached a level that equals the brightness and look of warm white light. The Oznium spot (flood) lights and LED strips are the best lighting option I have found. They run cool and draw very little amp load. I am very pleased with the outcome of my own home lighting project (see actionn shots). As I expand across the property I will be adding more lights to the trees and across the driveway. As a side note, shipping is super fast and customer service is top notch.
I hate to rate anything Oznium has other than 5 stars, but...
Reviewer: Robert Mundt (Henderson, NV)
Item: Eclipse High Power LED
The projector lense on the cool white leaves something to be desired. It is SUPER bright, but there is a dark yellow ring around the spot of light. One reason I like the cool white color of leds is because it gets rid of the ugly yellow light you get from incandescent bulbs. With the flat lense, you do not have this issue, it still works fantastically. Yes these are bright! One issue with the color of the projector may or may not be the gasket that they send with. Maybe some of the light being out put is going through that gasket? If your buying these specifically for the projector, plan to modify it unless you don't mind the yellowish ring of light. I havn't used it a lot yet but still an awesome product. As soon as I find a definitive use for it I am sure I will be purchasing more.
good price to match item
Reviewer: Antonio Bermudez (Forney, TX)
Item: Eclipse High Power LED
their is still room for improvement, especially on the RGB. It is bright, but anything with a direct light output is, overall i'm satisfied with the price i paid.
BRIGHT!!! x.x
Reviewer: Tyler G./Nissanclub.com (Indiana)
Item: Eclipse High Power LED
Yes, this lights is truly as bright as they say. Not only is it bright as all get out. It's massive!! The biggest LED I have personally ever had or played around with. I got this for free from oznium, they sent me the warm white which is pretty dang bright for being "warm". But when I first got this item I was so excited to see if this thing is truly as bright as they claimed.

The first time I plugged it into the outlet, BAM!! This freaking spotlight lit up my entire room. I also will include some photos of it taken apart and compared to a 1000+ page college math book!!

This item would be great as accent lighting in a restaurant setting or any indoor setting. I plan to use this light in the interior of my car next spring/summer. But I will most likely order a RGB spotlight so that I can have multiple colors!!

Thank you Oznium for the awesome LED!! I look forward to using more of your products in the future!!
WOW! Now I'm impressed!
Reviewer: Robert Supiran (Winter Haven, FL)
Item: Eclipse High Power LED
I originally was thinking of putting this in my car for a little added lighting effect, but WOW, it's way too bright! I put it in my bedroom and it lights up the whole room! I have the RGB version and every color is super bright! I really like the different functions and how it changes colors. Great for any lighting application! Oznium did it again!
Eclipse 10w LED spotlight
Reviewer: David Thomas (Illinois)
Item: Eclipse High Power LED
I was honestly shocked at how bright this was! I've only used Oznium's lighting products in my car and I have never been more satisfied! When I plugged the Eclipse 10w LED Spotlight in for the first time it lit up the whole room and it wasn't even very dark out yet! I received the RGB version, all the colors were perfect except for the white. The white also had a little of green and a blue tint. But still was different from blue. I also found out that if you remove the lens that it comes with and replace it with a plexiglass disc, you can get a much more wide angle viewing of the light! I showed my friend this and he always does a extravagant Halloween display and he is now going to be ordering some for next year!
Insanely bright.
Reviewer: Dusty Kirkham (Tennessee)
Item: Eclipse High Power LED
They are not kidding about thinking of selling this with a pair of sunglasses. This thing has the ability to light up an entire room. The only thing I would change about it is to ship it with a frosted glass as well as the clear one. This light is awesome and I plan on buying another one to incorporate into my Christmas and Halloween lights.
Write an online review and share your thoughts with other customers.
Upload your own action shots - show us how you creatively used our product.