12 inch LED Flexible Waterproof Silicone Sealed Strip FAQs
All Customer Questions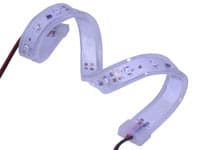 Silicone Encased LED Strips
Q:
how do I attach the strips to fabric? Are they glued or sewn on?... and if sewn on, are the stitches placed along the longer edges or just the two shorter ends? - by Pat (Staten Island)
A:
You could glue velcro to the fabric and to the back of the strip or sew the, on. I would stitch around the strip not through the silicone. You would need to determine how to stitch to keep it in place, maybe the length of the strip.
Q:
I would like to use double sided tape for installation, any product recommendation?
A:
Any 3M double sided tape will work, Scott is the best.
Q:
How long are the lead wires? and can I buy extensions for them? - by Michael (Arizona)
A:
About a foot.
You're welcome to buy extension wire here, or you could even buy some from your local hardware store.
Q:
Can these lights stand up to impact? such as being stepped on?
A:
It depends how they are stepped on. They certainly aren't designed to be stepped on.

If you stepped on them barefoot, they'd probably be fine.
If you stepped on them wearing normal shoes, they might be OK for a while.
If you stepped on them wearing heavy work boots, they might not last too long.

How about choosing a product which is much more durable?
Q:
What is the primary difference between the silicone encased strip and the waterproof ribbon LED strips? I'm wanting to mount these to the undersides of the seats and console in my boat to add indirect lighting. The boat is a pontoon, so the light strips will be exposed to the weather. - by Randall (Fort Worth, Texas)
A:
The Waterproof Ribbon Strips are black with sticky tape and quick connect ends, the Silicone Encased are clear without tape and have positive and negative wires instead of quick connect ends. Both would work on your boat.
Q:
Will these handle constant submersion well? I am considering using them *in* a water cooling system. - by Steve
A:
They are waterproof, we have not tested them being submerged for long periods of time.
Q:
will this strip work with the freedom rgb controller?
A:
Yes
Q:
I'm looking for a more permanent mounting solution than double sided tape. Any suggestions? Are there fixtures that could be used with these lights?
A:
The silicone encased strip come with 2 clips that are used for mounting. These product does not come with 3M sticky tape.
Q:
Can these lights be dual intensity i.e. used as a secondary run/brake light on a motorcycle. If so, how could it be done? - by John (Ireland)
A:
Yes, right here: https://www.oznium.com/blog/led-brake-running-light-controller-diagram/
Q:
Can I order a solid 7 foot strip? Is yellow the color closest to amber for these? - by Colin
A:
They come in 1-foot increments. Closer to Amber.
Q:
Most of the products I get from Oznium have wires on only one side, these have wires coming out of both sides. Do I need to hook them up differently then I would say the regular flexible LED strips, or do I just cut the wires completely off one of the sides? - by Matthew (Portsmouth, VA)
A:
The wires on both sides are simply for your convenience in case you want to hook up more strips in a series. You're welcome to cut the wires off if you do not need them.
Q:
Can you wire multiple strips into a switch, then have that switch wired to the battery with 1 (+)wire and 1 (-)wire?
A:
Yes, that is the right way to do it.
Q:
How long are the wires that lead to the battery? And can I crimp 2+ of the strips + and - wires together and connect them to the battery that way? - by Jerott (Central Minnesota)
A:
Approx. 12 inches of lead wire come from the strip. Yes you can connect 2 wires together, as long as they are the same polarity.
Q:
If I buy 8 increments do I have to do some sodering to wire them to the power source like a bike - by Oscar (United States, Arkan)
A:
Soldering is a relaible and professional method of connecting the wires to your power source, but you could always use other methods such as crimp terminals. It's up to you.
Q:
If I buy 25 feet, will you sell me a 16' reel plus 9 separate 1foot sections that I'll have to solder all the pieces together? - by Carolyn (S California)
A:
You will get a 16 ft reel, but a 9 ft strip.
Q:
How would you defuse the light so that it looks even and continuous instead of individual spots?
A:
Do not place it so close to the ground. The further the way, the more fluid it is.
Q:
How many hours can these stay on without worrying about them? - by Laurence (Highland Mills, NY)
A:
You can leave them as long as you would like and not have to worry about them!
Q:
would these do ok in the engine bay as long as they were'nt touching any engine part directly, for example the far front framing of the engine bay? - by Jordan (East Moline, IL)
A:
Yes, they should hold up fine
Q:
Can these be dimmed? Also, do you recommend a method to attach the strip to fabric? Possibly a glue? Thanks! - by George
A:
Yes they can be dimmed. Can't say we know the best method to attach to fabric. A glue would likely be your best bet. Perhaps ask a fabric store - they'd know better than us.
Q:
Laying flat how tall are these strips. They are 12" long 1/2" wide but what is the height? - by Phill
A:
Its about 1/8" thick
Q:
LED Ribbon Strips - Waterproof Flexible Silicone Case - Are the LED strips still waterproof if they are removed from the silicone case? - by Jeremy (Singapore, Singapore)
A:
No, the silicone casing is what makes it waterproof!
If you need something similar take a look at our "Waterproof Ribbon LED Strip".

https://www.oznium.com/flexible-led-strips/thin-waterproof-ribbon
Q:
I have 2 of these strips, Should I hook upthe two sections in parallel or hook them up in series?
A:
Each one needs 12 volts, so you should hook them up in parallel.
Q:
Can I speacil order these in longer stripes or I`m I stuck with one foot peaces? - by mike (michigan)
A:
We are happy to custom produce them for you in a longer length with a minimum order of $2000
Q:
I've found that 3M double-sided tape will NOT stick to these. Any suggestions for mounting to metal surfaces? - by Chris (Minneapolis, MN)
A:
Try cable ties and cable tie mounts that you can either screw down or use 3M tape with.
Q:
million colors? is there a control unit to change colors?
and does it come with the lights or sold additional? - by pete
A:
For this product you will have to purchase a LED Controller separately.

https://www.oznium.com/led-controllers
Q:
How wide are these strips? - by Eviljack (Allentown PA)
A:
The Waterproof Ribbon LED Strips are 1/2 inch wide.
Q:
I am looking for a product to mount to the engine of my buell how resistant to heat are these strips. - by Tony (MPLS Minnesota)
A:
I wouldn't recommend mounting these directly to the engine as they will likely melt. If you want something that is a more heat resistant, I would try the LED Modules
Q:
can i connect multiple strip together?
A:
It is possible.
Q:
Can I put these in my shower stall for lighting since other lighting solutions are not an option. I would need to use household current. - by Lisa (Pittsburgh, PA)
A:
Yes, but you'll need a 12V AC adapter to convert your electricity.
Q:
can they be conected together and run by a switch so they dont run all the time for example like in the floorboard of a car? - by Danny
A:
Yes
Q:
Does the back side have sticky tape on it? - by steven
A:
No
Q:
Do the strips have integrated voltage/current regulation?
A:
Yes
Q:
Can they be adapted for battery use? If so what type, and how many, batteries per 12" strip. If I connect 2 or 3 strips does battery use change? Can you supply, or instruct how to, use batteries? - by John (Malvern, PA USA)
A:
Yes, this product is made to be used with a car battery. However, it can be used with a smaller battery if you'd like. The battery will need to be 12V and the amp. hours will dictate how long the strip will stay illuminated before the battery runs dry.

To connect them to a battery you will simply connect the positive and negative wires from the LED strip to the positive and negative terminals on the 12V battery.
Q:
I'm making an aquarium out of the shell of an old computer. I'd like to know if these strips can be use with household current / outlet, and if so how?
A:
One of these guys will work great for home use in conjunction with the ribbon strips: Home AC Adapters
Q:
can you cut these and make, say, 2 six inch pieces? - by Andrew (Mishawaka, IN)
A:
We do not recommend cutting the waterproof ribbon strips. They will cease to be waterproof, and attaching new leads to the other piece is difficult.
Q:
What color is million? - by Mike
A:
Groups of Red, Blue, and Green LEDs can combine at varying brightness intensities to produce a smooth fade through the full color spectrum.
Q:
If you buy more then 1 foot when you cut it is it still waterproof? I know when you cut the flex strips it no longer is.
A:
If you cut a strip it will not be waterproof, however I'm sure you could add glue and/or silicone to reseal it.
Q:
If i buy 5 foot will it be 5 seperate pieces? or will you cut 5 foot off ? will it still be waterproof?
A:
Five separate waterproof strips.
Q:
Are these sold in 1 foot increments? Do i have to solder the + & - wires on myself?
A:
They are sold in one foot increments with positive and negative leads.
Q:
How long is one?
What is the amp draw at what voltage?
How many lumens per strip for the white, yellow and the red?

Intended use is on a cruising sailboat.
A:
This product is sold in 12" increments, please refer to the "Technical Info" tab for the amp draw and lumen info.