Is your exquisite home design quickly undone by your yellowish retro-style lighting? Does the hum of your ghastly fluorescent lights give an unpleasant welcome every night you return home?
Break free from the crowd, and be the first on the block to overhaul your current lighting dilemma!
Our LED strips hook up to any of our AC Adapters in one easy step, bringing you all the convenience of weatherproof, durable, long lasting, efficient lighting.
Spice up your home lighting look while saving the environment, and lowering your energy footprint!
Oznium's
Flexible LED Strips
not only use
less wattage
than halogen and incandescent equivalents, but even utilize less energy than fluorescent bulbs, and unlike CFLs, don't contain any harmful chemicals inside! Did we mention they have an
average life span
of
over 50,000+ hours
, and cost less than fluorescent bulbs? To give you an idea, that's over
11 years
of usage, even with the lights on 24 hours a day.
The Flexible LED Strip gives you total lighting flexibility to mount seamlessly in any size or space, put next to no drain on your electricity bill, and regardless of the weather conditions they're exposed to, they will never fail due to extreme weatherproofing and rigorous quality control testing.
Action shots!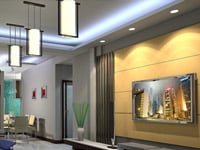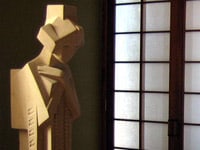 Check out
more stunning photos
.
Through advanced heat displacement technology, and low wattage, Oznium's
Home LED Strips
put out a
minimum
amount of heat, so there's
no fire risk
, and they'll fit in almost any home application you can think of!
Suggested Uses
:
Around curved ceilings or architectural features
Outline your door / inlet for a truly breathtaking look!
Back-lighting for furniture or art
Behind frosted panels
Under or in cabinets
Around entertainment systems
Above or below Bars
Glow around your Pool!
On the deck!
Wherever the heck you want them to go!
The only limit is your imagination.
Frequently Asked Questions
:
Can the LED strips be cut or trimmed?
Yes! You can easily cut the LED strips. Use a sharp utility knife. The LEDs are wired in groups of 3, so you should cut every 3 LEDs.
Note: Some of the shorter lengths can't be cut because of a critical power wire inside. Before you cut, just make sure you won't be cutting a power wire, otherwise your LED strip could be damaged.
Can the cut section of the strip be re-used?
While it is physically possible, it is not a simple procedure and not worth the effort. For practical purposes, you are better off discarding the cut portion.
Once cut, is the strip still waterproof?
If you cut it right, it will maintain a degree of "weather resistance". But to make a cut strip fully waterproof again, we recommend you add some silicone sealant to the cut end.
What is the best way to mount them?
Cable ties, also known as zip ties work for many installations. We also include a surprisingly strong 3M double sided adhesive mounting tape.
Do the LED strips require resistors?
No. The LED strips do not require any resistors. They are ready to work on any 12 volt power source.
What is the "Million" color?
The million color LED strips have red, blue, and green LEDs. They come with a tiny controller which automatically fades through millions of colors. At this time, you can't pause or set the color. It is all automatic. But we're working on a new controller that will give you more control. Buy these today, and you can easily upgrade to a new controller in the future. Check out an action video!
Which wire is power and which is ground?
The silver wire is 12v +, and the gold wire is 12v - (ground). If you accidentally reverse them, nothing bad will happen.
OK, I'm Sold! So how can I power these from the wall outlet in my house?
Use our AC adapter which converts 120 volts AC to about 12 volts DC. For multiple strips, to save hours of soldering the wires together, use our spiffy Power Junction Boxes to have your install up and running in minutes, not hours.

---
Our
Flexible LED Strips
are fully weatherproof, so you can use them both indoors and outdoors, and they use little energy and put out little heat, so you don't have to worry about your party catching on fire if they're on all night. Best of all, they come in eight amazing colors-blue, green, red, white, orange, UV, pink, and million-so you can buy stunning lights to match your life. Where can you use your LED lights?
Stay safe and cool by putting them in a dark staircase
Showcase your collectibles by adding some strips to shelving
Keep your closet organized with lights around the baseboard
Spice up your dorm room with some strips around the ceiling
Punch up the party with LED color around your bar, tables, doorjamb, or just about anywhere else!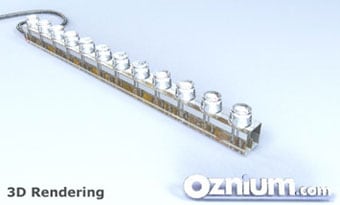 Other applications:
You are currently viewing Architectural applications for our Flexible LED Strips.
We also recommend this product for: