Bright & Small LED Modules for Cabinet & Vehicle - Customer Questions
Frequently Asked Questions by Oznium Customers
How long will the batteries of the Battery Holder (8)last when running two of the 12V Tiny SMD LED Modules: Black? - by Jayson (Las Vegas)
If we assume each LED module draws 40 mA, and you have two, then thats 80 mA.
Pack of 8 x AA size batteries provides about 2000 mAh
So 2000 mAh / 80 mA = 25 hours
I notieced one customer complained about the heat output. I want to mount these as an accent light on wood. Is the heat going to be an issue? - by Wayne (Colmesneil, texas)
No, they do not get that warm.
are these lights bright enough to use as a center high mounted (3rd) brake light? - by Rich (Monterey, CA)
It's subjective whether they are bright enough. Some people may think they are bright enough, while others may not.
Red puts out about 13.5 lumens
You may also consider this
Ultra Thin LED Light Bar
I looking to install these lights on kayak. I fish in harsh salt water conditions. Will these led strips hold and what is your warranty on the strips? Also they come in longer strips? - by Anthony
Sticky tape will hold for a few months maybe, suggest a mounting bracket or glue. One year warranty. They only come as shown but we have flexible strips that come in various lengths up to 16 ft.
what is the life expectancy of led modules? - by Barry (Victoria, Canada)
Can the resistors handle 22.2v? - by Lance (Orlando, FL)
Can this product be connected directly to a 12v power source or does it need something else inline to protect it?
Ready to power. Resistors included in wiring.
Can these be used as motorcycle running lights and still do a brighter blink function (3 signal wires from bike)?
Also, do you need any kind of a resistor to keep them from blinking rapidly? - by Steve (Bc canada)
Yes, that would work, others have done the same thing. They are wired with a resistor inline. They will blink at the same speed as your bike turn signals when wired to the same wiring.
I want to use the long version as side directionals.
I do not want to see the wires coming out the end.

Can the power wires be moved or is there a version where, the wires come out the back ?

Thanks for any assist. - by Spinale (Gloucester, MA)
You can simply peel back the 3M tape and have the wire come out the back.
Are the wiring ends open pigtailed or do they have a plug in adapter to be used in conjunction with the FLATHEAD LED STRIP POWER CONNECTOR? - by Jason
Wires only on both sides. Can be wired to the connector the the Flathead strips.
How do these pods handle high heat areas such as inside a cover on a motorcycle engine it is bolted to the outside of the engine to hide the spark plug and have seen a few fits that have leds already on them but im doing custom application and cant find the pods from the original manufacturer - by Charles
They are rated for 107 degrees.
I live in Alaska with brutal winters... Do you think they will hold up in -40 below zero external application on my car?
Yes, but its hard to say for how long they'll hold up. You're welcome to give it a try, and then just replace them if they go bad in a few years.
I want to replace the lights in my fountain. The fountain has a 12V transformer. Will these work with 12V AC? - by Jerry (Virginia Beach, VA)
what kind of guarantee do you give on these lights - by Jim (n ireland)
We stand behind our products 100%
Contact us if you ever have any issues with your products.
These have only 1 intensity - I'm looking for a running light with a directional as well (higher intensity)?
Sorry, we don't carry any directional lighting.
Can these be hooked up in series on a 24V system? - by Nate (Wichita, KS)
Yes, you can hook up 2 in series on a 24V system.
I am looking for a 12vdc dome light that is somewhat rugged, waterproof, gives off a bright light and will mount to the roof of my Can Am UTV. What LED module would you recommend. - by Oval (Lufkin, Texas)
All of our LED modules will work well. We suggest you choose the Cool White color.
Can you bend/flex them at all or are they firmly straight?
They are rigid. They don't bend.
I've seen people light up their car logos on their grilles, is this possible with the round LED lights? - by Kate (Florida)
Yes, they are waterproof.
I wanted to install some leds in place of my stock license plate light, would you recommend these modules for the license plate. I live in illinois and we get cold winters and hot summers, so i also need something that is going to be durable for all types of weather. I was also hoping to achieve that white cool blue look that the newer cars have. - by Jame (Illinois)
They have been used for that application, only come in white.
I want to use the small round yellows to add to my rear blinkers on my motorcycle. Can I simply "splice" these in? Or do I need to add something? Thanks! - by Tomas (Aurora, OR)
These come with positive and negative wires, can easily be spliced.
I just ordered 7 of these lights to mount on my motorcycle. I have been trying to figure out the best way to wire them up, and was just wondering if they would wire in series? The negative (-) of the first one to the positive (+) of the second and so on... Will they still be just as bright? - by Timothy (Texas)
In series you will loose brightness, parallel is better.
I'm interested in achieving an aquamarine or teal color on the transom of my boat. Do you have a recommendation on color combinations? - by Neil
Blue and Green might work.
I want to use these in my amber turn signal on my side view mirrors. Would it be better to buy the white color or amber color to get the brightest output?
White will be brighter then Amber. However, check your local lighting laws.
Three superflux LEDs would be the same price, which would be brighter? I plan to use them as under carriage lighting (ease of install is not a factor, brightness is more important.) - by Mark (Boise, Idaho)
The Superflux LEDs would be brighter because they have 4-chip LEDs in them.
Can I hook these up as a series or do I have to run a main line and tap into the line at each modules location? - by Jalapeno (Pepperville)
You could hook them up in series, but it wouldn't make much sense unless you wanted them to be dim.

Usually, you'll want to hook them up in parallel so each one gets 12v.
I need to string 13 of these up on my patio. Can I get the 2 amp adapter and run wire from the positive of the adapter to positive to a led and then run a wire from the negative of that led to the positive of the next and so on? Or do I have to run a main line and tap into it at each point? I have in my cart 13 modules, electrical tape, the 2 amp adapter, a toggle switch, and 500 foot of the stinger wire. Is there anything else I need or should change? Thanks! - by Jalapeno (Pepperville)
Yes, a 2 amp adapter will be plenty. Maybe add a junction box? Looks like you have everything!
will the 3m tape stay a fixed under a car hood? - by Eric (bedfor tx)
Yes. You should clean the metal surface of course.
Hi, I asked this question over a week ago, still havn't rcv'd. or seen an answer.
Again... regarding the Tiny LED Modules : High brightness surface LEDs, what are the actual dimensions of the straight module. In the 46 exisitng questions (and answers) there are 3 different sets of dimensions. what are the actual dimensions as of today please. Thanks
60 mm long x11mm wide x 6mm thick
Are these able to be dimmed? - by Alex (Omaha)
I am pretty stupid. Will I be able to install these? - by Gerald
Yes. It comes with a positive and negative wire to hook up.
Does Oznium give bulk discounts say for and order of 100 lights - by Aaron (Lancaster, CA)
Yes! https://www.oznium.com/wholesale
Can these be submerged? I want to use one as a license plate light on my boat trailer. - by Scott (Shreveport, LA)
can these be hard wired to the #74 glove box light/bulb for use as a second glove box light, or do you have an adapter for the 74 socket? - by Charles (Dunellen, NJ)
how many amps does one straight module pull? i have 6 in my car and would like to use the 1 channel wireless controller to turn them all on, but info on the wirless controller says it can only operate up to 6 amps.

also im concerned that leaving them on everytime i drive may run my battery down...will 6 modules be ok for this application? - by Joseph (North Aurora, IL)
Each LED Module draws about 80mA. You can definitely hook up 6 of these to our 1 channel Remote on/off unit and still have room for more.
I don't think you have to worry about draining your battery, you'd only be drawing about 480mA which really nothing for a car battery.
How Do They "White" Colored Black, Round LED Modules Compare To The Cool White Color Of The Ultra Thin LED Dome Lights? Are The Colors Pretty Similar? And They'd Match Well Using Them At The Same Time So?

I Have A Main Dome Light With A Secluded Light On Both Sides But All Three Light Up When My Door Is Open. So, I Was Going To Install A Cool White Dome Light In The Main Dome Light And Then 1 White Black, Round LED Module On Each Side. I Want To Make Sure The Colors "Match" So It Doesn't Look Tacky. - by Arron (Layton, Utah)
I would go with the Neutral White as the LED Modules are closer to a neutral white.
would these lights work well to mix? Ie; Blue & Red = Purple - or would they just wash out eachother? Do you have any suggestions of what colors (would, if they do mix best)? - by Jack (Deer Parl, NY)
is okay if I set them to work with a fast blinking circuit? - by Victor (New York)
Yes, they will work just fine.
what are the measurments of the round pod width x length x thickness? - by michael (georgia)
The Diameter is 1.2" and the height is .5"
I am thinking of purchasing the modules and using them under the dash. How can I mount them,since they don't have any hole to put a screw on. Will the regular 3m double sided tape be able to hold them? - by Bernard (Los Angeles, CA)
The 3M double sided tape that is already attached to the back of the LED module should be just fine.
The long ones you say are 2.36" long x 0.43" wide what is the height on them? - by Rene (Houston)
Is the yellow module close enough to amber for it to be legal as a turn signal?
Yes, many of our customers use these as turn signals. We haven't heard of any issues.
How much wire is attached to these LEDs? - by Mark (Coolville, Ohio)
Which color would work best in a daylight application? I want to use it to connect to my motorcycle turn signal to remind me to turn off them off. - by Garth (Indy)
Blue or green would be the brightest, most noticeable colors for during the daytime.
i have purchesed 10 modules and am going to fit them to the front of my pt cruiser in the grill can you suggest what size of a in line fuse i should use and can you supply a suitable waterproof multi connector - by James (belfast n.ireland)
10 modules would draw 0.8amps. A one or two-amp fuse would be sufficient. Sorry, we do not have any waterproof connectors available.
do you have anything like this that will run on a lower voltage? say 3-6 volts.
All of our products are 12v ready. 3-6volts might work, you may however have some brightness issues.
Would these or the Thin Waterproof Ribbon LED Strip be better for the exterior door handles on a Scion tC? - by Austin (Johnson City, TN)
Thin waterproof ribbon strip has less height, and you can trim it down if necessary. We'd recommend those.
could these work for wheel wells behind a rim to light it up a little bit?
i dont want a lot of light just enought to see in the rim at night. - by Shawn
Yes, these will work great for that.
I want to use the round one for a second dome light in the rear of my car will the 3m tape you provide stick the headliner or would I have to cut a hole the size of light to make it work. - by Joseph (Springhill, FL)
I think it will stick for a while. And if it falls down, you could always try mounting it in a different way.
Can you get the round light with out the houseing? Just the board and the wire.
I am sure it is possible, it would be "Special Order" thing.
We require an order of 1000 pieces or more for Special Orders.
would these strips be bright enough to use as reverse lights in the day on my hot rod? (montreal)
These might be alright for reverse lights during the day.
But in full sunlight they may not be bright at all.
do I need any kind of led modual or load equilizer to use the straight one as a license plate light or a motorcycle??? - by Kevin
how long are the wires ( inches) that are on the straight ones ??? - by Kevin
The lead wires are about 6 inches.
How many come with an order? One or an pair? - by Rainbow_xB (Stone Mountain, GA)
If you order a quantity of "1" you will get 1 module.
what are the brighter...the led modules or cold cathode - by DENIS (Rochester, NH)
The Cold Cathodes are brighter and less expensive, but are very fragile.
Ok so which would be brighter, one of the round modules or six individual super fluxes. The turn signal housings on my 95 cobra have black internals and no one can tell when I'm signaling so I was planing on a custom signal using one or the other LED set up (assuming both will work as turn signals) and was just curious which way would be the brightest. - by Charles
Six individual Super Flux LED's will be brighter, however you will have sufficient light with the round module and you will find the install to be much easier. I would go with the round module.
Would these work as a directional signal wired in sync and mounted on the side view mirrors? Thanks!
Would these be sutable for marker lights on a trailer?
Yes they'd be good for that.
Do you think these will fit in the door handles on a scion tc? - by Sam (Miami Fl)
Yep, the straight ones will fit in the door handles on a tC.

I saw someone with an xB install them in the 4 door handles, and the result was fantastic!
Alternators typically produce 14.4v (the 'running voltage' of a car). Won't these get over-driven the moment the engine starts?
When we say 12 volts, we mean they can handle the voltage the car puts out. It can handle 14.4v.

It will not get over-driven the moment the engine starts.
Are the Yellow lights an amber glow or are they very Yellow - by Alex
They are amber colored. We have yet to see an LED product produce a genuine bright yellow color.
Is the white color a Warm White, a Neutral White, or a Cool White?
The white LED Modules are a Neutral White.
I have an alarm and want to tap your LED to my alarm LED. When I armed the alarm, it suppost to stay on for 15 seconds than flash. Your LED stayed on but does not flash with the alarm LED. Can you tell me why? Thanks.
You have a blinking LED as your alarm LED. When you hook 12 volts of constant power to it, the LED automatically blinks. It has a chip inside of it that makes it blink.
thinking of stringing 10 of these together for 'puddle lamps'. what's the best way to wire them up? Would it be ok if I ran power and ground thru one main wire, and tapped into that main wherever I needed a module, or is there a better way? - by Breckenridge (Denver, CO)
There's no right or wrong way to wire them as long as they get 12 volts of power and ground. Do whatever is easiest for you.
I was thinking about just adding these to my diy fender eliminator on my motorcycle. Would they be bright enought to add one on each side for turn signals or should i used 2 on each side? And also will they work as turn signals or do i need any thing else? - by shaun
1 will likely be bright enough.

They will work as turn signals too.
Would it be safe to install straight up to rear blinkers or off rear blinker wires?
Is there any way to wire these up to flash as if an alarm was activated by using an on/off switch? - by Tom
Any chance the round one will fit in a rear view mirror map light?

What are its dimensions? - by Shaun (independence IA)
This picture gives you some idea about the dimensions.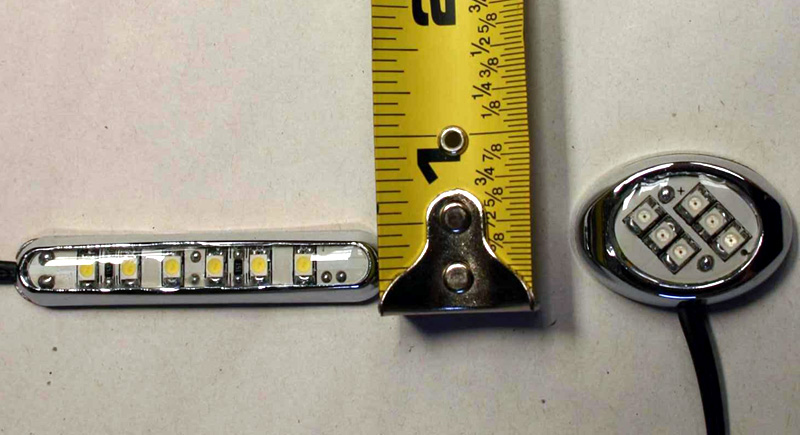 What is the length of the straight ones? - by Kim (Tyndall AFB)
The footprint of the straight ones is 2.36" x 0.43"
Would this be a good product to install in my outer door handles? - by Mike (Ohio)
Yes, these will certainly work well to light up your door handles.
Are these brighter or softer compared to the Superflux LED's? - by Ira (Mercedes, TX)
These LED Modules are little bit brighter than the 4-chip Superflux LEDs!
Are these sealed against moisture or will they need to be siliconed for an exterior application? - by Matt (Dublin, OH)
Is the silver part metal or chromed plastic? - by Shaun (independence IA)
Does this item still run on 12vdc? - by Matt (Blue Bell)