Most people avoid working with loose LEDs because installation is tricky and time-consuming. Why not let us do the work for you? Our single lights are all waterproof, with a built-in resistor and a foot of wire, so all you have to do is plug them in. Could it be simpler?
Probably not, and our product is better too! Compared to 5mm LEDs, our superflux 4-chip LEDs will blow you away. Each superflux light is a square of brightness with four times the capacity of a regular LED, and they'll work with any 12-volt system. These lights use little electricity and give off virtually no heat, so you won't have to worry about a fire with these cool lights.
We take a 4-chip superflux LED and glue it into a tiny waterproof housing. There's a built in resistor, and a foot of wire.
Action shots!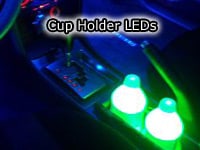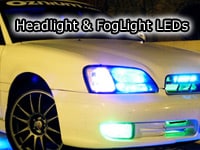 Check out
more stunning photos
.
They are ready to go - "pre-wired" to work on any 12 volt system.
Just hook up the red wire to positive, and the black to negative (ground).
A superflux LED is a square LED, with a very wide viewing angle. And our superflux LEDs have not just one, but FOUR chips in one LED for ultimate brightness. They can mount in a 3/8" hole.
Here's how it works: we glue each superflux LED into waterproof housing and pre-wire it, so it's ready to go. You simply hook up the red wire to positive and the black wire to your ground on your 12-volt system and you're in business!
Why not get a few of every color? Buy ten or more, and we'll even drop the price. Check out the difference between our 4-chip and a regular 5mm LED - where else can you get this much bright for your buck?
Compared to our 5mm LEDs, the Superflux 4-chip offers much improved brightness.
Other applications:
You are currently viewing Automotive applications for our Prewired Superflux 4 Chip LEDs.
We also recommend this product for: