Ultra Mini Pre-Wired Marine LED Flood Light - Customer Questions
Frequently Asked Questions by Oznium Customers
I'm installing 6 LED's and plan to run a dedicated switched circuit through a fuse box, can you tell me what amp fuse you recommend?
2 or 3 amp would be fine.
Will they strobe if just connected to 12vdc? Is there away to adjust the strobing repetitions
These LEDs do not strobe / flash on their own. If you connect them to a constant 12vdc power source, they will simply light up constantly. If you want to make our LEDs strobe / flash, you can use
this controller
.
What is the size of the lights?
Depth diamiter - by Allen (Oklahoma City)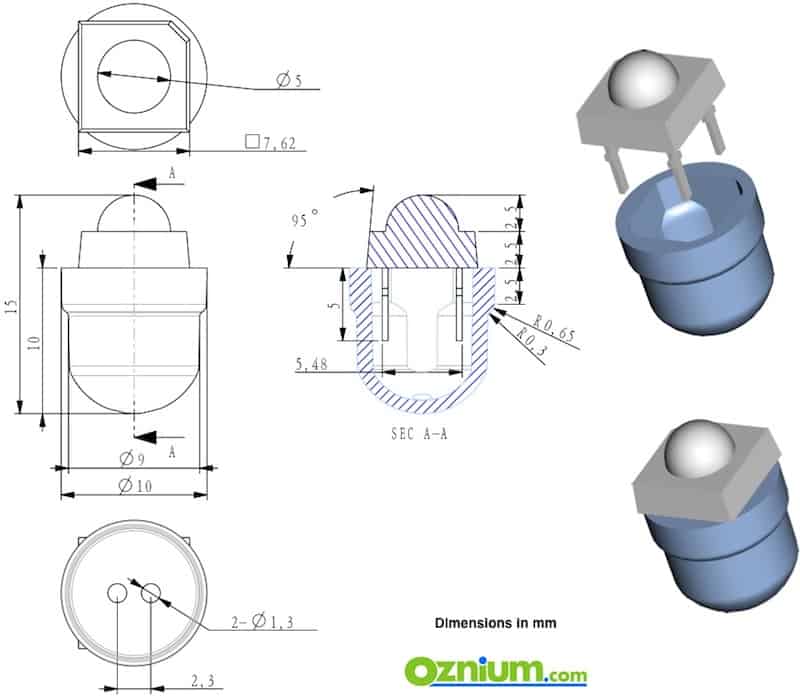 How many lumens does cold or white color emit? - by TRUCHI (FRANCE)
I am looking for waterproof lights to illuminate my 6' x 4' eagle mounted on top of a small building with a waterwheel and pond/stream below it. How far and wide do these light up an item? Also would it work to light a 20' flagpole? - by Lew
How far/wide depends on the ambient light conditions (for example how dark it is outside).
To light up a 20' flagpole, you'd probably be better off with this
Eclipse 10W LED Spotlight
.
How do these compare in brightness to your 1w floods?
http://www.oznium.com/marine-led-light

Also are the aqua colored ones still available cause they are not on the order form? And did you ever get a lumen chart made? - by kevin (United States)
The marine flood will put out more light. The aqua color is no longer available, sorry no lumens yet.
After I've drilled the hole for the light and insert... what holds them in place? - by Scott (Canada)
can i put led in placee of bulb in small bow light
What is the expected life span of your marine LEDs - by Mike (SE Texas)
Based on the answers in this section and a little reverse engineering performed using your LED Resistor Calculator, I have determined that your Prewired Superflux 4 Chip LED's are designed for forward voltage of 9 vdc (Voltage To LED) and a current draw of 20 ma. Is this correct? I need to know these values because my project requires that I run them from a constant current LED driver (input voltages will vary) rather than using individual resistors for each LED. Thank you. - by John (New Jersey, USA)
Sorry for the confusion. These are 80mA each.
How many lumens does each color emit? - by Lee (Florida)
Sorry, we are working on getting that information.
When fully charged, my NiCad battery pack has a potential of 15.5 Vdc. Will the Prewired Superflux 4 Chip LEDs survive at this voltage? - by John (New Jersey, USA)
They will survive. Theoretically their lifespan will be decreased because of the increased voltage. But don't know exactly by how much.
how do these mount? - by Mike (United States)
Drill a hole and slide these through.
Suitable for use as motorcycle turn signal lights (looking for brighter than OEM, rapid on-off)? Yellow or orange? Other product or products which may be even brighter? - by Mike (Seymour, TN)
This is probably your best bet.
Can I install 30 of them in parallel and what voltage adapter should I use
Yes. The 3.25 AC Adapter will be plenty.
Can the superflux 4 chip be used as afishing light in 6 to 8 ft of salt water and are they a clear light. - by Rich
Depends on the water, really. If it is crystal clear, then yes. But not likely debris will be in the way.
Are the LED lights in your spots/floods 5mm? If not, are these lights brighter or dimmer than the spots/floods? I have already ordered and installed 3 of your warm white floods and I am trying to get a comparison in brightness. Would I get more light from 3 of these bulbs?
The spots and floods use 1 watt LEDs, not 5mm. I'm not sure I understand your other questions.
are the uv led light strips strong enough to illuminate your flourescent fishing line for night fishing if mounted above the rub strip on a bass boat?
running lights requirments
What is the lead wire size on these? I am trying to size up the correct connectors.
They are between 16-18 gauge.
can the resistor be submirged in water? Is it water proof as well. My application utilizes the foot of attached wire to get into the hull. They are mounted on trim tab covers and will get wet and probably submirged. - by George (Islamorada, FL)
Yes, they are submersible.
How many of these would you recommend be the max tied together on one switch? 12? I am going to install these in my boat in various locations and switch each area independently. Probably need 12 on hull, 3 aft hull, and 12 in the passenger area. Also, I have read a guy wired the mic on the sound led music controller directly to his subs. Do you feel this will work to have the leds hit on the bass only? Thanks for you time and input. - by Robert (Washington)
12 would work no problem. We have the Music and Flash Interface - https://www.oznium.com/led-controllers/cathode-music I'm not sure it would just work with your bass though. It will pulsate on loud vocals.
i want to use under my bassboat what would be the best way and how many for a 15 ft. boat - by Wendell (aiken,s.c.)
One of our Flexible led strips might be easier for you to attach, they come in 16 ft rolls also [https://www.oznium.com/flexible-led-strips/thin-waterproof-ribbon].
I would like to mount the Superflux 4 chip led on the underside of my pontoon boat so that it lights up the water at night,24 ft boat aprox 8 ft across how many would i need and do you have everything needed for instal? - by Steve (3213 warren creek dr)
The Superflux would work, maybe spaced 1 ft to 6 in apart depending on how much light you are looking for. Our High Intensity Spot of Flood lights might work better: https://www.oznium.com/led-flood-and-spot-lights/high-intensity-led-floodlight.
Hello,

Already switched over all the lights in my C5 using the type 74's..and 194's. I'd like to add one of these in my cupholder. The thing is, I like the little cover that comes on these and the base so I can drill a hole and have it mounted solid BUT I don't want it so bright. Are there any bulbs you guys sell tha are a superflux single/double bulb but still in the waterproof case w/the cover?

Thank you,

Donnie - by Donnie
Yes, our Prewired Superflux [https://www.oznium.com/led-bolts-prewired-leds/prewired-superflux].
What is the current draw for these lights at 12v? What is the range of voltage they will tolerate? - by John (Norfolk, Va)
making shrimp lights out of them will they hold up with out putting some kind of housing on them or do i need to. - by James (Edgewater, FL)
are these bright enough to use on a boat?
such as USCG certified? what distance do you think they will shine?
Bright enough is relative. These are not US Coast Guard certified. The distance that it will shine will depend on the clarity of the water.
I am going to wire up 12 led's total, 6 and 6. I was going to split out a single 18 ga wire into two 20 ga wires to run to the sets of 6. Will I be ok running the two 20 ga wires to power the led's? Not sure if it matters but the length of the 20 ga will be about 8'. - by Jason (Indianapolis, IN)
Will these lights work with the remote control dimmer and strobe? - by Eric
Can the led lights be mounted underwater if connections are sealed? How long and how deep? - by Daryl (rochester ny)
We have customers using these for the bottom of their boat as accent lighting. We haven't tested how deep these can go, however.
Are these brighter than the Marine LED Ribbon Strips and the SuperFlux Waterproof Marine Channel Lights if you were just comparing one bulb at a time ?
Can I connect different colors in series? - by Neil (Conneaut Lake, PA)
It wouldn't make sense to connect these in series, but rather you'd connect them in parallel. Yep, you can certainly use multiple colors.
how hard are they to install on the side of the boat do you just drill a hole and run them through the hull? - by Jarvis (nebraska)
Yes, you can either do that, or build a mounted port that has all them coming out of the box.
how are they used in headlights and in air vents in cars as seen in action shots? how do you get them to work in headlights without damaging headight and how do you get them in vents? - by Bruce (West Allis, WI)
You've got to either drill a hole or wedge them in somehow.
i am needing more wire length to add the led's to the boat, can you recommend the correct wire cabling i will require, in terms of waterproof and ease
We recommend using 18gauge wire, its usually the hook up standard.
will these cause any feedback which could interfere with adjacent electronics?
Is there certain length behind the led that the wire should not/cannot be bent? I am going to be installing these into a pretty small area that would involve bending the wires directly behind the led.
They can be bent right behind the LED.
How will this work on a 9V system?
Our Superflux 4 Chip LED's are designed to be used with 12V, if you use them with 9V they will not work properly, and will not be as bright.