Anti-vandal LED Switch - Push Button On/Off - Waterproof, Stainless Steel Bezel - Customer Questions
Frequently Asked Questions by Oznium Customers
I see some comment answers say it can only handle 3amp at 12v and some say 15amps at 12v why the difference
The switch can handle 3 amps total, that is the number of leds it can handle. For voltage it is designed to handle up to 14 volts.
Can someone show me a wiring diagram that shows how to wire this switch with a PWM dimmer
We have dimmers here: https://www.oznium.com/switches/led-dimmer-knob or https://www.oznium.com/switches/rotary-led-dimmer

There is a video here on wiring the dimmer knob: https://www.oznium.com/switches/led-dimmer-knob#tech
When someone writes that they cannot get there switch to work when they have black to ground, red to (+) and brown to light, make sure to mention that the light also need to be grounded. Cannot work with only the brown wire. - by LeRoy (Ester, AK)
Is it possible to open these and resolder a different color led? If so, what size led is inside? Looking for UV to match the 4 chip hyper flux I got from you guys - by Derek (Phoenix)
No, it would be extremely difficult to open and would ruin the switch.
Does this switch come pop back out after being pressed in? or does it "latch" and stay depressed? I am looking for one that does NOT stay pressed in.
This switch is latching. It sounds like you're looking for a momentary switch. We're happy to custom build them for you if you can order at least 50 pieces.
Will it work for a led light bar with these specs?
Watts: 105
Amp Draw: 8.7
LED's: 26
Raw Lumens: 9750
Lux @ 10m: 1960.0
No, the amp draw is too much, 3 amps max.
I'm sorry if this question has been asked but do you have a non locking push button? Looking to wire it to a stator motor. - by Paul (Riverside Ca)
I am building custom wood box mods (electronic cigarette) powered by 2-18650 high drain 30-35amp batteries running parallel ,so a total of 4000mah running at about 4 volts when pulsing for about 5 second intervals. I will have to run the switch in line to a top connecter (where the atomizer screws into) with ohm resistance ranging from .09-.5ohms . What stainless steel anti vandal switch do you recommend so that it will handle close to 10 amps? - by Steve (San Clemente ca.)
All of the switches handle up to 15 amps.
Can the switch be hooked up so that it only illuminates in the off position without using a relay? - by Dave (Denver, CO)
Can I power the LED Ring completely separate from the switched power?

IE I would like to power the LED ring from the ignition switch (or probably the running light switch). I'm aware this would not indicate switch state. Thanks. - by Jim (Montana)
Yes
You'll see the pin out diagram on the
Technical Info
page. To power the LED, simply apply 12v to pins marked with a and -.
Hope not asked before, but in layman terms, can you explain how I can wire this switch so that the led stays on? I want to find it in the dark and still push to turn on and off. Thanks - by Charles (Seattle, WA)
You can see the pin out diagram on the
Tech Info
tab.
To light up the LED, simply apply power to the pins marked " " and "-".
Then hook up the other 3 pins however you want to use them in your circuit:
NC1 = normally closed
NO = normally open
C1 = circuit, etc
drilling a 19mm hole and using silicone or glue to cover the excessive space wouldnt work? - by Jorge (Fullerton, CA)
also i bought a 19mm drill bit to make a hole, would this be too big? - by Jorge (Fullerton, CA)
Yes, 16mm will be the correct size.
What size drill bit should i use to install these? - by Jorge (Fullerton, CA)
I see where it has been asked if there is a momentary version of these switches, but it seems like that was some time ago (based off of the question if these switches are available without wiring). Are there any plans for this? I'd really like to use these switches, but I'm very meticulous and need all my switches to match. - by Bryan (Phoenix)
Happy to add a momentary option if you can but 50 pieces.
On the non wired version are the pins labeled for G/S/L? Also, how many connector pins are on it? The main page picture makes it look like there are 5 pins. - by Vlad (Frisco, TX)
Here is a diagram on how to wire the switch: https://www.oznium.com/switches/anti-vandal-led-switch#tech
Would it be safe to wire a resistor inline to dim the LED? - by Brantley (Birmingham, AL)
You're certainly welcome to wire a resistor inline with the LED circuit to dim it.
Do you have to press the switch twice to make the switch turn off? I just installed one for lights and it has to be pressed twice to shut off. It seems as though it has two positions. I want to make sure it is working correctly. - by Sharon (Seneca, SC)
When pressed in it slightly clicks to lock into place, you press down again to unclick and turn off. It might seem like you a pushing it twice.
I bought 6 not wired, what size spade connector do I need to hook up to these anti-vandal switches? - by Bourrillion
Don't know of any spade connector that will fit onto these since the terminals are so small, so you should probably just solder the wires.
I guess I need to re-phrase my question. I don't want to use the switch itself as a fog light, I need to know if the switch has enough amperage to handle fog lights, to turn them off and on.
If the fog lights do not use more than 15 amps you are good.
So I want to hook this up to 4 jumbo LEDs, how would I do this where does the button wires go in the led circuit? - by John
Attach the black wire to ground, the red wire to your power source and the brown wire to your leds.
I would like to have three of the silicone encased strips on my boat controlled by one of these switches. I guess I will joint the 3 positives (+) of the lights to the brown on wire, and take the red wire from the switch to my battery source (bus bar), but what do I do with the negatives (-) from the 3 lights, and what do I do with the black wire from the switch? Can I just marry the 3 (-)'s from my lights to the switch (-) and then connect that one wire to my battery ground? - by Mark
Yes. That is exactly what you should do.
I would like to have a light on the switch to indicate where the switch is at night.
These Switches have a separate pole for the Indicator Light, which I assume runs off the switch load pole.
Would I be able to have this light on all the time if I run the power directly to indicator light pole and will the ground still work ?
Also, what kind of indicator light life would I expect by hooking then up this way ?

any other suggestion would be appreciated.

Thanks for having great products, every time I come to your site I get so many ideas that I set up a separate Folder just for Oznium. - by GrevB
Thanks for the nice comment. You can wire the accessory or brown wire to the hot lead to have the led on all the time. Life on led 2-3 years.
this is a dumb question, but is the led light ALWAYS on, or does it come on when you turn the switch on...i live in my rv and do not want the light on all the time, only when i turn the switch on...hopefully you can help!!! thanks from colorado!! - by chance (boulder, colorado)
The way it is wired now, the light on the switch only comes on when the switch is on.

Some customers may want to control the light on the switch independently, and its certainly possible to do that, but you can just use the switch the way it normally comes.
Yes! As mentioned in huge text at the top of the product page, as well as on the third line of the main product description:
Stainless steel, and IP68 rated. Fully waterproof from the the front.
can the led in this switch be wired to come on with headlights? is there a seperate pin for power to the switch's led? - by Jonathan (Chatham Co. NC)
I am not super technical with electric. I want these to control my low voltage landscape lighting. From my 12V transformer, I have 2 wires coming out, and have them connected to each light. I would place this switch between the transformer and the lights. Lets say I have the left and right wire from the transformer. I cut the left wire, and connect the cut and splice in the black wire from the switch. Then, I cut the right wire, and connect one end to the red wire, and the other end to the brown wire. This way, when I press the button, it will make the connection, and the lights go on. Press it again, and the lights go out. Is that correct? Also, do you know when you will get the backordered colors in for the silver? - by Mark (Downingtown, PA)
Yes, the hot from the transformer to the hot lead on the switch, same for the ground, the brown wire from the switch to the led. Switch works on DC only. Not sure of an ETA right now for the silver switches.
What gauge wire is soldered to the switch? - by Kevin (Texas)
Are these switches DPDT? - by Bob (Anaheim Ca)
No, here is a diagram: https://www.oznium.com/switches/anti-vandal-led-switch#tech
As previously asked regarding the cigarette lighter opening. This mod will work PERFECTLY! All I had to do was remove the plastic main unit which housed the metal unit. Once the metal was removed I cut the main plastic housing and mounted this perfectly made switch flush into the unit. If I knew how to add pictures I would. It's a beauty!!! Thanks guys!! - by Sean (Peoria Arizona)
Thanks for the info, we appreciate it. You can upload pictures directly on our site by logging into your account, uploads are on the bottom right of each page.
Can I get some without the wires or will I have desolder all of them? - by Freddie (Cool Ridge, WV)
If you're willing to buy 50, we'll be happy to give you them without wires.
Can I wire this to a dimmer control switch? - by Matthew (Modesto California)
I can't commit to 100 switches I only need 4 momentary green switches. Is there any way I can get just 4 or can I open the switch and add a spring myself? Or is there a chance you happened to have 4 green momentary switches laying around from an old order that's can buy?? - by Matthew (Modesto California)
Strange application, I know... but I'd like to use a switch like this to modify my computer monitor stand/power station (glorified surge protector). I read on another site that:

"If you want to use this with a higher voltage, say 12V or 24V, simply add a 470 ohm resistor in series with the LED connection to keep the LED current at around 20mA"

Does this mean I can add the mentioned resistor and use these as ON/OFF switches to for my speakers/monitors/hard drives?

If not, do you have any recommendations to cool looking switches that would work for this application? Thanks in advance! - by Cooper (United States)
This switch is already designed for 12V, so if you use it on 12V, you do not need a resistor.

You're welcome to use these as ON/OFF switches for anything you'd like (including speakers/monitors/hard drives).

If you want to use it on 24V, you'll need to use a resistor so the LED doesn't burn out, but I don't know which resistor you'd need to use.
Would take some experimentation.
Can you tell me which color wire goes to what? There is a brown, red, and ground. I have the black going to ground. Red to 12v. And the brown to positive of the led strip. Not working. What am I doing wrong?
It sounds like you're hooking it up correctly. Don't know what you're doing wrong.

As the product page reads:
"the black wire goes to ground, the red wire goes to your constant power source, and the brown wire goes to the circuit you are powering."
How can I re-configure this swich as a ground side switch (as mentioned above) and not using a relay? Is there a circuit diagram for this application?
Thanks!
You can see the pin out diagram on the "technical info" tab.
if you wired it so NC was wired to plus, and NO was wired to load, would you have a switch that was illuminated when it was OFF (but 12V power was present) , and the illumination turned off when the switch was ON? Would be good for find-in-the-dark applications.
Also, what is anti-vandal about it?
If you attach the brown wire on the switch to your constant power and the red wire on the switch to the red/hot on the led the light on the switch is always on and still turns the led on and on. I will get more information on the anti-vandal part.
Could I wire in an additional resistor in so the red led could run off of 15v?
so how exactly do you wire this? I only know how to wire simple negative and positive leds... - by Emiliano
Like with any lighted switch, there's three wires to hook up, and here's how: the black wire goes to ground, the red wire goes to your constant power source, and the brown wire goes to the circuit you are powering.
I'm wanting to install the switch in existing cigarette lighter opening (approximately 1" opening). what is the diameter of the face plate to the switch. Do you guys see any other problems I may be over looking? Thanks, - by Bud
The hole size is 16mm and the head/face is 21.8mm. One inch is just a bit to big.
Can you hook the switch up to multiple LEDs? For example: Three high intensity led spotlights hooked to one switch.
Could I wire a signal light flasher to it? - by Greg (Calgary, Canada)
does the led need a separate power supply, or can it be hooked up to the same 12v supply as my leds?
Battery > Switch > LEDs. Power travels from the power source, through the switch to the LEDs.
I plan to use this as a ground side switch, will the led still work? - by Scott (Newmarket, Canada)
Its certainly possible. You'll just have to re-configure the wiring on the switch, or use a
relay
.
i would like to know if there is a way to "reverse" the switch positions, i.e. can i make the "depressed" position on, and the flush position off? - by Matthew
Yes, you could certainly do that with a
relay
.
I plan on hooking this up to a 12v car battery. Do I need to hook up a resistor to protect the led in this switch? If so, then what size resistor should I use?
You do not need a resistor. The LED already works on 12v.
Can you attach/mount the wire 90 degress to the switch?
You're welcome to position the wire however you'd like.
You can easily bend it at a 90 degree angle. You could even have the wire come out in a wiggly shape. The wire is very flexible...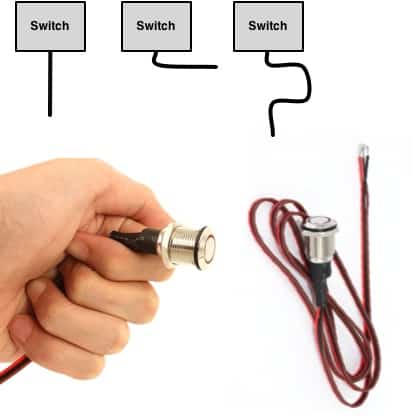 Are momentary buttons going to be available
No plans, but if you can commit to an order of 100 switches, we'll add them.
The load rating is 3A/250V, so at 12V, that would be a bit higher. I'd say at least 10 to 15 amps at 12 volts.
what is the diameter of the switch, what size hole do u need to drill? - by Chad